Audio Post
Mediacorp Audio Post specializes in Music & Sound Effects Design, Music Composition and Song Recording. For TV programmes, we support your work extensively (eg. drama, entertainment, documentary, game show, etc) to ensure it is of professional quality and broadcast-ready. To date, we have already produced a countless number of Mediacorp projects with surround sound for transmission.
Building on our experience in Music and Sound industry over many years, we now also extend our services to support feature films, TVCs and album recordings. To wrap your film or sound compositions up, we also offer Mixing and Mastering combination service packages for your project to achieve astoundingly professional-sounding results at an unbeatable price.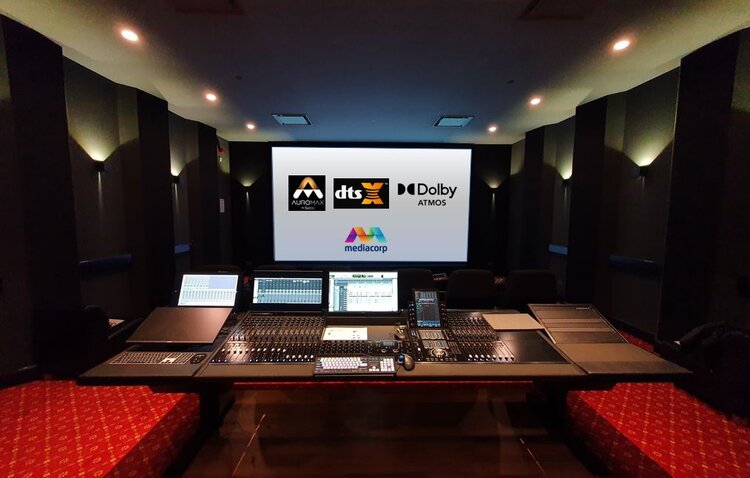 Mediacorp Mixing Studio, first in Southeast Asia with certification of AuroMax, DTSX & Dolby Atmos immersive audio formats.
Our Audio Post department is equipped with the latest state-of-the-art facilities and industry-standard workstations & Avid Pro Tools Control surfaces. For greater efficiency, we have eight audio dubbing suites and two composition suites, ready to take your project to higher realms of audio quality and experience.
Beating other successful counterparts in the region, we are proud to be the first in all of Southeast Asia to support Auro 3D (11.1), Auro Max (26.1), DTS:X and Dolby ATMOS HE audio technologies.
Local films "Long Long Time Ago (Parts 1 & 2)", directed by Jack Neo, were the first projects that adopted the Auro 3D audio technologies in 2017. Another Jack Neo's project "Killer Not Stupid, 杀手不笨" being the first local film delivered in DTS:X in 2019. iQiYi first-ever Southeast Asian original drama series "The Ferryman: Legends Of Nanyang, 灵魂摆渡之南洋传说", leveraging the latest Dolby Atmos Home Entertainment system by mediacorp Audio Post in 2021.
With over 40 years of collective industry experience under our belt, our effort has successfully gained recognition from even regional awards committees, such as Asian TV awards, Apollo Awards, etc. Undoubtedly, the people behind the Audio Post team have shown themselves to be well-equipped with the right tools and knowledge to meet your unique production needs.
Mediacorp Mixing Studio (MMS)
This is a certified Mixing Studio for the Auro 3D (Auro 11.1), Auro Max (Auro 26.1), DTS:X (7.1.4) and Dolby Atmos HE programmes to ensure a well-calibrated and consistent working environment to deliver the best desired audio quality. Our advanced system also creates conducive environments for a variety of versatile uses to serve different kinds of projects.
We are ready for Surround Sounds 5.1/7.1 and Immersive Sounds Auro 3D, DTS:X and Dolby ATMOS Home Entertainment.
Equipped with
Avid Pro Tools, S6 M40-32-5-D Control Surface

Barco AP24 Audio Processor

Barco 10S 2 K projector ,

43 Quested Speaker.

 
Sound Design
Sound Effects

Music & Effects mixing

Foley Design

Audio Mastering for DCP

Solutions for subtitles & DCP Mastering

ADR
2 MUSIC COMPOSE SUITES
Song productions

Music compose/Arrangement /vocal, Song recording

Album mixing

Music mastering for Album collection
8 AUDIO DUBBING SUITES
Box-in-box acoustic sound isolation

Avid Pro Tools, S4/S6 M40 32-5-D Control Surface

7.1/5.1 Quested Speakers

Sony 4k Projectors

Postium 46″ Broadcast 3G-SDI Monitor
Audio restoration by Cedar