Jesseca Liu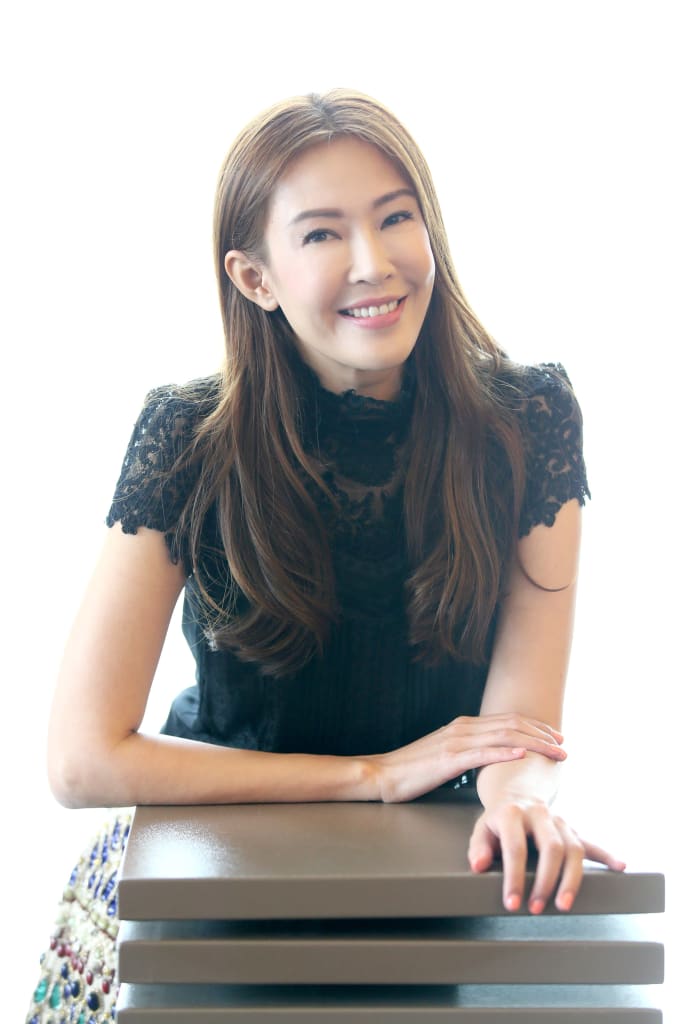 Language
Mandarin, English, Malay, Cantonese
 Spotted by a producer in Mediacorp in 2004, Jesseca Liu was offered the meaty role of He Yi Xuan in the sports-themed drama, "The Champion". From then, she began her career as a full-time actress in Singapore. 
Her portrayal of a Vietnamese bride in the 100-episode drama serial "Portrait of Home" bagged her the Most Popular Newcomer Award and earned her a Best Supporting Actress nomination at Star Awards 2005. She scored her first leading role in "Rhapsody In Blue" in 2006 which led to more lead roles for the popular star. She played the female lead in many Mediacorp highly-rated serials including "Secrets For Sale", "The Oath", "Marry Me", "Blessings"," Mind Matters"," Babies On Board" and "Hero". 
In 2014, she wrote her first web drama script, "Who Killed The Lead" where she played the female lead and the script was awarded for Best Digital Fiction & Non-Fiction Series at the Asian Television Awards. She also played the role of a mother for the first time and paired with Taiwan actor-host Jacko Chiang in a local movie, "Bring Back The Dead". 
Most recently, she received the "Outstanding Leading Actress in Comedy" Award at the 2019 Asia Rainbow TV Awards for her role in <Hero>. Following year, her role in <Driver> won her the finalist award at the New York Festivals for TV and Film Award. 
Jesseca is currently working on her debut movie as director. 
Portfolio
TV Serial 电视剧
2021  Crouching Tiger Hidden Ghost 臥虎藏鬼 
         The Takedown 肃战肃绝 
2020  Mind's Eye 心眼
         Loving You 对你爱不完
2019  It's Time 阴错阳差 @十二时辰
         The Driver 伺機
2018  Babies On Board 新生

2017  Mind Matters 心情
2016  Hero 大英雄

2015  Accidental Agents绝队保险
         Hand In Hand手牵手
         The Queens复仇女王

2014  Who Killed The Lead侦凶
         Blessings祖先保佑
2013  Marry Me我要嫁出去
         Disclosed揭秘
2012  Yours Fatefully孤男寡女
         Game Plan千方百计
2011  Secrets For Sale拍。卖
         In Time With You我可能不会爱你
         The Oath行医
2010  New Beginnings红白喜事
2009  The Dream Catchers未来不是梦
         Romantic Delicacies 美食厨师男
         Baby Bonus添丁发财
2008  Kinship II手足II
         Rhythm  Of Life变奏曲
         Beach.Ball.Babes球爱大战
         Crime Busters x2叮当神探
2007  Mars Vs Venus 幸福双人床
         Kinship I手足I
2006  Yours Always让爱自邮
         Women Of Times至尊红颜
         Falling In Love情有可緣
         Rhapsody In Blue蓝色仙人掌
         Through It All海的儿子
2005  My Lucky Charm情来运转
         Portrait Of Home同心圆
2004  The Champion任我遨游
Telemovie电视电影

2010  Lost and Found小孩.狗
Feature Film 电影 
2019  When Ghost Meets Zombie 女鬼愛上屍

2014  Bring Back The Dead招魂

2012  Greedy Ghost贪心鬼见鬼

Awards/Achievements 奖项/荣誉
2021  Top 10 Most Popular Female Artistes, Star Awards 红星大奖 十大最受欢迎女艺人 
2020  Finalist for New York Festivals TV and Film Award for Best Performance by an Actress           (Driver)
2019  Top 10 Most Popular Female Artistes, Star Awards 红星大奖 十大最受欢迎女艺人
         Outstanding Leading Actress in Comedy (Hero), Asia Rainbow TV Awards

2017  Top 10 Most Popular Female Artistes, Star Awards 红星大奖 十大最受欢迎女艺人
         Nominated for Best Actress (Hero), Star Awards  红星大奖 入围最佳女主角(大英雄)
2016  Top 10 Most Popular Female Artistes, Star Awards 红星大奖 十大最受欢迎女艺人

2014  Awarded Best Digital Fiction & Non Fiction Series (Who Killed The Lead), Asian                     Television Awards

2013  Nominated for Favorite Onscreen Couple, Star Awards 红星大奖 入围最喜爱荧幕情侣

2012  Top 5 Favorite Female Characters, Star Awards  红星大奖 最喜爱女角色 五强

2010  Nominated for Most Popular Actress, Golden Awards金视奖入围最受欢迎女演员
         Top 5 Best Actress, Golden Awards金视奖入围5大最佳女主角
         Top 10 Most Popular Female Artistes, Star Awards 红星大奖 十大最受欢迎女艺人
         2005  Most Popular New Comer, Star Awards '05 红星大奖'05 最最受欢迎新人
2007  Top 10 Most Popular Female Artistes, Star Awards 红星大奖 十大最受欢迎女艺人
         Nominated for Best Actress (Kinship), Star Awards  红星大奖 入围最佳女主角(手足)
2006  Nominated for Best Actress (Rhapsody In Blue), Star Awards  红星大奖 入围最佳女主角     (蓝色仙人掌)