Zoe Tay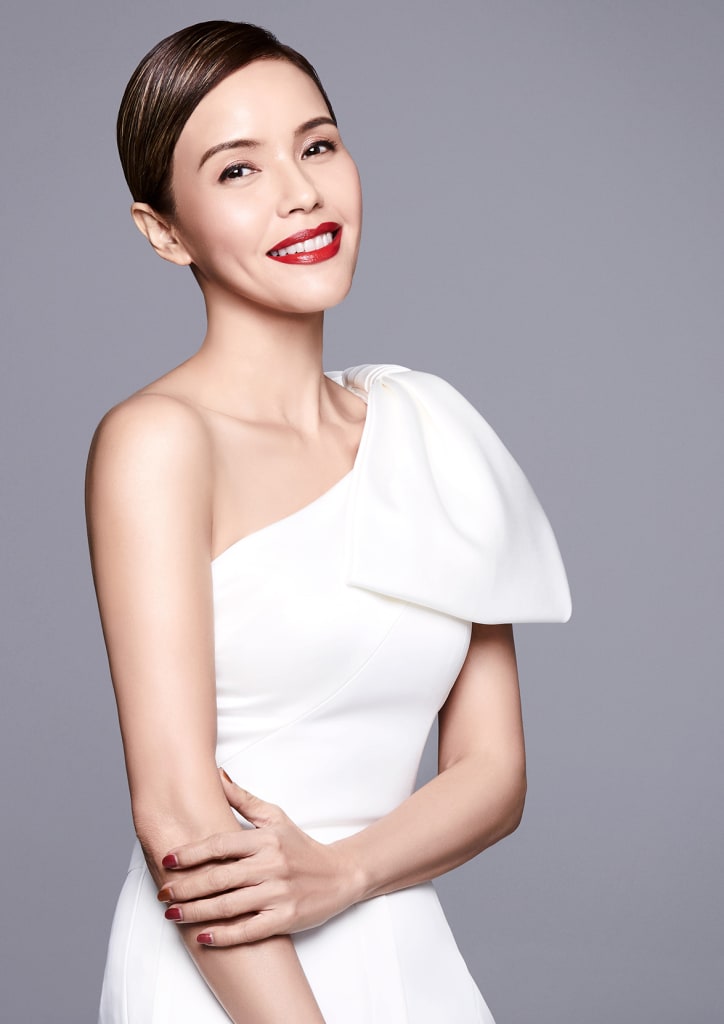 Language
Mandarin, English, Teochew, Cantonese
Zoe Tay is undoubtedly and deservingly Singapore's entertainment icon since winning Star Search in 1988. She made a career switch from a top model to a full time actress and has played the female lead in countless television dramas of numerous genres.
The undisputed 'Queen of Caldecott Hill' has certainly lived up to her status, having been voted the Top 10 Most Popular Female Artistes in the annual Star Awards for 10 consecutive years since its inception in 1994 and became the first female artiste to receive the prestigious All-Time Favourite Artiste Award in 2004.
Zoe clinched the Best Actress award in 2019, 2017 & 1996 Star Awards for her stellar performance in "A Million Dollar Dream", "You Can Be An Angel 2" & "Golden Pillow". She was also awarded the Special Achievement Award in 1998 for her illustrious career and contribution to the local scene. Her outstanding performance in "You Can Be An Angel 2", "The Ultimatum" and "Home Affairs" has also earned her nominations for Best Drama Performance by an Actress at the Asian TV Awards in 2017, 2009 & 2000 respectively.
In 2014, Zoe added another accolade to her impressive list of achievements when she was immortalized as a wax figure and joined the Madame Tussauds Singapore celebrity hall of fame.
Beyond her acting duties, Zoe has also engaged in charitable activities with global and local organisations such as World Vision and Singapore Council of Women's Organisations (SCWO). In 2018, Zoe launched a charity campaign "You Can Say No" with SCWO with a video on Domestic Violence which was telecast on Mediacorp TV channels as well as on YouCanSayNo.sg. And in 2019 June, a talk show on Date Rape was held on Facebook live.
Zoe cliched The Best Actress Award at the recent Star Awards 2019 and 2021, with her applauding performance in A Million Dollar Dream and My Guardian Angel.
Portfolio
MOVIES 电影
2013 约翰先生 Mister John
2010 割爱 Love Cuts
2001 孩子.树 The Tree
1999 梁婆婆重出江湖 (友情客串) Liang Po Po The Movie (special appearance)
TV DRAMAS
2021 邻里帮 The Heartland Heroes
2020 单翼天使 My Guardian Angels
2019 你那边怎样,我这边ok All Is Well
2018 你也可以是天使 3 You Can Be An Angel 3
给我一百万 A Million Dollar Dream
2017 Z世代 While We Are Young
2016 你也可以是天使 2 You Can Be An Angel 2
2015 志在四方 2 The Dream Makers 2   
你也可以是天使 You Can Be An Angel Too
2013 志在四方 The Dream Makers
回味 Recipe
2012 双星报喜 Double Bonus
2011 阿娣 Devotion
2009 双子星 The Ultimatum
2008 绝对佳人 La Femme
不凡的爱 By My Side
2006 闲妻靓母 Lady of Leisure
百万宝 A Million Treasures
2004 跑吧男人 Man at 40
野蛮亲家 My Mighty In Laws
2003 我家四个宝 Baby Boom
鬼马家族 V PCK Pte Ltd V
2002 双天至尊III The Unbeatables III
加东 Miss Oh Katong Miss Oh
2001 世纪攻略 The Stratagem
大酒店 The Hotel
2000 家事 My Home Affairs
1999 另类佳人 Lost Soul
千年虫 The Millennium Bug
1998 神雕侠侣 Return of the Condor Heroes
卫斯理传奇 The New Adventures Of Wisely
1997 101老婆之老婆柠檬茶 My Wife, Your Wife, Their Wives
富贵双城 Love in A Foreign City
长河 Rising Expectations
迷情专访(电视电影) The Scoop (Telemovie)
1996 妈姐情缘 A Different Life
双天至尊II The Unbeatables II
1995 潮洲家族 Teochew Family
甜甜屋(电视电影) Love Knows No Bounds
金枕头 Golden Pillow
杀之恋 (电视电影) Pointed Triangle
1994 惊天大阴谋 Thunder Plot
爱情定金(电视电影) Love Dowry
聪明糊涂心 Truly Yours
一号凶宅 Shadow In the Dark
1993 暴雨狂花 Angel of Vengeance
卿本佳人 Ride The Waves
双天至尊 The Unbeatables
欢喜冤家 Happy Foes
1992 霹雳红唇 Ladies In Action
执法先锋 Crime and Passion
戏剧人生 Terms of Endearment
1991 最后一个大侠 The Last Swordsman
三面夏娃 Pretty Faces
1990 出人头地 Finishing Line
壮志豪情 Navy
1989 铁警雄风 Patrol
亲心唤我心 A Mother's Love
1988 窈窕淑女 My Fair Ladies
奇缘之怨偶天成 Strange Encounters II
2013 - Ladies Nite 女人聚乐部
2005 - Zoe's Treasure Trove 阿姐有个宝
2004 - Chronicles of Life 我爱我家之真情实录
Wonders of the World II 惠眼看世界II
Zoe's Mommy Tips 阿姐有喜了
2003 - Health Matters II 一切由慎开始II
Wonders of the World 惠眼看世界
真心真意莱索托之行
2002 - Travel Hunt – India 奇趣搜搜搜-印度之旅
LNY All Stars Variety 歌舞欢腾迎新喜2002
Health Matters 一切由慎开始
Journey Across Mongolia 真心真意蒙古之行
2001 - 真心真意郑惠玉
With Heart And Soul – Cambodia Trip 真心真意携手同行-柬埔寨之旅
2021 Best Actress Award, Star Awards, My Guardian Angel 红星大奖 最佳女主角
(单翼天使)
2019 Best Actress Award, Star Awards, A Million Dollar Dream 红星大奖 最佳女主角
(给我一百万)
2017 Best Actress Award, Star Awards, You Can Be An Angel Too II 红星大奖 最佳女主角
(你也可以是天使 II)

8Days.sg Favourite-est All-time Favourite artiste Award
8Days.sg 读者票选 最受欢迎的超级红星

The Road to Star Awards Episode 1, Best Dressed Award 红星大奖 影聚响宴,
最佳服装奖

2016 stylexstyle SXS trailblazer Award, Cover Girl of the Decade

2015 styleXSG50 Awards - Fashion Icon Award Outstanding Contribution
to The Fashion Industry

2009 Nominee for Asia Television Awards Best Actress (The Ultimatum) 入围亚洲电视大奖'
最佳戏剧女演员奖 (双子星)
2007 Star Awards 25th Drama Anniversary Show 红星大奖之戏剧情牵25
- Voted Screen Sweetheart for the 90s 观众投选90年代荧幕玉女掌门人
- Top 5 Classic Characters (Bobo of Pretty Faces) 5大经典人物之一 (Bobo-三面夏娃)
- Top 5 Best Screen Couple(with Li Nanxing) 5对最佳荧幕搭档/情侣之一 (与李南星)
2006 People at The Peak (3rd edition) 新加坡顶尖人物榜 (第三版)

Singapore the Encyclopaedia (first edition) 新加坡百科全书 (初版)

MediaCorp News Awards - Publishing: 8days Cover of the Year (issue #812) 新传媒第
2届新闻奖8days杂志最佳封面
2005 Lianhe Zaobao '05 Top 50 Most Popular Asian (7 position) 联合早报'05年 亚洲人气偶
像50强 (第七名)
2004 Lianhe Zaobao Top 50 Most Popular Asian Idol (4 position) 联合早报'04年亚洲人 气
偶像50强(第四名〕
Star Awards, All Time Favourite Artiste Award 红星大奖 超级红星
2003 Star Awards 红星大奖
- Top 10 Most Popular Female Artistes 红星大奖'03十大最受欢迎女艺人
- Most Popular TV Partners with Li Nan Xing 最受欢迎电视拍挡(与李南星)
- Malaysia's Most Popular Female Artiste 马来西亚最受欢迎女艺人

People at The Peak (2nd edition) 新加坡顶尖人物榜(第二版)
Lianhe Zaobao '03 Top 50 Most Popular Asian Idol (1 position) 联合早报'03年亚洲人
气偶像50强(第一名)
2002 Star Awards 红星大奖
- Top 10 Most Popular Female Artistes 红星大奖02十大最受欢迎女艺人
- Malaysia's Most Popular Female Artiste 马来西亚最受欢迎女艺人
Lianhe Zaobao '02 Top 50 Most Popular Asian Idol (7 position) 联合早报'02年亚洲人
气偶像50强(第七名)
2001 Star Awards 红星大奖
- Top 10 Most Popular Female Artistes 红星大奖'01十大最受欢迎女艺人
- Malaysia's Most Popular Female Artiste 马来西亚最受欢迎女艺人
2000 Star Awards Top 10 Most Popular Female Artistes 红星大奖 十大最受欢迎女艺人

Nominee for ATA '00 Best Actress (Home Affairs)入围亚洲电视大奖'00最佳戏剧女演
员奖(家事)
1999 Star Awards Top 10 Most Popular Female Artistes 红星大奖 十大最受欢迎女艺人
1998 Star Awards 红星大奖
- Special Achievement Award 特别成就奖
- Top 10 Most Popular Female Artistes 十大最受欢迎女艺人

1997 Star Awards Top 10 Most Popular Female Artistes 红星大奖 十大最受欢迎女艺人
1996 Star Awards 红星大奖
- Top 5 Most Popular Female Artistes 红星大奖'96五大最受欢迎女艺人
- Best Actress Award (Golden Pillow) 最佳女主角 (金枕头)
1995 Star Awards Most Popular Actress 红星大奖 最受欢迎女艺人
1994 Star Awards Most Popular Actress 红星大奖 最受欢迎女艺人

1988 Star Search Champion 才华横溢出新秀 冠军
1987 Model of the Year 年度模特儿大奖
TV DOCUMENATRIES 电视特辑
2019 星期二特写《筑梦》Tuesday Report <The Dream Catchers>
CHARITY CAMPAIGNS 公益活动
2018 YouCanSayNo.sg campaign for Women Causes – video on Domestic Violence
<You Can Say No> 视频 – 杜绝家暴
2019 YouCanSayNo.sg campaign for Women Causes – Facebook live talk show on Date
Rape
<You Can Say No> 面簿直播开讲 – 约会性侵
ALBUMS 唱片
1998 十分…郑惠玉 10th Anniversary Zoe Tay (EP)
PUBLICATION 写真集
1995 Zoe's Pictorial《惠玉》写真集