Siau Jiahui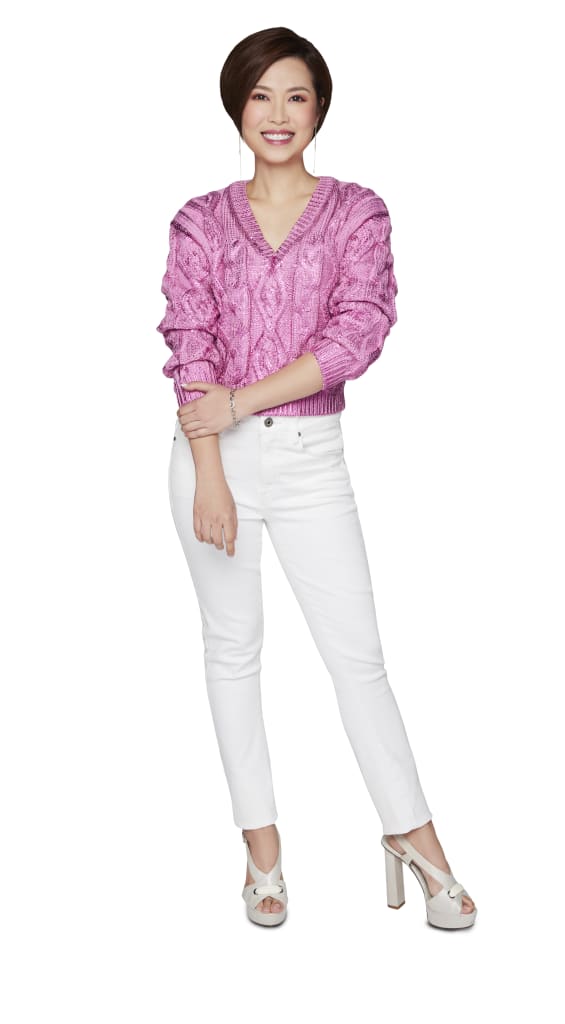 Language
Mandarin, English
Talents
Hosting, Singing, Acting
Feel perked up with Siau Jiahui's bright and cheerful voice! Her vivacious and amiable personality has brightened up the days of many listeners and garnered many likes from distinguished clients of different industries.
An experienced host, Jiahui has been the lead female host for the Singapore Hit Awards since 2008. She has hosted press conferences and gala premieres for Asian blockbusters such as "The Storm Warriors" 《风云2》, "Treasure Hunter" 《刺陵》 and "Monga" 《艋胛》 interviewing movie superstars such as Aaron Kwok, Ekin Cheng and Jay Chou.
A highly sought-after event host and voice talent, she has been engaged by organizations such as Gaincity, Housing Development Board (HDB), NTUC FairPrice, SMRT and Shokubutsu to host their roadshows to reach out to the masses.
Jiahui's extensive knowledge of beauty and skincare has earned her the reputation of being the Beauty Guru of Radio. A preferred choice of many international and regional beauty brands, Jiahui has successfully hosted events and workshops for SK-II, Shiseido, KOSE, Etude House and Eversoft. In addition, she has also worked with renowned Taiwanese beauty advisors Niu Er and Kevin and was made endorsed for the inaugural SaSa Fragrance Awards, a major event for the regional leading health and beauty retailer in 2013.
In 2010, Jiahui broadened into acting and was the lead actress in local movie "Old Cow & Tender Grass" 《老牛与嫩草》. Apart from hosting on-air, Jiahui has crossed over to television hosting, helming Channel U's popular relationship talk-show "Mars Vs Venus" 《金星火星大不同》.
With a never-say-die attitude, Jiahui believes in striving for her best in everything she does!
Portfolio
FILM 电影
2010 - Lead actress in "Old Cow VS Tender Grass" 《老牛与嫩草》女主角
2009 - Special appearance in "The Wedding" 《大喜事》客串
2007 - Special appearance in "Men in White" 《鬼啊鬼啊》客串

TV HOSTING 电视主持
2015 - Mars Vs Venus 金星火星大不同

EVENT HOSTING

2020 - Harvey Norman Livestreaming
2015 - Bossini New Image Store Opening Bossini 概念店开幕
Be a Changi Millionaire Draw 樟宜百万富翁抽奖

2014 - Bukit Gombak CC Fund-Raising Dinner 武吉甘柏民众俱乐部筹款晚宴Volvo Appreciation Night 沃尔沃公司晚宴

2011 - Beauty Workshops and Events 美容讲座和活动
Astalift, Avène, Etude House, Eversoft, KOSE, SK-II, Sephora, Shiseido, Stila, Vichy

Artistes' Autograph Sessions 艺人签唱会: 林俊杰 JJ Lin, 杨宗纬 Aska Yang, 炎亚纶 Aaron Yan, 丁当 Della, 任贤齐 Richie Ren, 苏打绿 Sodagreen, 林宥嘉 Yoga Lin, 方大同 Khalil Fong, 徐佳莹 Lala Hsu

Clients' Roadshows 商家活动: Courts, Eversoft, Frasers Centrepoint, Gaincity, Guardian, Harvey Norman, HDB, Health Promotion Board, i-weekly 30th anniversary roadshows, Kirei Kirei, KOSÉ, Levi's, Mama Lemon, McDonalds, NTUC FairPrice, OSIM, Panasonic, Pro Fresh, Scoot, Sephora, SK-II, Shiseido, Shokubutsu, Singapore Tourism Board, SMRT, StarHub, etc

[Saving General Yang] Movie Gala Premiere [忠烈杨家将] 电影首映礼

[The New Shaolin Temple] Movie Meet and Greet [新少林寺] 电影影迷见面会

[It's A Great Great World] Movie Press Conference and Gala Premiere [大世界] 电影记者会与首映礼
ENDORSEMENT 廣告/代言
2020 - Eu Yan Sang, Drip Chicken Essence
2013 - SaSa Singapore Inaugural Fragrance Awards[莎莎] 新加坡第一届香水大奖
2012 - Rozel Furniture
2011 - Borsch Med Bai Feng Wan with Pearl [宝狮康精选珍珠白凤丸] 产品
2010 - Singtel/Motorola BACKFLIP Phone [新电信/Motorola BACKFLIP] 手机