Vernetta Lopez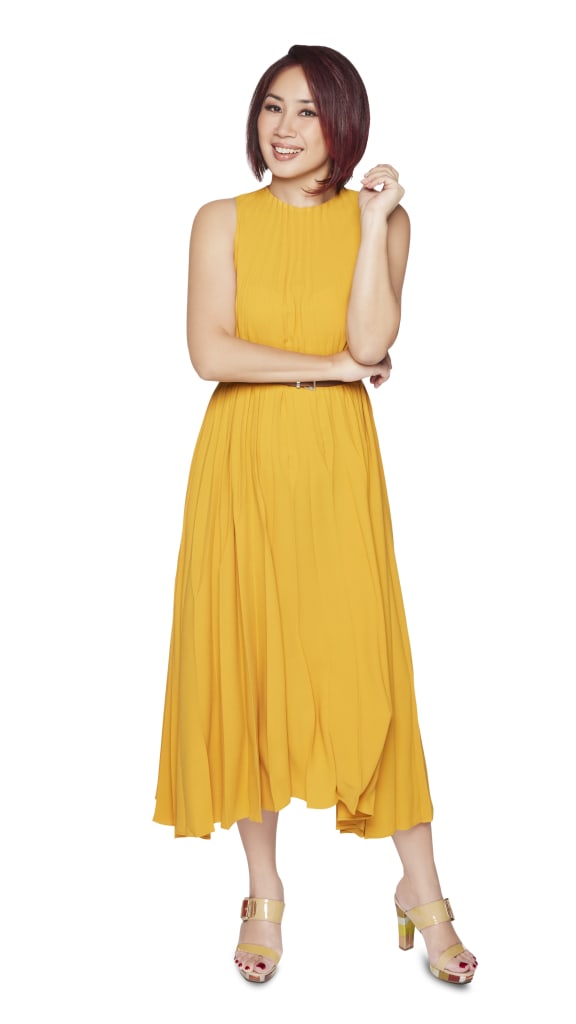 Talents
Acting, Hosting, Voice Acting, Voice coaching, Radio Presenting, Puppetry, Singing, sketching, golf, horseback riding, driving, softball, cross-country running, flower arranging, photography, writing, trailer writing, pro-tools
Vernetta Lopez has been in the entertainment industry for 21 years with her foray into the business via her debut television show, NiteRage, Singapore's first locally produced music video program. During which she was also a DJ on the hot teen radio station, Perfect 10 98.7FM.
Her television acting career took off with Singapore's First English Sitcom, Under One Roof, starring as the young teenage daughter, where she was nominated 4 times before winning an Asian Television Award for Best Actress in a comedy in the year 2000 and won another for Best Actress in a Drama in 2003 for the Blue Print original, 'Ceciliation.'
She has hosted prestigious events such as the National Day Parade, SEA Games, and the nation's New Year Countdown. She is a veteran emcee for events for high-net worth brands such as Standard Chartered bank, Citibank, Rolls-Royce, Dimension Data and Singapore Airlines.
She has starred in movies, numerous television series, and has been the face of many brands such as Kelloggs, Burger King, The National Library Board and the team from the Pioneer Generation. She is also a stalwart of radio, having helmed major drive time shows and has been a pilot of the airwave for 20 years, and is currently the solo host of the Evening Drivetime from 5p, to 8pm on GOLD 905.
She's an actress, radio DJ, corporate event emcee, vocal talent, wedding planning entrepreneur, florist (!), puppeteer and author, having penned her autobiography in 2012 titled' Memoirs of a DJ.'
Throughout the years she's been a familiar face gracing the landscape of television, radio and the stage, with an enduring sustainability through her love for comedy, laughter, entertainment, music and her fans. And she continues to entertain on radio, television and now, online as well.
She still has no plans to slow down and will continue to entertain fans for, as she puts it, 'as long as there's air to breathe and a microphone and a camera nearby.'
Vernetta currently co-host the morning drivetime show - 'Live! with Mike, Vernetta and Gurmit' with Mike and Gurmit, weekdays, 6am to 10am on GOLD 905.
Portfolio
TV SERIES
1994 – 2000 Under One Roof (Season 1 – 7), Lead (Sitcom)
1996 Can I Help You, Lead (Sitcom)
Tonight with Gurmit, Guest Role (Talkshow)
1997 Shiver - The Hand, Guest Role (Drama)
The Donny Lee Show, Guest Role (Sketch Comedy)
1998 Three Rooms, Guest Role (Sitcom)
1999 Money, Guest Role (Comedy-Drama)
2001 Now Boarding, Lead (Sitcom)
2001 – 2002 First Touch (Season 1 – 3), Lead (Drama)
2003 Oh Carol!, Principal (Sitcom)
Homeless, Lead (Drama)
2004 Daddy's Girls, Lead (Sitcom)
2006 Maggi and Me, Guest Role (Sitcom)
2007 Random Acts, Lead Roles, 8 Different Characters (Sitcom and Drama)
Big Day Out, Lead (Comedy)
Stories of Love, Lead (Comedy)

2008 Mental, Lead (Drama)
2010 – 2012 Zero Hero, Lead (Comedy)
2011 The Pupil, Guest (Drama)
2012 & 2015 Code of Law, Guest (Drama)
2014 – 2015 Fableicous, Lead (Comedy)
2016 Rojak (Comedy)
Fine Tune (Radio Comedy)

ONLINE SERIES
2015 The Celebrity Agency YouTube: "Sense and Non-Sensibility"
2016 'Run Rachel Run' on Toggle, Major Supporting Role
MOVIES
2014 - Equals
2006 - The Celebration
2005 - Leap of Love
2003 - Trouble – In – Law
City Sharks
2002 - Ceciliation
TV Hosting 电视主持
2016 - OK Chope!

2015 - New Year's Eve Countdown to 2015
BBC – Special Segment (in post)
OKto Star Squad
2014 - SEA Games – Celebration
2012 - Let's Get Marrried!
2010 - Invite Mr Wright: Special Guest with Ian Wright - TLC
2008 - Behind Closed Doors
2007 & 2008 - Tap TV
2004 - Trendspotting
2000 - The Making of Under One Roof
1997 - DisneyFest
1996 - National Day Parade
1995 - Sentosa Roadshow
Year-End Countdown Show cum New Logo for Channel 5
1994 - Nite Rage (Video Music TV)
POSBank Show
Manhunt Singapore
EVENT HOSTING 活动主持
2015 - Singapore Computer Society and It Leader Awards
Singapore Airlines D & D
Huttons Property Group D & D
Amway YME
Certis Cisco Kingsman Affair Customer Engagement Event & Launch
Societe Generale Dinner and Dance
23rd Exemplary Mother Award 2015
Jubilee Weekend SG50 Celebrations 2015 with The Prime Minister of Singapore
2014 - Dimension Data
Launch of Sea Games Celebrations
Alexandra Hospital D&D
Yong Siew Toh Conservatory of Music Charity Fundraiser
Her World Ladies Event – (moderator)
Dell D&D
S'pore Children's Society Charity Golf Tournament
Sabic D&D
2013 - National Day Parade
Dell Appreciation Night
Fitness First Client Appreciation
2012 - DBS Dinner and Dance
TLC Special Night with Mr Ian Wright
2011 - Tokio Marine – Dinner and Dance
Atelier Design Launch
2010 - Standard Chartered CNY Party
Sony Dealer's Appreciation Day
President's Design Awards
Swiber Christmas Party
Citibank Customer Appreciation Christmas Show
HSBC Sales Appreciation Awards
2009 - Mazda Showroom Launch
Roll Royce Construction Launch
NTUC Youth Member's Night
Chartis Re-Branding
McDonald's Appreciation Night
Standard Chartered Xmas Party
2007 - SAFSA Awards Night
Carlton Hotel Bridal Show
Motorola Kick Off (Hainan, China)
2016 Best Supporting Actress (Toggle series - Run Rachel Run) in Bilbao Web Fest
2014 Winner – Favorite Radio DJ - Singapore Radio Awards
2008 Entrepreneur – Spirit of Enterprise Awards
1996, 1997, 1999, 2000 - Asian Television Awards
Nominated for Best Comedy Actress (Under One Roof)
2007 Winner – Favorite Radio DJ – Singapore Radio Awards
2003 Winner for Best Drama Actress (Ceciliation)
2000 Winner for Best Actress in a Comedy (Under One Roof)
ENDORSEMENT - ADVERTISEMENT/TV COMMERCIAL 平面/电视广告
2010 - Kellogg's Special K Ambassador
Publication 出版物
2012 - 'Vernetta Lopez – Memoirs of a DJ – Life in Progress'