Vimala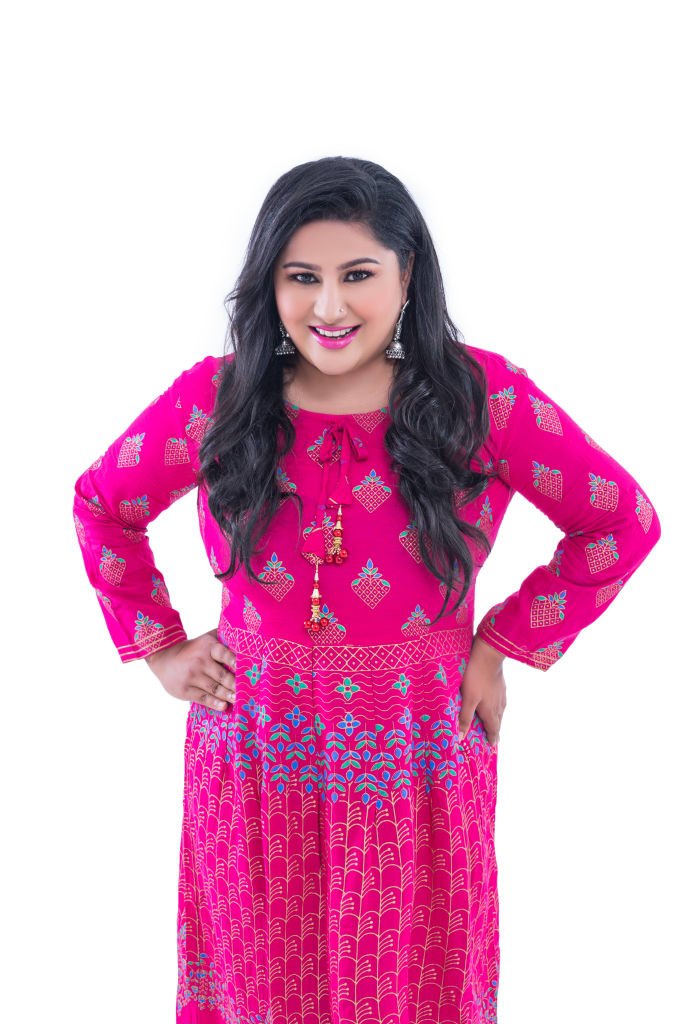 Language
Tamil, Malay, English
Talents
Bilingual Host (English, Tamil & Malay), News Reader Tamil, Bilingual VO Artiste (Malay/Tamil), Radio/TV Host, Actor, Translator, Social media influencer and content creator.
Her vibrancy and exuberance over the air has won her hordes of listeners and friends. Her ability to cut across the age barrier with ease helps connect her with listeners very well. Her innovative "Kundakka Mandakka" (brain teasers), current affairs, gossips, entertainment industry news, star interviews packaged with lively program presentations attracts listeners well.

Apart from being a DJ, she hosted a number of variety shows on television including Aasai Aasaiyai (Cooking for Love), which won the best infotainment programme at the annual Pradhana Vizha Award organised by Vasantham TV in 2010. 

She has been winning awards in every Singapore Radio Awards show since the last 5 award nights, with the highlight being 2010. She won 3 awards on Singapore Radio Awards 2010, biggest individual win that night, namely Radio Personality of the Year – Media's Choice, Most Popular Radio Personality and Most Creative Radio Trailer, in which her trailer on how to engage youths on sex education at home was deemed witty and useful for parents.


Portfolio
TV Programme Hosting
One of the host for "Oli968" TV Show (Nominated for Best Entertainment Series category in Pradhana Vizha 2021)
Neruppuda show contestant 
"Thamizhodu Inaivom" Host 2015 & 2016
"Aasai Aasaiyai (Cooking for Love) Host 2010 (Won best infotainment programme award in Pradhana Vizha)
 "Udhayam" Rising Star Variety show Judge
2010
"Naam" current affair show Host 2008
"Penn" Host 2008
"Dhool" Host 2006
 "Super Nanbargal" best pair of friends 2004
"Inaiyam" IT show Host 2003
Events Hosting
Accompanied listeners in overseas trips and cruise trips to places such as Delhi, Sri Lanka, Malaysia and Australia 
Global Indian Festival Host (2014 onwards)
Zak Salam India (2010 onwards)
Singtel Exclusive Party Tamannah & Purnima – Host – 2010
ITFA 75 Years of Tamil Cinema event launch 2007
Malayalam Movie Awards Classic Films Club - Host
(2006)
Awards and Achievements
Board member of Tamil Language Learning and Promotion Committee (TLLPC) 
HPB Bus Ad Appearance during Deepavali Period (2019) 
Most Popular Radio Personality Oli DJ (2013)
Radio Personality of the year Media's Choice (2013)
Most Creative Radio Trailer for Oli (2011)
Most Popular Radio Personality Oli DJ (2011)
Most Creative Radio Trailer for Oli (2010)
Most Popular Radio Personality Oli DJ (2010)
Radio Personality of the year Media's Choice (2010)
Most Favourite DJ Voice 2008 presented by Singtel (2008)
Most Creative Oli Trailer in the Singapore Radio Awards (2007)
Most Friendliest Oli DJ in the Singapore Radio Awards (2005-2007)
ENDORSEMENT 

Gooday's Gold Facial Services (2017)
Yours Naturally Dermacel (2014 - 2017)
Gooday's Raspberry Kitone (2014)
Betagrape Plus Product Ambassador for Essentially Yours (2011 - 2013)
Miracle Clay Ambassador for Ritabella (2012)
Social Media Engagements

IG Post - LazMall99BigBrandSale
FB Live Video - SuperSamayal5 Show Promotion Cooking  
IG Post - LazadaNationalDaySale
FB Live Videos - MCI Healthy Cooking Shows 
IG Post - Let's Celebrate 2021 Better
IG Post - Body & Soul Online Health Fair