Chen Tian Wen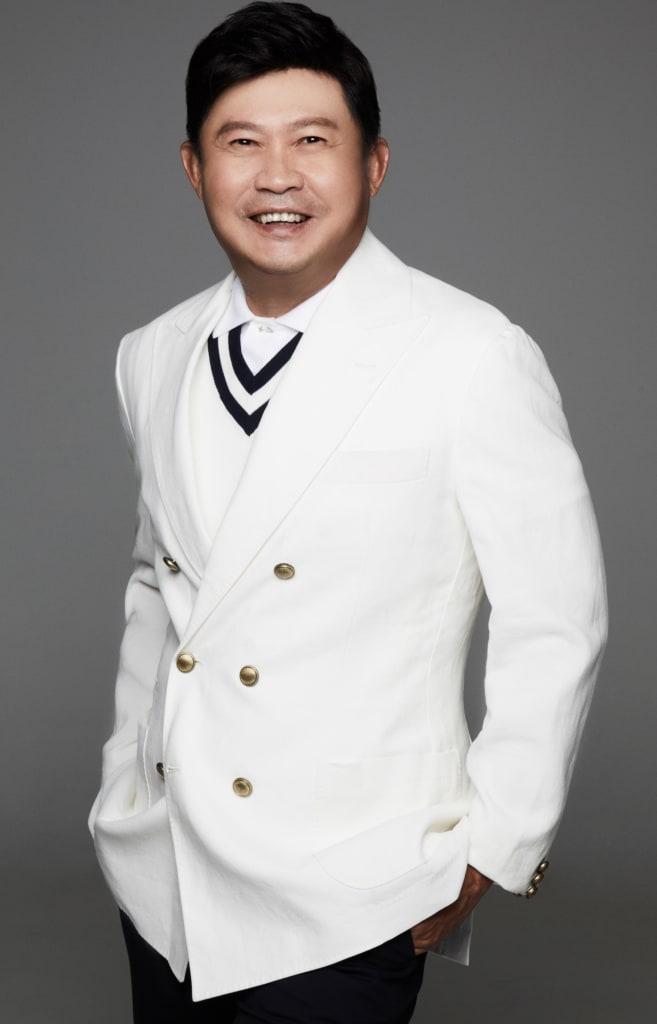 Language
English, Mandarin, Teochew, Cantonese, Hokkien
Talents
Acting, Singing, Martial Arts, Taekwondo, Golf, Ice Sculpture
A seasoned actor with more than 20 years of experience, Chen Tian Wen is not only a well-known face in Singapore, but also in China. He has worked on countless drama serials, including a collection of regional co-productions. His appeal to the local and mainland Chinese audience does not come as a surprise given his superb acting skills and martial arts background.
Tian Wen's most notable works include classics such as Man From The Past, Airforce and The Royal Monk. In fact, his roles as a swashbuckling hero in Man From The Past and as a bumbling monk in The Royal Monk are still remembered by local and China viewers until this day. From the macho, no-nonsense action hero to the sensitive new age guy, Tian Wen has matured into a versatile actor capable of handling a diverse range of roles through the years.
In 2013, Singapore's major daily, The Straits Times remarked that Tian Wen's supporting role in movie ILO ILO has put him in the spotlight once again. The film was awarded the Caméra d'Or award at the Cannes Film Festival.
In 2015, Tian Wen was featured in a music video title Unbelievable, singing a tune inspired by 1970s Singaporean singer Huang Qing Yuan. The video went viral online and has garnered 2.6 millions views till date. A movie was then produced for him titled Mr Unbelievable.
Off screen, the sporty artiste holds a black belt in Taekwondo and is an avid golfer. Active in community and charity work, Tian Wen has lent his celebrity influence to organize various events to help the needy.
Portfolio
TV DRAMA 电视剧
2022 Sunny Side Up (English Long Form)
灵医 Soul Doctor
你也可以是天使 4 You Can Be An Angel 4
2021 守护星 In Safe Hands
关键证人 Key Witness
心里住着老灵魂 Soul Old Yet So Young
2020 男神不败 Super Dad
谁是杀手?Who Did It?
单翼天使 My Guardian Angels
森林生存记 Jungle Survivor
花花公子 Mister Flower
2019 致胜出击 The Good Fight
阴错阳差 Hello from the other side
阴错阳差 - 时辰到"Hello from the other side - It's Time" (Toggle online 网剧)
心点心 Heart to Heart
2018 心。情 Mind Matters
118 大团圆 118 Reunion
2017 吃饱没?2 Eat Already? 2
2016 118 2 (208集长剧 208-ep long form drama)
家有一保 Don't Worry, Be Healthy
绝世好工 The Dream Job
警徽天职4 C.L.I.F. 4

K.O. (TOGGLE)
大英雄 Hero

2015 Code of Law 3 (CH 5)
House for Spouse 2 (CH 5)
2014 Mata Mata 2
初一的心愿 Life is Beautiful
118 (255集长剧 255-ep long form drama)
2013 阿兵新传 Recruit Diaries
骤变 Sudden
揭秘 Disclosed
我们一定行 Yes We Can

2012 最火搭档2 Unriddle 2
微笑正义 Poetic Justice
对对碰 It Takes Two
2011 边缘父子 On the Fringe
朋友 Mooncake
2010 全家福 Happy Family
神探妙夫妻 Mr and Mrs Kok
红白囍事 New Beginnings
最火搭档 Unriddle
泳闯琴关 No Limits
2009 书包太重 My School Daze
2008 心花朵朵开 I & II Love Blossoms I & II
不凡的爱 By My Side
2007 手足 Kinship
2006 A Life Story (CH 5)
萤火虫的梦 Let It Shine
幸福双人床 Mars Vs Venus
龙虎英雄记 (MDA Production)
2005 猜心妙手(中、台、新制作)
孩有明天III A Child's Hope III
刑警二人组 CID
爱情零度C Love @ 0℃
2004 赤子乘龙(中、新制作)
喜临门 I Double Happiness I
喜临门 II Double Happiness II
2003 荷兰村 Holland V
跑吧!男人 Man At Forty
吃吃面包谈谈情 A Toast of Love
2002 河水山 Bukit Ho Swee
叛逆战警 Devil's Blues
浓浓咖啡乌 Kopi- O II
考试家族 No Problem
一切由慎开始 II Health Matters II
2001 法医X档案之白日梦
Beyond The Axis of Truth
大酒店 The Hotel
我爱精灵 My Genie
2000 笑傲江湖 The Legendary Swordsman (中、新制作)
骗侠(中国制作)
1999 东游记 Legends of The 8 Immortals
医生档案 From The Medical Files
哪吒 The Legend of Ne Zha (中、新制作)
1998 真命小和尚之十二铜人 The Royal Monk II (中、新制作)
欲望街车 Driven By Cars
摩登状元 Back To School
1997 真命小和尚 The Royal Monk ( 中、新制作)
财神到 The Gods Must Be Rich
铁血男儿 Sword & Honour(中、新制作)
1996 掌门人1996 Kungfu Master 1996
缘来是你 My Destiny With You
1995 医胆仁心 Heartbeat
天师钟馗 Heavenly Ghost Catcher (台湾制作)
地下猎人 The Shadow Mission
1994 鹤啸九天 Web of Deceit (中、新制作)
侠义包公 Young Justice Bao
惊天大阴谋 Thunder Plot
帮会1889 Men on the Edge
勇者无惧 The Challenger (中、新制作)
情思万缕 Silk & Romance (中、新制作)
1993 再战封神榜 Heavenly Beings
未了情 Endless Love
莲花争霸 The Great Conspiracy(中、新制作)
暴风狂花 Angel of Vengeance
1992 悲欢岁月 Women of Substance
1991 铁狱雷霆 Behind Bars
妙探智多星 Private Eyes
最后一个大侠 The Last Swordsman
一代天骄 The Legend of a Beauty
1990 大吉传奇 The Village Hero
壮志豪情 (又名:海军) Navy
1989 鼓舞青春 Magic of Dance
浮沉 Turn of the Tide
1988 舞榭歌台 The Last Applause
牛车水人家 Teahouse In Chinatown
婚姻保险 Ups and Downs
1987 空军 Airforce
变迁 Moving On
MOVIES 电影
2017 - Take 2 遇见贵人
2016 - Lulu The Movie 露露的电影
2015 - Mr Unbelievable
2014 - The Lion Men I & II 狮神决战
2014 - Wayang Boy 戏曲小子
2013- 新兵正传2 Ah Boys To Men 2
2013 - Ilo Ilo 爸妈不在家
2012 - 新兵正传Ah Boys To Men
2011 - It's a Great Great World 大世界
2004 - One Last Dance 阿查之舞
2002 - The Fighter 奇迹酒吧之打手
AWARDS/ACHIEVEMENTS 奖项/荣誉
2013 - Nominee for Golden Horse Award Best Supporting Actor (Ilo Ilo) 提名金马奖最佳男配角(爸妈不在 家)
1997 - Top 10 Most Popular Male Artistes, Star Awards 1997 红星大奖1997十大最受欢迎男艺人
1988 - Top 10 Most Popular Male and Female Artistes 1988 新加坡1988十大最受欢迎男女演员
THEATRE 舞台剧
2000 - Madam White Snake 白蛇传