Richard Low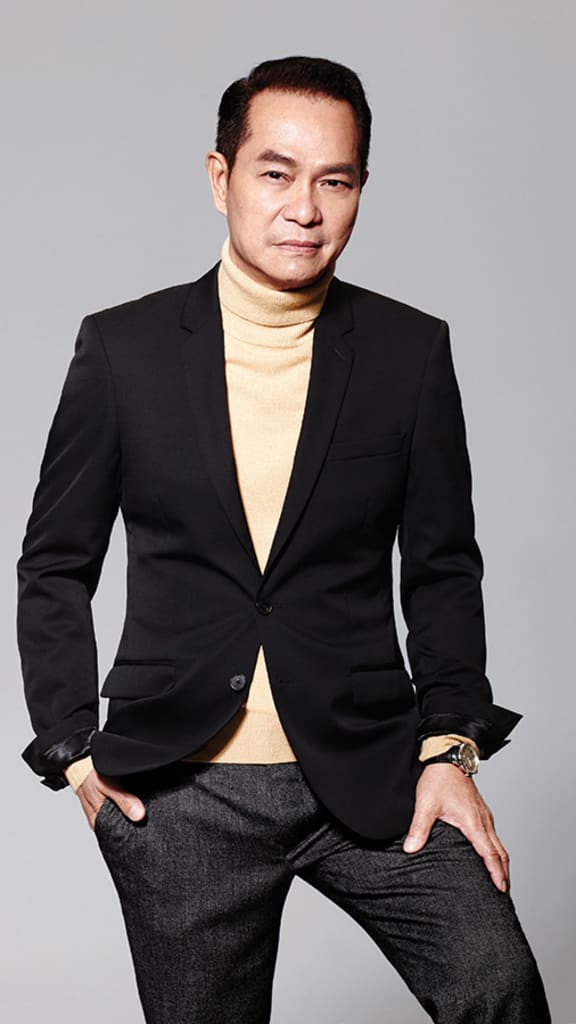 Language
Mandarin, English, Hokkien
Talents
Acting, Singing, Hosting
A household name in Singapore, Richard Low was already acting within the theatre circle when he took up the Professional Drama Performers' Training Course organised by the then Singapore Broadcasting Corporation (now MediaCorp). His outstanding performance subsequently clinched him an artiste contract in 1986.
In the early stages of his acting career, he mainly starred in baddie roles. Undeterred from being possibly typecasted, he worked twice as hard as any of his fellow colleagues. Through toil and sweat, Richard finally garnered the Best Supporting Actor Award in Star Awards '97 for his role in The Silver Lining.
In 1999, when Richard was cast as the male lead of Mr. OK and handled the role admirably, audiences sat up and noticed him in a new way. They changed their perception of him as merely a supporting actor. Producers too took note of his performance and were soon asking him to act in their shows.
His second breakthrough came in the form of a movie where he played a wealthy 'ba gua' (barbeque pork) boss in I Not Stupid, a 2002 box office hit directed by Jack Neo. The film received positive reception at several film festivals and it is still one of the top 5 grossing movie in Singapore. Following the success of the film, a TV version was developed the same year. Since then, Richard has participated in several local feature films including The Best Bet and Singapore Dreaming.
In 2012-2013, Richard again played a key role in Jack Neo's box office hit Ah Boys To Men. This two-part comedy film which revolves around a group of army recruits is currently the highest-grossing Singaporean film of all time and it even returned in the form of a live musical in 2014. In the same year, Richard is nominated for the Best Comedy Performance by an Actor/Actress (Spouse For House) at the 19th Asian Television Awards.
Portfolio
TV SERIALS 电视剧
2022 Dark Angel 黑天使
The Unbreakable Bond 寄生
Home Again 多年后的全家福
2021 The Peculiar Pawnbroker 人心鉴定师
Recipe of Life 味之道
2020 Recipe of Life 味之道
How Are You 2 好世谋2
Terror Within 内颤
2019 Daybreak 天空渐渐亮
Old Is Gold 老友万岁
While You Were Away 一切从昏睡开始
Hello From The Other Side – Its Time 阴错阳差 — 时辰到 (Toggle)
How Are You 好世谋
2018 Heart To Heart 心点心
Say Cheese 西瓜甜不甜
Eat Already 4 吃饱没4
2016 Hero 大英雄
Tanglin
2015 Super Senior 长辈甜心
The Dream Makers II 志在四方II
House for Spouse 2
Second Chance 流氓律师
A Blessed Life 吉人天相
2014 Spouse For House S1
World At Your Feet 球在你脚下
2013 Mata Mata S1
Disclosed 揭秘
The Dream Makers I 志在四方I
2012 Poetic Justice 微笑正义
Absolutely Charming 糊里糊涂爱上它
2011 The Oath行医
The In-Laws麻婆斗妇
2010 Breakout 破天网
New Beginnings 红白囍事
The Score 无花果
2009 The Dream Catchers 未来不是梦
2008 Love Blossoms II 心花朵朵开 II
Beach.Ball.Babes 球爱大战
2007 Metamorphosis 破茧而出
Switched! 幸运星
2005 Portrait of Home 同心圆
2004 The Best Bet 突然发财
Spice Siblings 辣兄辣妹
Chronicles of Life 我爱我家之真情实录
Crime Hunters 心网追凶
2002 Springs Of Life 春到人间
Brotherhood 有情有义
KOPI-O II 浓浓咖啡乌II
2001 Love Me, Love Me Not 真爱无敌
In Pursuit of Peace 何日军在来
Heroes In Black 我来也
Beyond the Axis of Truth 法医X档案之异类接触
1999 Wok of Life福满人间
The Legendary Swordsman笑傲江湖
PI Blues 乌龙档案
Mr OK OK 先生
1998 Right Frequency 播音人
The Fortune God 财神爷
The New Adventures of Wisely 卫斯理传奇
Living in Geylang 芽笼。芽笼
1996 The Unbeatables II 双天至尊II
1993 The Unbeatables I 双天至尊
1989 Patrol 铁警雄风
1988 When Hearts Touch 似水柔情
Strange Encounters II 奇缘之怨偶天成
Teahouse In Chinatown 牛车水人家
Song of Youth 生活歌手
The Last Applaus e舞榭歌台
On The Fringe 边缘少年
1987 Heiress 世纪情
Five Foot Way 五脚基
Fury Of The Dragon 冷月剑无言
Moving On 变迁
Strange Encounters II奇缘II之广陵散
Painted Faces 戏班
Pickpockets 提防小手
Airforce 空军
Paint A Rainbow 调色板
Mystery迷离夜之婴
Sunshine After Rain 雨过天晴
1986 Neighbours 芝麻绿豆
The Sword and Song 绝代双雄
MOVIES 电影
2015 - Ah Boys To Men Frogmen 新兵正传III 蛙人传
King of Mahjong 麻雀王
MY LOVE, SINEMA 放映。爱
2014 - Re:Solve 决义案
Filial Party 我是孝子
2013 - Ah Boys To Men 2 新兵正传2
Judgement Day 世界末日
Everybody's Business 十万火急
2012 - My Ghost Partner 人鬼拍档
Ah Boys To Men 新兵正传
2010 - Happy Go Lucky 福星到
2009 - Where Got Ghost 吓到笑之发财热线
2008 - The Days 岁月
2007 - Ah Long Pte Ltd 老师嫁老大
2005 - Avatar 流放化身
Singapore Dreaming 美满人生
2004 - The Best Bet 突然发财
2003 - Home Run 跑吧!孩子
2002 - I Not Stupid 小孩不笨
TV HOSTING 电视主持
2002 - Foodies Choice 美食包打听

AWARDS/ACHIEVEMENTS 奖项/荣誉
2014 - Nominee for the 19th Asian Television Awards Best Comedy Performance by an Actor/Actress (Spouse For House) 入围19届亚洲电视大奖'最佳戏剧演员。
2002 - Nominee for Star Awards '02 Best Comedy Performer (I Not Stupid) 入围红星大奖'02最佳喜剧演员(小孩不笨)
2000 - Nominee for Star Awards '00 Best Comedy Performer (Don't Worry Be Happy) 入围红星大奖'02最佳喜剧演员(敢敢做个开心人)
1999 - Nominee for Star Awards '99 Best Actor (Mr OK) 入围红星大奖'99最佳男主角(OK 先生)
1998 - Nominee for Star Awards '98 Best Supporting Actor (Living In Geylang) 入围红星大奖'98最佳男配角(芽笼。芽笼)
1997 - Star Awards '97 Best Supporting Actor (The Silver Lining) 红星大奖'97最佳男配角(骤雨骄阳)
1995 - Nominee for Star Awards '95 Best Supporting Actor (Coffee or Tea) 入围红星大奖'95最佳男配角(是非屋)
THEATRE 舞台剧
2014 - Ah Boys To Men The Musical 新兵正传
1998 - Beauty World: President Star Charity 美世界:总统星光慈善

ENDORSEMENTS 代言
2014 to 2016 - US Clinicals Strong Joint
2014 to 2015 - Dragon Brand Bird's Nest