Zheng Ge Ping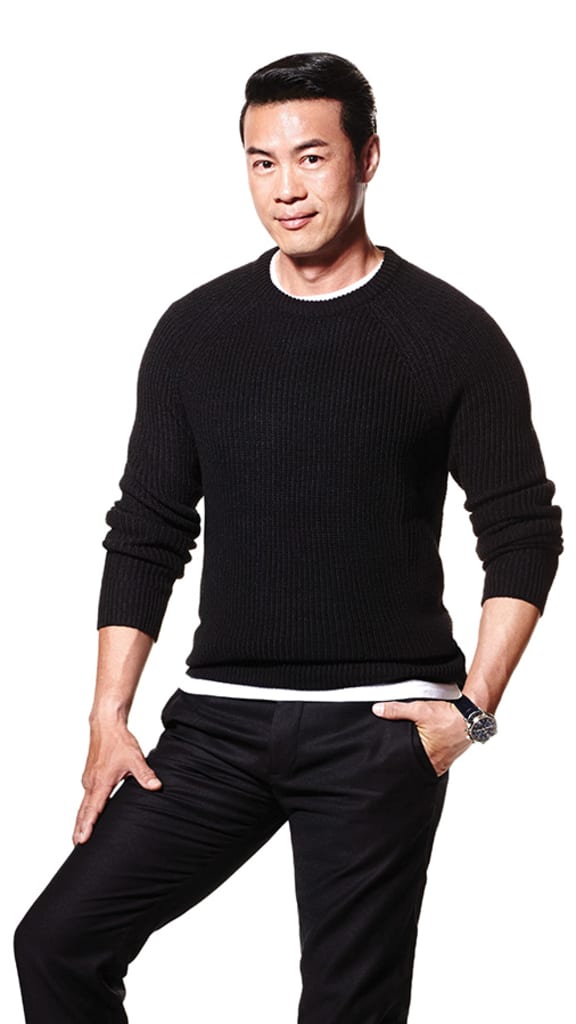 Language
Mandarin, English, Malay, Hokkien
Talents
Acting, Hosting, Soccer, Golf, Taekwando
Zheng Ge Ping, a former chef, became a full-time actor in 1987 after completing the 7th Professional Drama Performers' Training Course. The 1.82m Ge Ping is a 4th dan black-belter in taekwondo. With his burly physique in complement with his taekwondo skills, he is able to deliver kicks and punches impressively. These factors thus put him in good stead when come to action roles.
A versatile actor, Ge Ping is capable of striding between both evil and good roles. Being a diligent actor, Ge Ping's acting skills has improved tremendously after years of hard work. His breakthrough came in 1996 with his convincing portrayal of a demon in "The Legends Of Ji Gong" and a retarded in "Tofu Street". Ge Ping was nominated for The Best Supporting Male Actor in Star Awards for three consecutive years. One of his later vehicles, "The Vagrant", showed him playing a hooligan who went mad after betraying his best friend which landed the latter in jail.
His hard work was finally recognized when he ascended to leading man status and won the Best Actor Award for his role as a well-built but simple-minded father in "Like Father, Like Daughter" at the 2007 Star Awards. Following this win, Ge Ping has since landed in more leading roles in subsequent years including the long-running drama "Love Blossoms".
He further impressed audiences with his ultra-masculine persona in "Kampong Ties" which also earned him another nomination for Best Actor Award.
2012 sees Ge Ping taking on key roles in two blockbuster dramas "Joys Of Life" which was set in post-World War II Singapore and "It Takes Two", a light hearted drama that reflects the everyday issues currently confronting Singaporeans.
In 2013, this veteran actor turned author and released his first book <Star Fitness> where he reveals his training and diet regimen that transformed his body into a lean and toned physique.
In 2019, he took on his first TV drama as an executive producer and coincidentally, his daughter was starred in the same drama. A veteran artiste constantly pushing himself to his limits and pursuing his dreams, his creativity juice is not to be deterred by his age.
Ge Ping was seen in dramas such as "The Lead", "When Duty Calls", "Fifty & Fabulous" and "C.L.I.F 5".
Portfolio
TV SERIAL 电视剧
2022 Leave No Soul Behind 21点灵
2021 Key Witness 关键证人
My Star Bride 过江新娘
2019 C.L.I.F 5警徽天职5之海岸卫队
2018 Fifty & Fabulous 五零高手
2017 The Lead 第一主角
When Duty Calls 卫国先锋
Eat Already 3 吃饱没?3
2016 You Can Be An Angel 2 你也可以是天使 2
Hero 大英雄
2015 You Can Be An Angel Too 你也可以是天使
Code of Law season 3
For A Better Tomorrow 我为人人
Hand in Hand 手牵手
Life Fear Not 人生无所畏
2014 Gone Case (Telemovie)
C.L.I.F.3 警徽天职 3
World At Your Feet 球在你脚下
Against the Tide 逆潮
The Journey: Tumultuous
Times 信约:动荡的年代
2013 Love Shake (telemovie) 心动 (电视电影)
Xinmsn Testube III: 《Unconditional Love》实验视III《无尽的爱》
Sudden 骤变
Little Detectives (Children Drama) 芝麻小侦探
2012 Joys of Life 花样人间
Poetic Justice 微笑正义
It Takes Two 对对碰
Xinmsn Testube II: Brothers 实验视II《兄弟》
2011 Kampong Ties 甘榜情
Code of Honour 正义武馆
2010 Carlsberg Telemovie Showcase 皇帽瑞狮喜迎虎电视电影系列
Precious Babes 三个女人一个宝
Unriddle 最火搭档
Mrs. P.I. 查某人
Breakout 破天网
2009 Table of Glory 乒乓圆
My Buddy 难兄烂弟
Together 当我们同在一起
2008 The Golden Path 黄金路
Taste of Love 缘之烩
Love Blossoms I & II 心花朵朵开
Calefare
2007 Making Miracles奇迹
Let It Shine 萤火虫的梦
The Homecoming 十三鞭
The Beautiful Scent 美丽的气味
Like Father, Like Daughter 宝贝妇女兵
Live Again 天堂鸟
2006 The Shining Star 星闪闪
Measure of Man 大男人,小男人
Family Matters 法庭俏佳人
2005 My Lucky Charm 情来运转
Zero To Hero 阴差阳错
Beyond The Axis of Truth II – Fatal Attraction 法医X挡案II之致命吸引力
2004 The Crime Hunters心网追凶
When The Time Comes 一线之间
2003 Viva La Famille I I好儿好女 II
Holland V 荷兰村
A Toast Of Love 吃吃面包谈谈情
2002 Lucky Numbers 发财八百万
Viva La Famillie 好儿好女
The Vagrant 豹子胆
Health Matters 一切由慎开始
Springs Of Life 春到人间
2001 The Hotel大酒店
Through Thick And Thin 阿灿正传
2000 The Legendary Swordsman 笑敖江湖
Master Swordsman Lu Xiao Feng 陆小凤之凤舞九天
The Invincible Squad 迷幻特警
The Strategem 世纪攻略
1999 Wok Of Life 福满人间
Darling-In-Law 我的岳母是巫婆
Stepping Out 出路
1998 Return of the Condor Heroes 神雕侠侣
Taxi Drivers 德士司机
Living in Geylang 芽笼.芽笼
On The Edge 边缘档案
1997 Tales of the Third Kind 第三类剧场之猛鬼旅行社
Time After Time 我来自1997
My Wife, Your Wife, Their Wives
101老婆之Mdm老公
Silver Lining 骤雨骄阳
My Family, My Life 高家万岁
Tales of the City 都市奇情之说不出的爱
Not The Facts 迷离档案
The Fall Guy (telemovie) 冲出保险区(电视电影)
Roses, Complete With Thorns 单身女郎
1996 Tofu Street 豆腐街
The Legends Of Ji Gong 活佛济公
Triad Justice 飞越珍珠坊
1995 Coffee Or Tea 是非屋
King Of Hades 阎罗传奇
1994 Happy Reunion 年年有鱼
Those Were The Days 生命擂台
Twin Bliss 龙凤呈祥
The Valiant One 昆仑奴
Love At Last 真心男儿
StrangeEncounters III 奇缘之注生娘娘
Lady Investigator 神机妙算俏娇娃
1993 Heavenly Beings 再战风神榜
The Brave Ones 荡寇英雄
Hidden Truth 法网情天
The Great Conspiracy 莲花争霸
The Wilful Siblings 斗气姐妹
Ninjas In Town 伏魔兵
1992 Modern Romance 男欢女爱
The Dating Game 爱情乒乓球
The Male Syndrome 妙男正传
1991 From Heaven To Earth 七彩人间
Black Phoenix 黑凤凰
1990 When Dawn Breaks 乱世黎明
Starting Ove r暖流
By My Side 逆风天使
Wishing Well 幻海奇遇
Enchanted Eyes 天眼
1989 Splash To Victory 绿水英姿
A Mother's Love 亲心唤我心
1989 A Long Way Home 燃烧岁月
Two Different Lives 金兰结
My Sweet Rival 摩登俏冤家
1988 On The Fringe 边缘少年
My Fair ladies 窈窕淑女
Strange Encounters 奇缘II
When Hearts Touch 似水柔情
1987 Fury Of The Dragon 冷月剑无情
Air Force Special 空军
Neighbours 芝麻绿豆
MOVIES 电影
2015 - 7 Letters
2014 - Re:solve 决义案
HERO 英雄 (Temasek Poly - Short Film Project)
2012 - Dance Dance Dragon (special appearance) 龙众舞 (友情客串)
2011 - It's A Great Great World (special appearance) 大世界 (友情客串)
The Ultimate Winner 大赢家
2001 - The Tree 孩子树
TV HOSTING 电视主持
2013 - Good Man Good Food 好男人好料理
My Star Guide 8 - Simply Delicious! (Henan) 我的导游是明星8 -食在好玩(中国河南)
2010 - My Star Guide 我的明星是导游
1997 - 体坛魅力 (sports programme)
AWARD/ACHIEVEMENT 奖项/荣誉
2021 - Star Awards '22 All-Time Favourite Artiste
红星大奖'22 超级红星
2021 - Star Awards '21 Top 10 Most Popular Male Artistes
红星大奖'21十大最受欢迎男艺人
2019 - Star Awards '19 Top 10 Most Popular Male Artistes
红星大奖'19十大最受欢迎男艺人
2018 - Star Awards '18 Top 10 Most Popular Male Artistes
红星大奖'18十大最受欢迎男艺人

2016 - Star Awards '16 Top 10 Most Popular Male Artistes
红星大奖'16十大最受欢迎男艺人

2014 - Star Awards'14 Top 10 Most Popular Male Artistes
红星大奖'14十大最受欢迎男艺人
2013 - Star Awards '13 Top 10 Most Popular Male Artistes
红星大奖'13十大最受欢迎男艺人
2012 - Star Awards '12 Top 10 Most Popular Male Artistes
红星大奖'12十大最受欢迎男艺人
2011 - Star Awards '11 Top 10 Most Popular Male Artistes
红星大奖'11十大最受欢迎男艺人
2010 - Star Awards '10 Top 10 Most Popular Male Artistes
红星大奖'10十大最受欢迎男艺人
2009 - Star Awards '09 Top 10 Most Popular Male Artistes
红星大奖'09十大最受欢迎男艺人
2007 - Star Awards '07 Best Actor (Like Father Like Daughter)
红星大奖'07最佳男主角(宝贝妇女兵)
EP Projects 电视剧监制
2022 Soul Detective灵探
2021 I Want To Be Towkay 冤家,亲家做头家
2020 How Are You 2 好世谋2
Terror Within 内颤
2019 How Are You 好世谋
The Good Fight 致胜出击
2018 Close Your Eyes 闭上眼就看不见