A B Shaik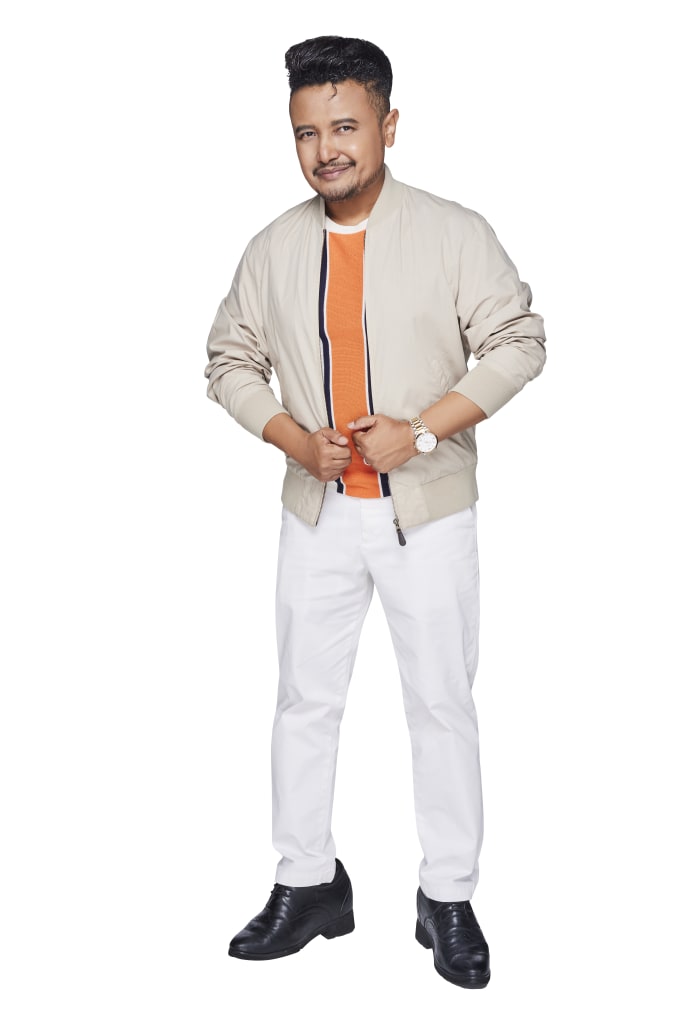 Talents
Hosting, Voice-over, Acting
A B Shaik is a DJ at Mediacorp's Malay News and Infotainment radio station, Warna 942. He joined the radio industry as a Ria 897 DJ in June 1991. For more than 20 years, since 1995, Shaik has been the resident voice-over talent for hundreds of TV and radio commercials, trailers, and TV documentaries.
From a Producer/Presenter, Shaik helmed Ria 897 as Senior Programme Director (1999-2006) and moved on to be Senior Business Development Manager for Warna/Ria/Oli before he relinquished his appointment to be back as DJ in Warna 942.
Shaik has also performed in several Malay theatre productions at Victoria Theatre and Kallang Theatre with Radio and Outside Productions. The versatile DJ also hosted and acted in many local Malay TV programmes such as Anugerah Planet Muzik (APM-2002), Jus! (for 4 seasons), Zaman Sekolah ( 3 seasons ), Cakap Cakap and Te: RaSeh!( 4 seasons). Last year Shaik hosted Ryakustika - a Hari Raya Haji TV show along with Farhana M Noor.
The recent one as a host with Ainon Talib for Warna Ramadan 2022 - a month-long daily programme on Suria, not to mention as Guest Artiste in a few other TV shows such as Body & Soul, The 5 Show, Masak Macam Saya, X, Sabotaj, and more. He also had some cameo appearances in English TV programmes such as Phua Chu Kang, Who Wants To Be A Millionaire, Minute to Win It, Body And Soul, and many more.
Being effectively bilingual in English and Malay and having a flair for Hindi and Arabic, Shaik has been an emcee for over 1,000 corporate and company functions, concerts, product launches, birthday parties, and many more. Occasionally, he receives invitations to host overseas events such as Malaysia and Dubai, not to mention onboard ships. As for weddings, his forte, he has hosted more than 5,000 weddings since 1986.
Shaik has definitely won the hearts of Warna listeners, as he was voted and awarded Warna's Most Popular Radio Personality in 2007 and thereafter for a few consecutive years. Shaik also won the Personality of The Year 2007 and 2010 – Media's Choice. Members of the media judged this award.
Shaik has always been the Top Choice for the 'Travel with Personalities' tour series organised by Travel Agents and Mediacorp. He has been tasked to lead tours for more than 25 countries and destinations for events of such a nature.
Portfolio
Hospektakular (Contestant)
Phua Chu Kang (Cameo)
Who Wants To Be a Millionaire
Minute To Win It
Don't Forget The Lyrics
Body & Soul
The 5 Show
Macam Masak Saya
TV Host: Warna Ramadan 2022
TV Host: JUS, 3 season (Live TV Show)
TV Host: Cakap-Cakap
TV Host: Te:Ra Seh!, 4 seasons (Live TV Show)
TV Host: Zaman Sekolah, 3 seasons
VO - All Changi Access (2016)
VO - TV12/Suria (1998-2008)
Host - Geylang Light-Up (2014)
Host - Mahkota 101 (2014, 2015,2016)
Host - SCDF Hari Raya Show (2014)
Host - Taufik Batisah Album Launch (2014)
Host - Passion Arts Fashion Festival (2014)
Host - OTO Wellness Roadshow (2015,2016)
Host - Launching of TAA (2010, 2011, 2015)
Host - Celebrity Engagement for Pioneer Generation Card (2015)
Host - Sembang Petang WDA (2016/2017)
Host - Launching of Yusof Ishak Mosque (2017)- GOH : Prime Minister and Toh Puan Aishah
Host - 4PM Anniversary - GOH: Prime Minister
Host - Jamiyah Charity Concert (2017)
Host - Jamiyah 85th Anniversary (2017)
Host - Pertapis 47th, 48th & 49th Anniversaries
Host - Rose Valley Event (2017)
Host - MUIS Family Carnival (2018)
Host - Inter Racial Inter Religious Harmony Nite (2010 - 2019) -GOH : President and First Lady / President and First Gentleman
Host - APM Press Conference (SG/KL)
Host - MAEC Hari Raya Gatherings Since 2000
Host - Merdeka Generation Roadshows (2019-2020)
Host - Pioneer Generation Roadshows (2017-2018)
Host - Workright Roadshows (2018-2019)

Host - Jamiyah Food Bank Charity Show - Wisma (2019)

Host - Halal International 2022
Warna's Most Popular Radio Personality (2007)
Personality Of The Year- Media's Choice (2007 & 2010)
Endorsements/ Ambassadors:
SOL Renovation Contractors (3 years)
Darwin Interior (2 years)
Tabung Amal Aidilfitri (TAA) (4 years)
Beijing 101 Hair Care Services (5 years)
Commercials: