Bryan Wong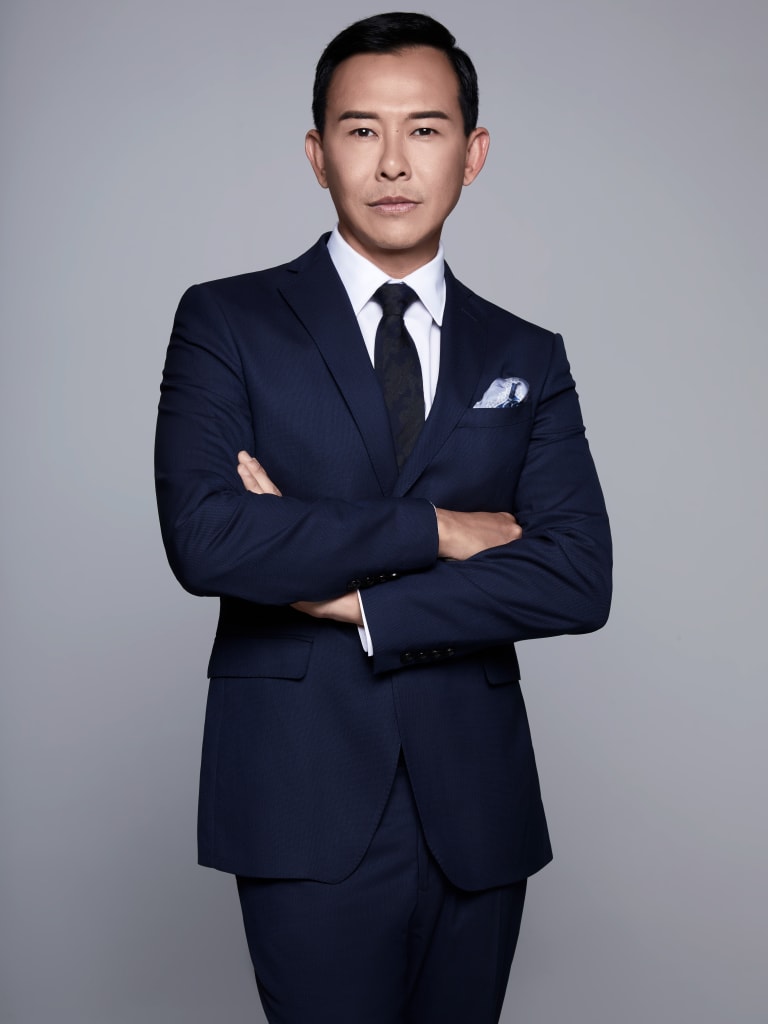 Language
Mandarin, English
Talents
Hosting, Acting,Cooking,Interior design, Painting
Bryan Wong is a Singaporean host and actor who is a household name. His popularity skyrocketed after hosting the iconic 90s infotainment programme, City Beat. He has made his mark in mainland China after starring in numerous highly popular overseas productions such as Eternity: A Chinese Ghost Story and the Wuxia series, Chinese Paladin.
In 2019, Bryan ventured into writing and directing his own movie, The Play Book.
From clenching multiple hosting awards at Star Awards to winning Best Comedy Performance by an Actor at the Asian Television Awards, Bryan Wong is a well recognised artiste both locally and regionally.
Portfolio
TV Serial 电视剧
2023 Alienated
2022 灵探 Soul Detective
灵医 Soul Doctor
2021 邻里帮 The Heartland Hero
2020 女侠罗明依 A Quest To Heal
谁是凶手 Who did it?
2019 Toggle KIN - Matthew Story
一切从昏睡开始 While You Were Away
天空渐渐亮 DayBreak
不醒人事 Wake Up! (Pilot Shoot)
2018 不平凡的平凡 Reach for the Skies (130 epi)
2017 118 II (150 episode long form drama)
2016 绝世好工 The Dream Job (Cameo)
你也可以是天使 2 You Can Be An Angel 2
118 II
2015 手牵手 Hand in hand
2014 最爱是你 In The Name of Love
你也可以是天使 You can be an angel too
限量爱情 Love?
2013 小小传奇 Gonna Make It
2011 PK 爱情 (Webisode drama)
2008 飞越佛跳墙 Folks Jump Over The Wall (Sitcom)
2007 宝家卫国 Honour and Passion
2005 零楼 Zero
2004 仙剑奇侠传 Chinese Paladin
2003 胜券在握 Cash is King
倩女幽魂 A Chinese Ghost Story
2002 完美把戏 Ad-war
重进森林 Back to Basics
2001 奇妙人生之理想 Wonderful Life: Aspirations
侠骨仁心 Healing Hearts
1993 六小无猜
蒲公英 Dandelion
童年
1992 Masters of the sea: Troubled Water
MOVIES 电影
2010 - It's a great great world 大世界
2011 - Dance Dance Dragon 龙众舞
TV Hosting 电视主持
2023 Old Taste Detective 4 古早味侦探 4
Makan On Wheels 开着餐车趴趴走 (In progress)
2021 Say It Right
Old Taste Detective 3 古早味侦探 3
2020 Old Taste Detective 2 古早味侦探 2
Local Fine Produce 在地好食材
2019 SG explorers 全民出来走走
2018 School Unlimited 求学地图
2017 Bus: Dawn to dusk 穿梭小红点
Hear Me Out 4 有话要说 4
2016 Mars VS Venus II 金星火星大作战 II
Hear Me Out 3 有话要说 3
2015 Hear Me Out 2有话要说2
2014 Chinese New Year 2014
Giant Fortune Festival 2014
Minute to win it
Hear Me Out 有话要说
The Games We Played
2013 Giant Fortune Festival 2013
MAS Program
The Generation Game 大小拍档
Lunar New Year Show
Where the queue starts 4 排排站查查看4
Toggle shoot for décor tips
Toggle extention shoot for 'Gonna make it"
A Taste of History 从历史吃起
2012 Fortune Festival at Giant 2012
Way To Go is "新加坡,自有一套"
Knock Knock! Who's There? 啊!是你到我家
Share Something 我爱公开
第十五届中国苏州国际旅游节开幕式
Jobs around the world 走遍天涯打工乐
SNAP 熠熠星光总动员
Behind every job III 美 差 事,苦 差 事 III
Golden Awards 金視獎頒獎典禮
I-Weekly Show I-不释手
2011 Fortune Festival at Giant 2011 (爱上GIANT 过肥年)
Chingay 2011 艺 大 游 行 2011
Renaissance 旧爱.新欢
Makan Unlimited 新马美食一家亲
Under 1 Roof @ Courts II 家家有Courts, 家家乐! II
Volkswagen 寻宝乐
Art Effect 处处有艺术
Behind every job II 美 差 事,苦 差 事 II
Knock Knock! Who's There? 啊!是你到我家
SMRT大挑战 2011, SMRT Challenge 2011
2010 Giant Fortune 2010
Lunar New Year Eve Special 2010
Citispa Beauty Perfection 2010 完 美 大 挑 战
New Citybeat Season 2
Giant Star 星光灿烂2010
Chingay 2010 妆 艺 大 游 行 2010
Behind Every Job <<美 差 事,苦 差 事>>
"神州水乡甪直情 亚洲媒体汇演" 第八届中国苏州·甪直水乡服饰文化国际旅游节开幕式
Golden Awards – Malaysia first TV Awards Presentation 2010 金 視 獎頒 獎 典 禮
Under 1 Roof @ Courts 家家有Courts, 家家乐!
Adventures with SMRT《SMRT 新游记》
Event Hosting 活动主持
2013 Global Baccarat
2014 - SKII BHG grand opening
MBS family day
Eco world concert in JB
2015 - Global dragon master tournament
AWARDS/ACHIEVEMENTS 奖项/荣誉
2023 红星大奖 "最佳主持人" 入围 - 古早味侦探 3
Star Awards "Best Host" nominee - Old Taste Detective 3
2021 红星大奖 "最佳男配角" - 女侠罗明依
Star Awards "Best Supporting Actor" - A Quest To Heal
2015 红星大奖 I-weekly stylish awards
2014 红星大奖 All Time Favourite Awards
红星大奖 2014 Best Actor nominee (Gonna make it)
2013 Viewer's most liked host award
红星大奖 2013观众最喜爱主持人奖
Top 10 Most Popular Male Artistes, Star Awards '13
红星大奖 2013十大最受欢迎男艺人