Mark Lee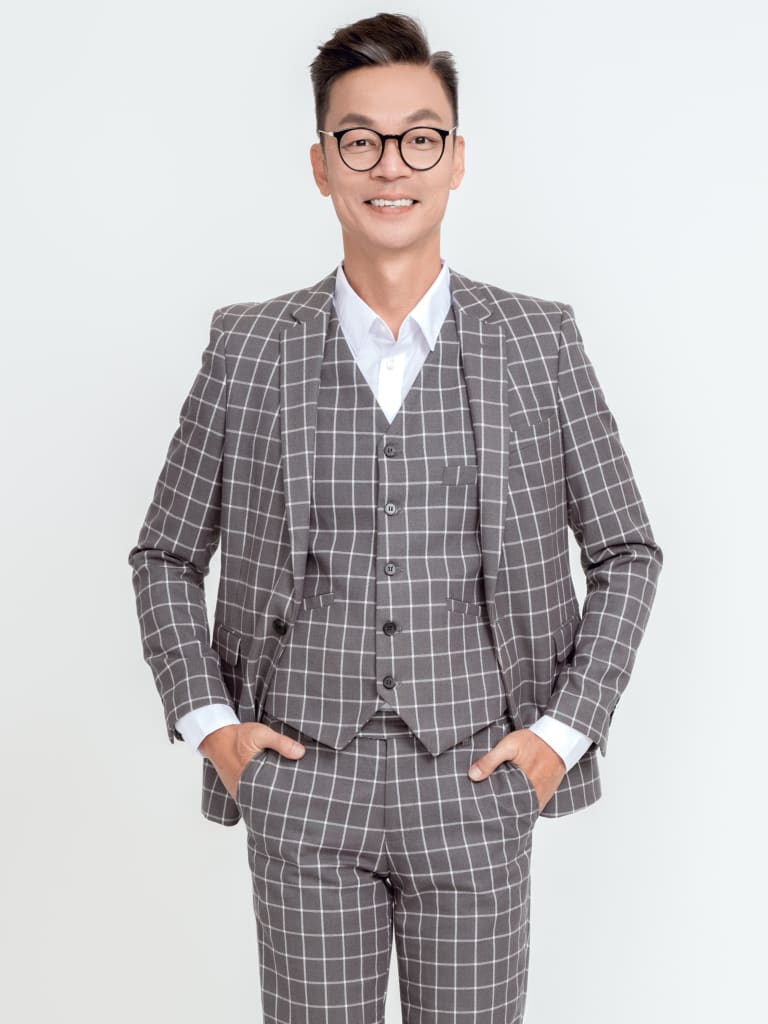 Language
Mandarin, Hokkien, Basic English
Talents
Hosting, Acting, Singing, Stand-up Comedy
Comedian-cum-host, Mark Lee needs no introduction in Singapore. The boisterous actor-host has been working the local entertainment scene for over two decades.
Following his success in television productions, Mark ventured into the film industry. Since his first major feature-film as a contractor in the 1988 box-office hit "Money No Enough", Mark has appeared in more than 30 local and regional movies.
His excellent performing skills have earned him the Best Comedy Performer award for 4 years and consistently voted as one of the Top 10 Most Popular Male Artistes at the annual Star Awards. Although known mostly for playing comedic roles, he is also a sought-after TV host having anchored many highly-rated variety shows such as "Say It If You Dare", "Home Décor Survivor", "Be My Guest", "It's A Small World" and "Behind Every Job". His entertaining hosting styles have won him multiple awards for Best Variety Show Host.
In 2009, Mark won Best Actor at Singapore Film Fest and staged his first solo talkshow. His career soared to greater heights a year later when he received the coveted All-Time Favorite Artiste award at Star Awards 2010 and made his movie directorship debut with "The Ghost Must Be Crazy".
In 2020, Mark earned a Best Actor nomination at the 57th Golden Horse Awards with his convincing portrayal of a retrenched manager turned drag queen in the musical-comedy "Number 1". Never a dull moment with him, Mark is one artiste who is unafraid to set new heights of achievement for himself.
Portfolio
TELEMOVIE 电视电影
2010 - Carlsberg Telemovie Showcase 皇帽瑞狮喜迎虎电视电影系列
MOVIE 电影
2021 - The Diam Diam Era Two 我们的故事4:沉默的年代2
2020 - Number 1 男儿王
The Diam Diam Era 我们的故事3:沉默的年代
2019 - Make It Big Big 玉建煌崇大件事
2018 - Wonderful! Liang Xi Mei 旺得福梁细妹
23:59 The Haunting Hour 23:59猛鬼兵营
2016 - Let's Eat! 开饭啦!
Long Long Time Ago 我们的故事
2015 - King Of Mahjong 麻雀王
Time Is Money 十万火急
2014 - The Bat Night
A Fantastic Ghost Wedding 非常婚事
2013 - Taxi! Taxi!
Everybody's Business
Judgement Day 世界末日
2012 - Greedy Ghost 贪心鬼见鬼
Ghost Buddies 老友开心鬼
2011 - Homecoming 笑着回家
Twisted 撞鬼
23:59
Petaling Street Warriors 大英雄•小男人
2010 - Just Call Me Nobody 大笑江湖
Being Human 做人
The Ghosts Must Be Crazy鬼也笑
2009 - Where Got Ghost? 吓到笑
Love Matters 幸福万岁
2008 - Money No Enough 2钱不够用2
Ah Long Pte Ltd 老师嫁老大
2007 - Just Follow Law 我在政府部门的日子
2005 - I Do I Do 爱都爱都
One More Chance 三个好人
2004 - The Best Bet 突然发财
2003 - Homerun 跑吧,孩子
2002 - I Not Stupid小孩不笨
2001 - One Leg Kicking
1999 - Seventh Moon
Liang Po Po: The Movie梁婆婆重出江湖
That One Not Enough那个不够
Eating Air
1998 - Hitman In The City 杀手一出手
Money No Enough 钱不够用
TV DRAMA 电视剧
2009 - Mr & Mrs Kok妙探夫妻档
2008 - My Classmate Dad
Police & Thief 5
2007 - Police & Thief 4
2006 - Police & Thief 3
2005 - Police & Thief 2
A Promise For Tomorrow拥抱明天
2004 - Police & Thief
2003 - Holland V 荷兰村
2003-2005 - PCK Pte Ltd (cameo)
2002 - Lucky Numbers 发财八百万
Katong Miss Oh 加东Miss Oh
2001 - The Return of Liang Ximei 笑傲江湖梁细妹
The Hotel 大酒店 (cameo)
2000 - Soho @ Work 新新关系
1999 - Different Cuts, Different Strokes 剪剪大家乐
1998 - Different Cuts, Different Strokes 剪剪大家乐
1997 - Different Cuts, Different Strokes 剪剪大家乐
TV Hosting 电视主持
2021 - Body SOS 10 小毛病大问题10
LOVE 972 TV Show
2020 - Body SOS 8小毛病大问题8
Happy Go Lucky 2 欢喜没烦恼2
Body SOS 9 小毛病大问题9
2019 - LNY Eve Special 2019 猪饱饱欢乐迎肥年
Body SOS 8小毛病大问题8
Happy Go Lucky 欢喜没烦恼
Good Food On Sunday
2018 - Body SOS 7小毛病大问题7
Happy Can Already 4 欢喜就好4
972 Quartet Breakfast Show 2玉建煌崇 2
2017 - Body SOS 6小毛病大问题6
Happy Can Already 2 欢喜就好2
LNY Eve Special 2017
972 Quartet Breakfast Show 玉建煌崇
Thong Chai Charity Show 2017
Happy Can Already 3 欢喜就好3
What's In The Fridge 2 冰箱的秘密2
2016 LNY Eve Special 2016灵猴庆丰年
Body SOS 5小毛病大问题5
What's In The Fridge 冰箱的秘密
Be My Guest 2 客人来咯2
Happy Can Already 欢喜就好
2015 - Body SOS 4 小毛病大问题3
2012 - Japan Flavour J Food好吃
Men's Talk 3个男人1张口
It's a Small World III 国际交易所3
2012-2014 - Body SOS 小毛病大问题 1-3
2013 - Home Décor Survivor 5 摆家乐5
2014 - Neighbourhood Chef 鄰里厨王
Please be My Guest 客人來咯
Super Comedian 搞笑之王
2011 - It's a Small World II 国记交意所2
Behind Every Job 2 美差事。苦差事2
Home Makeover II 玩家万岁2
2010 - Star Awards Show 1 红星大奖2010
Behind Every Job 美差事。苦差事
Home Makeover 玩家万岁
2009 - Dad @ Home 爸爸当家
It's a Small World 国记交意所
Gracious Planet 放心出去看
Singapore Flavours 万里香
Home Décor Survivor 4 摆家乐4
2008 - Food Hometown 美食寻根
Home Decor 焕然一新DIY
2007 - Say It If You Dare 有话好好说3
Barter Trade II 物物大交换II
Home Décor Survivor 3 摆家乐3
2006 - Property Classified 吉屋出售
Stars, Beat It! 王牌对王牌
Say It If You Dare 2 有话好好说2
Home Décor Survivor 2 摆家乐2
Star Awards Post Show Party 红星大奖2006 庆功宴
2005 - First Date 敢敢来约会
Star Run 跑吧!艺人
Home Décor Survivor摆家乐
KP Club 鸡婆俱乐部
2004 - Good Bargain, Good Fun 超值玩乐大搜寻
Be My Guest客人来
Say It If You Date有话好好说
2003 - Split Ends兵分两路
2002 - One Fun Day 惊喜一整天
2001 - Top Fun 欢乐巅峰
1993-2004 - Comedy Nite 搞笑行动
Awards/Achievements 奖项/荣誉
2020 Nominee for Best Actor (Number 1) at 57th Golden Horse Awards 2020
提名金马奖最佳男主角(男儿王)
2012 Best Variety Show Host (It's A Small World 2), Star Awards '12
红星大奖'12最佳综艺主持人(国记交意所2)
2010 Best Variety Show Host (It's A Small World), Star Awards '10
红星大奖'10最佳综艺主持人(国记交意所)
All Time Favorite Artiste, Star Awards '10
红星大奖'10超级红星
2009 Top 10 Most Popular Male Artistes, Star Awards '09
红星大奖'09 十大最受欢迎男艺人
2007 Best Variety Show Host (Say It If You Dare), Star Awards '07
红星大奖'07最佳综艺主持人(有话好好说2)
Top 10 Most Popular Male Artistes, Star Awards '07
红星大奖'07 十大最受欢迎男艺人
2006 Top 10 Most Popular Male Artistes, Star Awards '06
红星大奖'06 十大最受欢迎男艺人
2005 Top 10 Most Popular Male Artistes, Star Awards '05
红星大奖'05 十大最受欢迎男艺人
2004 Best Variety Show Host (Be My Guest), Star Awards '04
红星大奖'04最佳综艺主持人(客人来)

Top 10 Most Popular Male Artistes, Star Awards '04
红星大奖'04 十大最受欢迎男艺人
2003 Best Comedy Performer (Comedy Night), Star Awards '03
红星大奖'03最佳喜剧演员(搞笑行动)

Top 10 Most Popular Male Artiste, Star Awards '03
红星大奖'03 十大最受欢迎男艺人
2002 Best Comedy Performer (Katong Ms Oh), Star Awards '02
红星大奖'02最佳喜剧演员(加东Miss Oh)
Top 10 Most Popular Male Artistes, Star Awards '02
红星大奖'02十大最受欢迎男艺人
2001 Top 10 Most Popular Male Artistes, Star Awards '01
红星大奖'01十大最受欢迎男艺人
1999 Best Comedy Performer (Comedy Night), Star Awards '99
红星大奖'99最佳喜剧演员(搞笑行动)
Top 10 Most Popular Male Artistes, Star Awards '99
红星大奖'99十大最受欢迎男艺人
1998 Best Comedy Performer (Comedy Night), Star Awards '98
红星大奖'98最佳喜剧演员(搞笑行动)
Top 10 Most Popular Male Artistes, Star Awards '98
红星大奖'98十大最受欢迎男艺人