Ravi G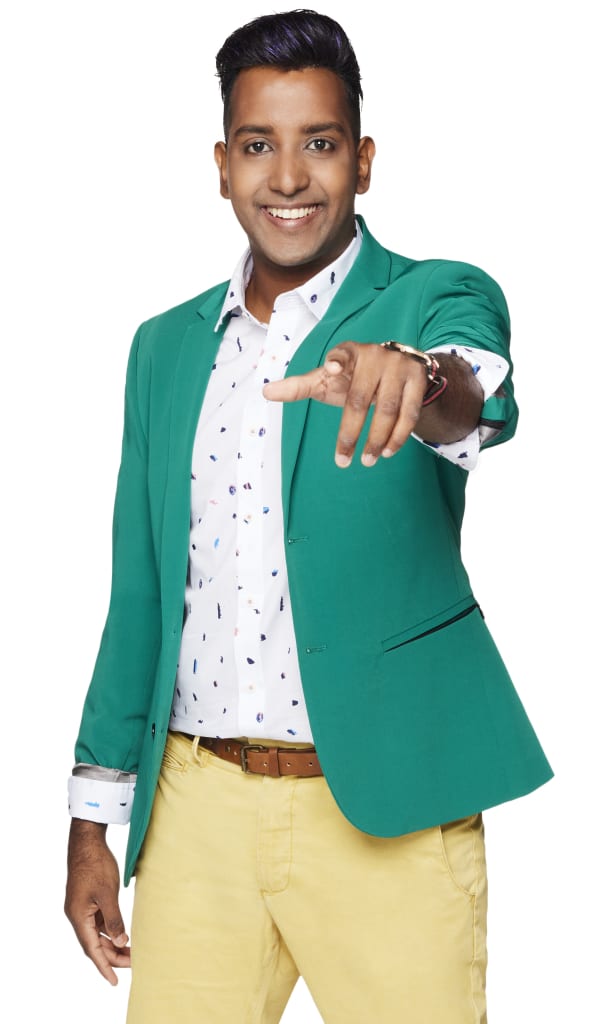 Talents
Bilingual Hosting (English/Tamil), Acting, News Reading, Voice-over, Social Media Influencer, and Content Creator
Ravi G is a Senior Producer/Presenter at Mediacorp's Indian News and Entertainment radio station, Oli 968. As the son of former Radio DJ, SP Sargunan, Ravi G grew up with the ambition of emulating his father. In 2011, he won the Tamil edition of So You Wanna Be A DJ, Mediacorp's first radio reality contest across all four languages.
Ravi G has hosted a variety of TV shows, including LIVE shows. As an effectively bilingual host, Ravi G ventured into mainstream media via CNA's Green Plan Challenge series.
Ravi G enjoys producing social media content targeting a variety of audiences, which includes paid sponsorship for renowned clients. As an advocate of a healthy lifestyle, he uses multiple platforms to promote feel good initiatives.
He is currently hosting a weekday show, Tea Kadai from 4 pm to 8 pm.
Portfolio
TV Acting
Parambarai - Actor – 2021
Sundram Kudumbathinam – Actor – 2015
NC16 – Actor – 2011
TV Features /Others
Let's Celebrate – Wobby & Live update - 2020
Body & Soul – Celebrity Guest – 2019
Mediacorp's "The Gift of Song" music video – Celebrity appearance – 2015
Avan Aval – Celebrity Guest – 2015
Enna Nadakuthu – Celebrity Guest – 2015
Suvai – Celebrity Guest – 2015
Nammai Patri Nammai Sutri – Talkshow Guest – 2015
Friends Season 2 – Celebrity Guest – 2014
My Story SG – Featured in ad – 2014
Dedications Day – Featured in ad – 2013 & 2014
Friends Season 1 – Celebrity Guest – 2013
Anjathey – Featured Profile – 2012
TV Hosting
NDP Commentator for Vasantham - 2022
Ungalil Oruvar, DJ hunt reality show – Co-host- 2022
Thaalam (Tamil Host) - 2022
Chillax – Host – 2021
Vanakkam Singai – Host – 2020
Darbar – Host – 2019
Vasantham 10 - Red-carpet host – 2018
Vidumurai Vasantham New Year episode – Host – 2018
Hello V 2016 – Deepavali & New year special – 2016
Pradana Vizha - Red-carpet host - 2016
Marupidiyum – Host – 2015
Thaalam – Host – 2015
Super Samayal – Host – 2015
Thirai Talkies – Host – 2015 to 2018
Vasantham's Deepavali Links – Host – 2013
Event Hosting/Others
Oli 96.8FM Events – Host/Producer – 2012 to present
Vasantham LIVE at UPTLC – Host – 2014
Agenda Suria Communications – Host – 2014
Kids Workshop – Trainer – 2014
Singapore Tamil Youth Conference – Host – 2014
Zak Salam – Host – 2013 to 2015
Magudi (stage play) – Actor – 2015
SG50 tribute song by Cosmic Ultima Pictures – Singer – 2015
Kallang CC Interschool competition – Judge – 2015
Deepavali Light-up at Tekka – Host – 2019
Keat Hong CC Deepavali event – Host – 2020
Awards and Achievements
'SO YOU WANNA BE A DJ',Tamil edition – Winner – 2011
New Year Countdown – 24 hours hosting – 2013
Oli's record-breaking wave – Producer – 2015
Social Media Campaigns
IG Story - National Youth Council 2021