Rayson Tan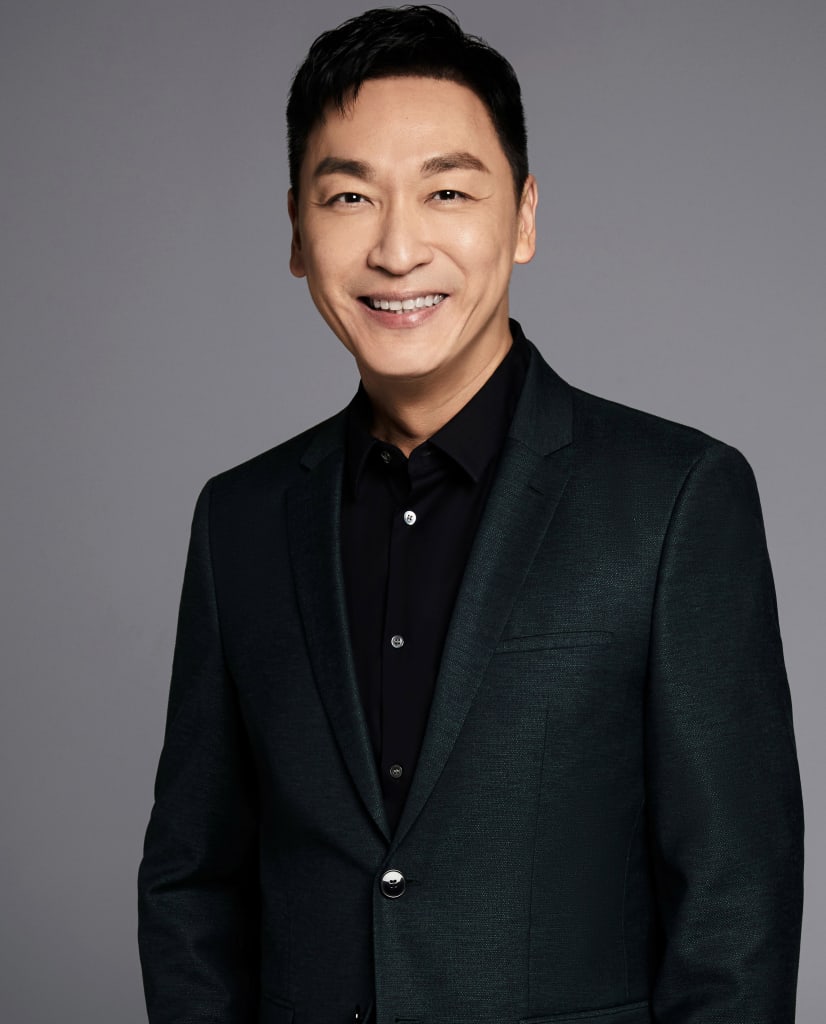 Language
Mandarin, English, Teochew
Rayson Tan is a Singaporean actor who emerged second runner-up in Star Search 1990, Singapore's TV reality talent competition. He made his debut on the small screen as a shrewd and unscrupulous young man in Golden Shenton Way.
In 2000, Rayson teamed up with regional actors in the second season of Master Swordsman Lu Xiao Feng II, a co-production between Singapore, China, and Taiwan.
He and his actress wife Chen Li Ping hosted together, City Spy 2002, giving the show its own dose of fun and cheer, winning the hearts of audiences and critics alike, making it one of the popular variety programmes in Singapore.
His commendable performances in the TV series A Song To Remember and It Takes Two, further earned him Best Supporting Actor nominations at Star Awards 2012 and 2013 respectively.
2014, Rayson has won the Best Supporting Actor in 19th Annual Asian Television Awards.
Portfolio
TV SERIES 电视剧
2022
Dark Angel 《黑天使》| Role: Lin Kaisen 林凯森
Healing Heroes 《医生不是神》| Role: Lim Fuquan 林福泉
The Unbreakable Bond 《寄生》| Role: Frankie 洪楚文
2021
My Star Bride

《

过江新娘

》| Role: Zhang Da Qian 张大千

Leave No Soul Behind

《

21点灵

》| Role: Serial Number 379 编号 379
The Take Down 肃战肃绝 | Role: Zhang Yi 张义
2020
Happy Prince 《快乐王子》| Role: Zhang Haoxiang 张浩翔
Super Dad 《男神不败》| Role: Xu Yinghao 许英豪
Tiles War 《四面围墙》
2019
It's Time 《阴错阳差 — 时辰到》| Role: Patrick
All Is Well (Singapore) 《你那边怎样,我这边 OK 》| Role: Peter
C.L.I.F. 5 《警徽天职之海岸卫队》| Role: Wang Shitong 王世通
2018
Reach For The Skies 《不平凡的平凡》 | Role: Tang Weiye 唐伟业
A Million Dollar Dream 《给我一百万 》 | Role: Zhou Yuzhe 周与浙
VIC 《维多利亚的模力》| Role: Ai Momo 艾末末
Say Cheese 《西瓜甜不甜》| Role: Zhong Kelin 钟克林
29th February 《229 明天见》| Role: Xie Guangming 謝光明
Heart To Heart 《心点心》 | Role: Liang Gui 梁贵
2017
Home Truly 《回家》 | Role: Peng Dayu 彭大宇
Dream Coder 《梦想程式》 | Role: Li Junheng 李俊亨
Legal Eagles 《法网天后》 | Role: Gu Tianlin 古天麟
Eat Already? 3 《吃饱没 3》 | Role: Toujia Wang 头家王
Life Less Ordinary 《小人物向前冲》 | Role: Wu Dazhi 吴大志
2016
Life Fear Not 《人生无所畏》 | Role: Zhuang Daoqiang 庄道强
2015
Tiger Mum 《虎妈来了》 | Role: Ivan Eng
Super Senior 《长辈甜心》 | Role: Chen Guotai 陈国泰
The Dream Makers 2 《志在四方II》 | Role: Richard Ma
2014
In The Name Of Love 《最爱是你》| Role: Lu Zhiguang 陆志光
Mystic Whispers (Toggle TV Series) 《听》| Role: Luo Yongzhong 罗勇衷
Second Chance 《流氓律师》| Role: Peter Qiu 秋医生
Good Luck 《百岁大吉》| Role: Fang Youda 方友达
2013
I'm In Charge 《小子当家》| Role: Director Yang 杨大导
The Recruit Diaries (cameo) 《阿兵新传》(客串) | Role: Old Ah Ber
The Entangled 《日落洞》| Role: Luo Dongfa 罗栋法
2012
Double Bonus 《双星报喜》| Role: Liu Daqi 刘鎉戚
Joys of Life 《花样人间》| Role: Yamaguchi
Beyond 《X元素》| Role: Chen Dayu 陈大雨
It Takes Two 《对对碰》| Role: Zhang Yang 张扬
2011
C.L.I.F. 《警徽天职》| Role: Yu Zhongnan 余忠南
On The Fringe 《边缘父子》| Role: Yao Guohua 耀国华
A Song To Remember 《星洲之夜》| Role: Black Snake 黑蛇
2010
The Best Things In Life 《五福到》
The Illusionist 《魔幻视界》
Unriddle 《最火搭档》| Role: Andrew Kwan
The Family Court 《走进走出》| Role: Shen Yi'an 沈怡安
2009
Housewives' Holiday 《煮妇的假期》| Role: Bryan He 何龙威
Table of Glory 《乒乓圆》
2008
Just in Singapore 《一房半厅一水缸》| Role: Jian Hui 建辉
Crime Busters x 2 《叮当神探》
Love Blossoms II 《心花朵朵开 I & II》| Role: Kang Qingxiong 康庆雄
2007
The Homecoming 《十三鞭》| Role: Chen Hanyuan 陈汉远
Metamorphosis 《破茧而出》
2006
CID 《刑警2人组》
Million Treasure 《百万宝》| Role: Hong Dehua 宏徳华
2005
Beyond The Axis of Truth II 《法医X档案II》| Role: Simon Li Zi Jian 李子健
The Undisclosed 《迷云二十天》| Role: CK Chong
The Shining Star 《星闪闪》
2004
Double Happiness I&II 《喜临门 I&II 》| Role: Huang Yao Zu 黄耀祖
My Mighty In-Laws 《我的野蛮亲家》
Timeless Gift 《遗情未了》| Role: Zhong Zi Liang 钟子亮
2003
Health Matters II 《一切由慎开始II》
Love is Beautiful 《美丽家庭》| Role: Huang Le Guan 黄乐观
Romance De Amour 《一加一等于三》| Role: Wu Qi Peng 吴启朋
Home in Toa Payoh 《家在大巴窑》
2002
No Problem 《考试家族》| Role: Bao Jin Lu 包金禄
Katong Miss Oh 《加东 Miss Oh》| Role: Pity Bug 可怜虫
Fantasy 《星梦情真》
2001
Master Swordsman Lu Xiao Feng II 《陆小风之谁家天下》| Role: Hua Man Lou花满楼
3 Women And A Half 《三个半女人》| Role: Ken Lim
The Hotel 《大酒店》| Role: Chen Yi Ming 陈一鸣
Don't Worry Be Happy IV 《敢敢做个开心人VI》| Role: Zou Run Fa 邹润发
2000
The Legendary Swordsman 《笑傲江湖》| Role: Liu Zheng Feng 刘正风
The Tax File 《流金岁月》| Role: Gao Tian Ling 高天凌
1999
Lost Souls 《另类佳人》| Role: A-Gui 阿贵 / Li Chao Ran 李超然
Heroes Of The Times 《新方世玉》| Role: Zhu Ling Ce 朱令策
1998
Men At The Crossroads 《四个好涩的男人》| Role: Zhong Yong Yi 钟永益
Dreams 《七个梦》| Role: Fang Li Xing 方立行
My Teacher Aiyoyo! 《哎哟哟奇妙假期》| Role: Huang Chao Ren 黄超仁
Act 235 《刑事235》| Role: Ni Jun 倪峻
Riding The Storm 《陌生人》| Role: Wa Na Han 瓦纳汉
From The Medical Files 《医生档案-边缘回望》| Role: Deng Da Si 邓达思
1997
Courting Troubles 《婚姻法庭》| Role: Ye Jie 叶捷
Crimes And Tribulations 《狮城奇案录之第一个上绞台的女人》| Role: Yuan Tian Hong 圆田弘
Price Of Peace 《和平的代价》| Role: Lim Bo Seng 林谋盛
Roses, Complete With Thorns 《单身女郎》| Role: Huang Wen Li 黄文礼
1996
A Different Life 《妈姐情缘》| Role: Zhou Qi An 周启安
River Of Love 《风雨柴船头》| Role: Jiang Zhong Han 姜仲涵
1995
King Of Hades 《阎罗传奇》| Role: King Of Hades 阎罗
Tales Of The Third Kind 《第三类剧场》| Role: He Zi Cong 何子聪
Heavenly Ghostcatcher 《天师钟馗之杨贵妃》| Role: Emperor Zheng De 正德皇帝 / Tang Xuan Zong 唐玄宗
Ah Xue 《阿雪》| Role: Li Wei Guang 李伟光
1994
Web Of Deceit 《鹤啸九天》| Role: Mu Rong Tian Feng 慕容天峰
The Valiant One 《昆仑奴》| Role: Shi Chao Yi 史朝义
Truly Yours 《聪明糊涂心》| Role: HuShao Feng 胡少丰
1993
Reaching For The Stars 《银海惊涛》| Role: Qiu Wen Long 邱文龙
Invincible Warriors 《皇朝铁将金粉情》| Role: Ou Yang Ming 欧阳明/ Duo Ling Ying Ming 夺令英明
Angel Of Vengeance 《暴雨狂花》| Role: Prosecutor 检查官
1992
Ladies In Action 《霹雳红唇》| Role: Shuai Jia Ming 帅家明
My Buddies 《浪漫战场》| Role: Tan Qiang 谭强
Love Is In The Air 《爱在女儿乡》
Mystery II 《迷离夜 II 》| Role: Jiang Hua 姜华 / Wang Li Yang 汪立洋
1991
Golden Shenton Way 《金色珊顿道》| Role: Fang Shun Hua 方舜华
The Woman I Marry 《家有恶妻》| Role: Raymond Wang Zhi Long 王志龙
Home Sweet Home 《宜家宜乐》
MOVIES 电影
2022
Telemovie

My Star Bride - Hi, Mai Phương Thảo 《

过江新娘

-

你好,梅芳草》

| Role: Zhang Da Qian 张大千
2011
The Ultimate Winner 《大赢家》
Petaling Street Warriors 《大英雄•小男人》
2010
Telemovie In the Name of Love 《以爱为名》 (电视电影)
TV HOSTING 电视主持
2012
My Star Guide (Guizhou) 我的导游是明星-食在好玩(贵州)
2007
Cash Plus Holiday 嬴万金游万里欢乐周末夜
2006
2005
2004
2002
AWARDS/ACHIEVEMENTS 奖项/荣誉
2014
ATA Best Performance by a Supporting Actor (The Entangled)
亚洲电视大奖最佳男配角(日落洞)
1997
Star Awards Top 10 Most Popular Male Artistes
红星大奖十大最受欢迎男艺人
1990
Star Search 2nd Runner-up
才华横溢出新秀男季军
THEATRE/MUSICAL 舞台/音乐剧
2009