Zhu Hou Ren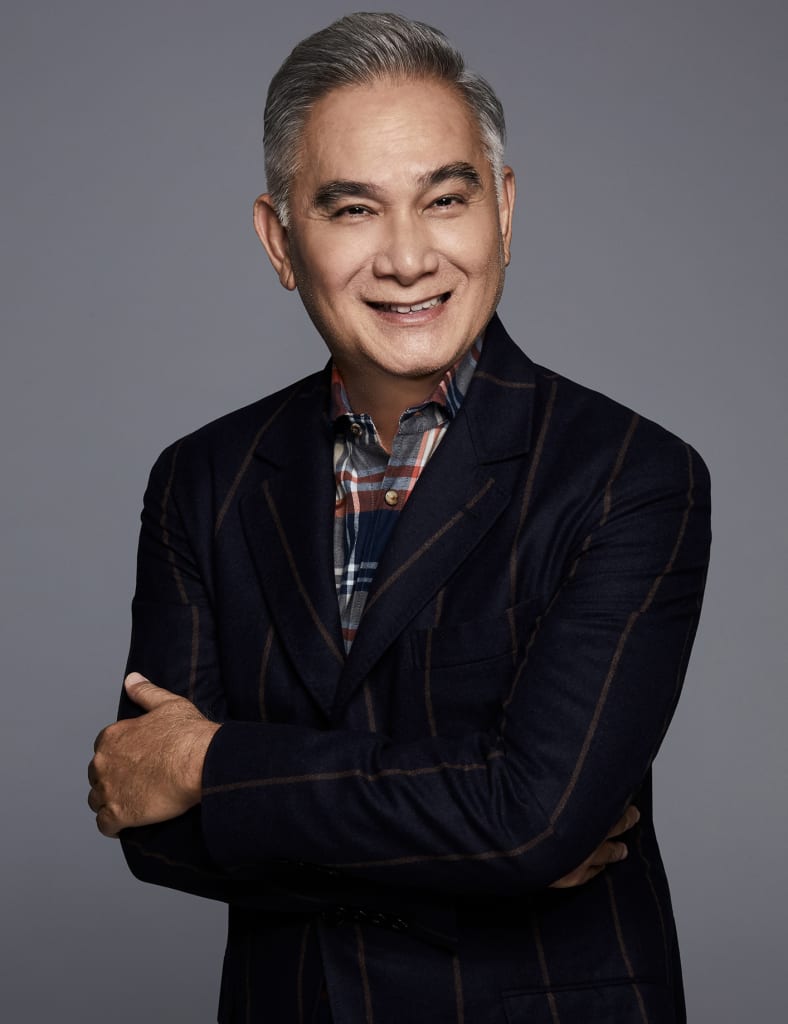 Language
Mandarin, English, Cantonese, Hokkien
Talents
Acting, Directing
Zhu Hou Ren is a Singaporean veteran actor and director. He started his acting career in 1985, and in 1997, he received his first Best Actor nomination for his performance in The Fall Guy at Star Awards.
Hou Ren made his first feature film directorial in 2003 for After School, a film based on a true story about teenagers in Singapore.
In 2010, he clinched the Best Supporting Actor Award at the annual Star Awards and became a resident judge for Silver Carnival in 2012. Hou Ren returned behind the lens in 2014 to produce a Singapore-China collaboration, Meeting the Giant.
In 2017 he successfully clinched the Best Actor in a Supporting Role at the 22nd Asian Television Awards for his role in MeWATCH series Trapped Mind. Hou Ren won his first Top 10 Most Popular Male Artiste in 2019. Recent productions include You Can Also Be An Angel 4 and My Star Bride.
Portfolio
TV SERIES 电视剧
2023
Till The End《陪你到最后》| Role: Li Zhi Yin 李智音
Whatever Will Be, Will Be《天公疼憨人》| Role: Liu Da Fu 刘大富
2022
Your World In Mine《你的世界我们懂》| Role: Hong Xing Wang 洪兴旺
Healing Heroes《医生不是神》| Role: Professor Robert Baey
You Can Be An Angel 4《你也可以是天使4 》| Role: Yang Da Chao 杨大超
2021
My Star Bride

《

过江新娘

》| Role: Zhong Yong Nian 钟永年

Key Witness

《

关键证人

》| Role: Johnny

The Heartland Hero

《

邻里帮

》| Role: Li Long Chen 李隆盛

The Peculiar Pawnbroker

《

人心鉴定师

》| Role: Zhou Si Hai 周四海
2020
How Are You? 2《好世谋2》| Role: Gong Jia Qiao 龚家翘
Recipe of Life (Cameo)《味之道》(客串演出) | Role: Qin Fen 秦奋
2019
How Are You?《好世谋》| Role: Gong Jia Qiao 龚家翘
The Play Book (Cameo) (Short Film on Channel U) 《爱本》(客串演出) | Role: Passer-by 路人
Dear Neighbours《我的左邻右里》| Role: He Fan 贺凡
Old Is Gold《老友万岁》| Role: Uncle Lottery 马票叔
2018
Doppelganger《入侵者》| Role: Li Jian Ting 李坚挺
Eat Already? 4《吃饱没?4》| Role: Zhu Han Jie 朱汉杰
Reach For The Skies《不平凡的平凡》| Role: Hong Biao 洪标
A Million Dollar Dream《给我一百万》| Role: Ba Ge 八哥 / Ba Di 八弟
Till We Meet Again《千年来说对不起 》| Role: Earth Deity 土地公
Till We Meet Again - Prequel《千年来说对不起-前传》| Role: Hua Jiu Dai 花九代
2017
118 (2)《118 2》| Role: Liu Da Gong 刘大功
Eat Already? 2《吃饱没?2》| Role: Zhu Han Jie 朱汉杰
My Teacher Is A Thug《爱.不迟疑》| Role: Lian Guo Dong 连国栋
2016
Peace & Prosperity《富贵平安》| Role: Ouyang Yi Xiu 欧阳一修
Trapped Minds《心魔》| Role: Felix Tan
Hero《大英雄》| Role: Ou Si Hai 区四海
2015
A Blessed Life《吉人天相》| Role: Wang You Guo 王友国
For A Better Tomorrow《我为人人》
Super Senior《长辈甜心》| Role: Zhu Xiang Dong 朱向东
Sealed with a Kiss《吻我吧,住家男》| Role: Du Zi Tong 杜梓通
House of Fortune《钱来运转》| Role: Qian Lao Shi 钱老实
2014
Served H.O.T.《烧。卖》| Role: Zeng Jian Wang 曾健汪
In The Name Of Love《最爱是你》| Role: Wang Wei Guo 王伟国
Blessings《祖先保佑》| Role: She Xing Cheng 佘兴承
Three Wishes《三个愿望》| Role: Zhao Hai Guang 赵海光
2013
Café 96°C《96°C咖啡 》| Role: Tang San 唐三
Start Up《创!》| Role: Yin Tang 洇汤
Marry Me《我要嫁出去》
Xinmsn Testube III - Unconditional Love《实验视III-无尽的爱》
2012
Rescue 995《995》| Role: Shi Xing Guo 诗兴郭
Pillow Talk《再见单人床》| Role: Zhang Qian 张谦
Poetic Justice《微笑正义》| Role: Fang Ren Hou 方任后
It Takes Two《对对碰》| Role: Niu's Dad 牛老爸
2011
The Happy Family I & II (4x3min programlette)《权家福 I & II 》
Secrets For Sale《拍.卖》| Role: Zhou You Guo 周友国
Bountiful Blessings《万福楼》| Role: Huang Er Hu 黄鸸胡
2010
Precious Babes《三个女人一个宝》| Role: Cui Guo Yao 翠郭耀
Unriddle《最火搭档》| Role: Liu Da Qing 刘大倾
Prosperity《喜事年年》| Role: Tian Hong Ming 沺宏铭
2009
Reunion Dinner《团圆饭》| Role: Liang Zhi Gao 梁志高
My Buddy《难兄烂弟》| Role: Li Ji Yang 李济样
Baby Bonus《添丁发财》| Role: Zheng Fa Cai 郑发材
2008
The Truth《谜图》| Role: Su Zhen Yuan 素振远
The Defining Moment《沸腾冰点》| Role: Tang Wei Ye 唐伟业
By My Side《不凡的爱》| Role: Lin Chun Xiao 林存孝
2007
Switched!《幸运星》| Role: Qin Fu Zhong 琴福衷
Dear, Dear Son In Law《女婿当家》| Role: Jiang Wen Cai 江汶裁
2006
Rhapsody In Blue《蓝色仙人掌》| Role: Ding Zheng Da 顶挣达
Let It Shine《萤火虫的梦》| Role: Guo Yaoyao's Father 郭父
2005
The Green Pal《绿色果实》
Beyond the Axis of Truth II《法医X档案II》
The Undisclosed《狮城20天》| Role: Long Tou 龙头
C.I.D. 《刑警二人组》| Role: Tang Jian Nian 唐健年
2004
Room In My Heart《真心蜜语》
Oh Dad!《偶像爸爸》
2003
2002
The Unbeatables III《双天至尊III》| Role: Long Ting Guang 龍庭光
Brotherhood《有情有义》
2000
1999
Wok of Life《福满人间》| Role: Zeng Nan Hua (1990s)
Out To Win《步步为赢》
The Millennium Bug《千年虫》
1998
Dreams《七个梦》
Taxi Drivers《德士司机》
Return Of The Condor Heroes《神雕俠侶》| Role: Guo Jing
Riding The Storm《陌生人》
1996
Triumph Over The Green《要拼球会嬴》
Kungfu Master《掌门人》
Of Cops & Men《城市双雄》
The Unbeatables II《双天至尊II》| Role: Long Ting Guang 龍庭光
Tales Of The Third Kind 3《第三类剧场3》
Give Me A Break《老板放轻松》
The Teochew Family《潮州家族》| Role: Fu Yong Bing
1995
Deep Within My Heart《爱在心处》
Homes in 168《大牌168》
Shadow Mission《地下猎人》
Thunder Plot《惊天大阴谋》
1994
1993
Endless Love《未了缘》
The Great Conspiracy《莲花争霸》
The Unbeatables《双天至尊》| Role: Long Ting Guang 龍庭光
1992
The Dating Game《爱情乒乓球》
Mystery 2《迷离夜2》
1991
Private Eyes《妙探智多星》
Secret Operations《急转弯》
1990
Starting Over《暖流》
Sweet Dreams《欣欣向荣》
1989
1988
Silk And Satins《云想衣裳》
Mystery 1《迷离夜1》
1987
Sunshine After Rain《雨过天晴》
Pickpockets《提防小手》

MOVIES 电影
2022
Reunion Dinner《

团圆饭》

My Star Bride

- Hi, Mai Phương Thảo (

Telemovie)

《

过江新娘

-

你好,梅芳

草》

(电视电影) | Role: Zhong Yong Nian 钟永年
2019
Old Is Gold (Telemovie)《老友万岁》(电视电影) | Role: Uncle Lottery 马票叔
2014
2013
The Wedding Diary II《结婚那件事II》| Role: Zhang Ke Lin 张科林
2012
2011
The Wedding Diary《结婚那件事》 | Role: Zhang Ke Lin 张科林
2010
Old Cow vs Tender Grass《老牛与嫩草》
Cooking Without Clothes (Telemovie)《煮持人》(电视电影)
2006
Love Under The Sign Of The Dragon (German telemovie)
2004
House Of Harmony (Telemovie)《融之堂》(电视电影)
2003
1997
The Fall Guy (Telemovie)《冲出保险区》(电视电影)
1996
Spirit On Wheels (Telemovie)《鬼德士》(电视电影)
1995
When A Child Is Born (Telemovie)《有儿万事足》(电视电影)
1994
The Brazing Trail (Telemovie)《兰桂坊血案》(电视电影)
TV HOSTING 电视主持
2013
Good Man Good Food 好男人好料理
My Star Guide 8 - Simply Delicious! (Henan) 我的导游是明星8 - 食在好玩 (中国河南)
2010
1997
AWARD/ACHIEVEMENT 奖项/荣誉
2019
Star Awards 2019 Top 10 Most Popular Male Artistes
红星大奖 2019 十大最受欢迎男艺人
2017
22nd Asian Television Awards Best Actor in a Supporting Role (Trapped Minds)
第22届亚洲电视大奖 最佳男配角奖 (心魔)
2014
Nominee for the 19th Asian Television Awards Best Actor in a Supporting Role (Served H.O.T.)
入围第19届亚洲电视大奖 最佳男配角 (烧。卖)
2010
Star Awards 2010 Best Supporting Actor (Reunion Dinner)
红星大奖 2010 最佳男配角 (团圆饭)