John Klass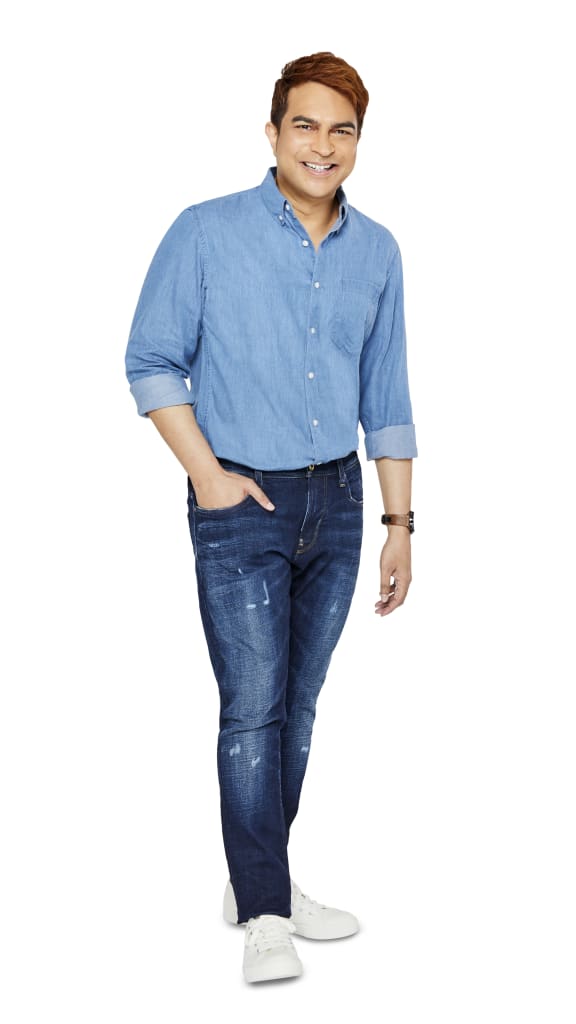 Talents
Hosting (TV & Events), Voice Over, Singing, Acting, Songwriting, Music Producer, Music Arranger, Media Training
John Klass, famously known as "King of Cool" with his dapper looks and charming personality and known for his poised, seductive and warm voice too, is an award-winning, multi-talented artiste and entertainer that has been in the broadcasting and entertainment business for more than 25 years.
He started out his radio career with cable radio, Rediffusion, hosting the morning show before moving to 987FM (then known as Perfect 10). Also, hosting the morning show.
He went on to helm the Number 1 Evening Drive Time show on Kiss 92for 4 years. His achievement was recognised by International Radio Festival who then invited him to represent Singapore at the festival in Zurich in 2014.
He did a broadcast of his Number 1 show 'live' in Zurich, Switzerland for 1 week at International Radio Festival with the support from Swiss Tourism
John's evening show at Kiss92 was a popular slot among clients and brands to advertise and market their products.
TELEVISION HOSTING & ACTING
In 1995 John starred in Singapore's first English Drama Series "Masters Of The Sea", a soap opera developed by American producer and developer of prime-time soap operas, such as "Falcon Crest" and "Dallas", Joanne Brough. This was to become the first English-language drama on Asian television.
In 1995, John played one of the major roles for the musical "Big Bang" which was produced by an all American production team.
In 2001 John starred & hosted the Kids entertainment pop TV show OK! The show played over 2 seasons and is still enjoying numerous reruns till today.
In 2002, John was the main lead for a musical titled "Monsters" for 42 Waterloo Street Festival
MEDIA TRAINER
Being a recognised and respected media personality, John Klass has been engaged to impart his skills and expertise to students who are keen to know about the industry and more.
Courses that John has conducted and created Includes public speaking, vocal classes, how to be a radio DJ, songwriting and music production courses, TV content production, how to be eloquent in the English language.
FASHION ICON
John who is an absolute icon of coolness with his debonair and polished looks, is always seen in his signature sharp-looking and well-fitted suits. With that, he has gotten countless compliments and enquiries of how to achieve this look of his, both by men and women.
Being a savvy entrepreneur, John has turned that interest by the public and has created his own fashion line, John Klass Suits, to provide a bespoke service for both suits and fashion wear. This is to serve that interest to the public in achieving the look of his that they so admire.
Portfolio
GUEST APPEARANCES on TV
Under One Roof
Pyramid Game
Asia Bagus
Live On Five
Tonight With Gurmit
High On Live
Summary of Radio Stations & Shows hosted
CLASS 95 (Current station)
KISS 92FM(Evening Drive Time)2013 - Sept 2017
Radio 91.3FM - THE MARRIED MEN (Evening Drive Time)2009
HIT STATION PERFECT 10, 98.7FM(Morning Drive Time)1996-1998
REDIFFUSION CABLE RADIO(Morning Drive Time)1991-1996
HOST/EMCEE
Clients/Brands (non-exhaustive)
SING 50 CONCERT @National Stadium
ASIAN TELEVISION FORUM
S'PORE MUSIC SHOWCASE at MIDEM in CANNES, France
GOVWare Conference
SHELL PETROLEUM/SHELL SELECT
EXXON MOBIL
AMERICAN EXPRESS
OPEL
SINGAPORE INTERNATIONAL CYBER WEEK
MAZDA
KIDZANIA SINGAPORE
SINGAPORE AIRLINES
MINISTRY OF ENVIRONMENT & WATER
HSBC
THE BODY SHOP
PRICE WATER HOUSE COOPERS
BLOOMBERG SINGAPORE
AIA KLULA LUMPUR
MARRIOT HOTEL'S MILLENNIUM COUNTDOWN PARTY
ALLEN & GLEDHILL LLP
SINGAPORE MERCANTILE CO-OPERATIVE SOCIETY
TEMASEK POLYTECHNIC
BNP PARIBAS WTA FINALS
HL MILK
THE NEW PAPER BIG WALK
SAMSUNG
DYNASTY TRAVEL
RESORTS WORLD SENTOSA
HBO ASIA
WISTERIA CONDO
AGRI-FOOD & VETERINARY AUTHORITY OF SINGAPORE (AVA)
PASTA MANIA
MUSIC AWARDS
BEST SONG(JANE) 1994
BEST GROUP(KICK) 1994
BEST LOCAL SONG - (FALLING IN LOVE) 2000
CHARTED HITS
MULTI PLATINUM SONG"THRU' YOUR EYES"
6 TOP 10 RADIO AIRPLAY HITS
EXECUTIVE PRODUCEROF "TEENAGE TEXTBOOK MOVIE" SOUNDTRACK
MEDIA TRAINER
REDIFFUSION RADIO DJ WORKSHOP
THAMES BUSINESS SCHOOL (Broadcast Journalism)
SCHOOLS (2005 - Present) - St. Patrick's School, Assumption Secondary School, Bartley Secondary, CHIJ KATONG, CHIJ Toa Payoh, St. Gabriel's Secondary School, Montfort Secondary School
VOICE COACH
Ministry of Environment and Water Resources