Justin Ang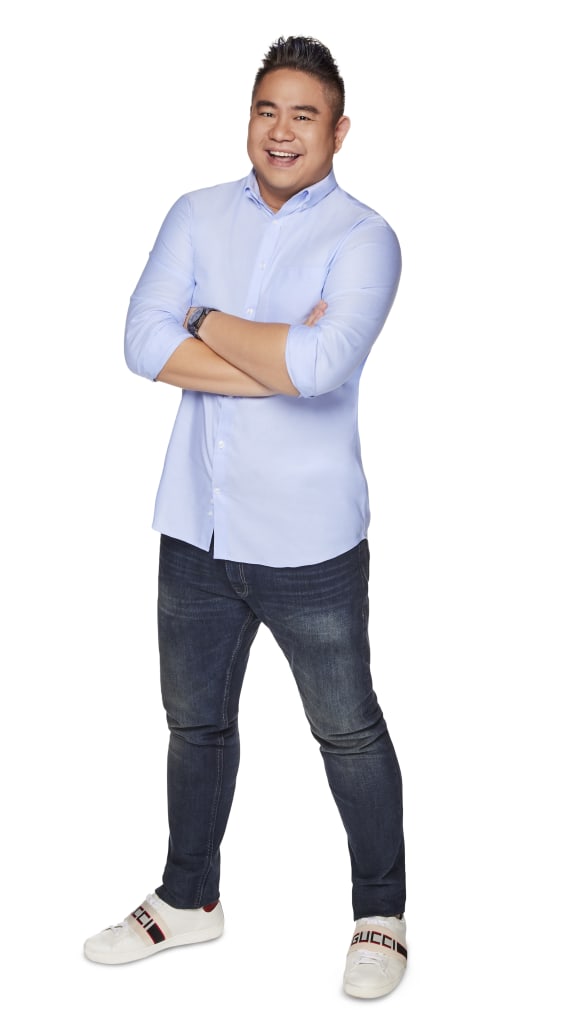 Language
English, Chinese
Talents
Hosting, Voice Over
Justin Ang is the man hundreds of thousands of people turn to every day for a laugh to start their day. Best known for his partnership with Vernon A., they form the award-winning duo The Muttons. The pair currently anchors Singapore's No.1 Morning Drive Show – Muttons In The Morning, on Class 95. For three consecutive years, they won the accolade of 'Singapore's Best Radio Show' at the Singapore Radio Awards. They are also the most followed radio personalities on social media, having built a fan base of over 115,000 fans on Facebook, and 60,000 followers on Twitter.
Justin started a career in radio at the tender age of 16, the youngest DJ ever in Singapore. With his chirpy voice and wicked sense of humour, you can always count on him to get you giggling.
Outside radio, Justin is also an experienced stage emcee, with the ability light up any event with his dynamic energy and wit. Satisfied clients include Calvin Klein, Starhub, Sentosa, Samsung, Ngee Ann Polytechnic, Singapore Polytechnic, 7-11, AXN, Microsoft, American Express and many more. He has also done many voice-overs for clients like Singapore Tourism Board, Listerine, Ministry of Health, Panasonic, Property Guru, etc.
Portfolio
MOVIES
2011 - It's A Great Great World

RADIO
2015 to Present - DJ, Class 95FM, Muttons in the Morning
2005 to 2015 - DJ. 987FM
1998 to 2005 - DJ, SAFRA RADIO
TV HOSTING
2015 - Tube (Channel 5)
2014 - New Year's Eve Countdown (Channel 5)
2013 - Catch of The Day (Channel 5)
2010 - World Cup Weekly Highlights Shoots
2008 - SingTel Grid Girls 2008
2007 - S-League Awards Night 2007
EVENT HOSTING
2015 - Mizuho Bank Annual D&D
PASSION Arts Singing Festival
50 Days to SG50 Launch
Breeze Soccer Clinic with Bryan Robson
Asus ZenFone 2 Launch
Sentosa FUN Movement Launch
FHM Model Search Finals 2015
NTUC Orange Health Roadshow
Fiat Doblo Launch
IMM Great Singapore Sale Auction
James Bond "Spectre" Gala Premiere
2014 - Hunger Games Singapore Challenge
Lamborghini Singapore CNY Dinner
Air Asia Food Trail (Penang & Kota Kinabalu)
SpiderMan Red Carpet Premiere
Sony Mobile Smart Watch 2 Launch
Strepsils The Right Note Finals
Ministry Of Manpower Dinner & Dance
Cornetto Taylor Swift Launch
Navy Recruitment
IMM Great Singapore Sale Auction
McDonald's Spicy Challenge
Carlsberg BPL Private Screening
2013 - NUS Commencement Dinner
HSBC Agency Awards Presentation
FHM Model Finals
Lenovo Tablet Launch
Dell Laptop Launch
Gala Premiere "James Bond Skyfall"
Swatch 30th Anniversary
Marina Square Christmas Special
2012 - Singapore Institute of Management D&D
F1 event
MediaCorp Soap Box Derby
Green Lunch @ Science Park/Plaza
Lunch Express
Singapore Polytechnic Dinner & Dance
Adidas Product Launch
2011 - Create 2011 Launch
Johnson & Johnson Vision Care trade launch
Launch of National Family Celebration 2011
Sony Ericsson media launch
A New HP World
Peugeot RCZ Launch
NUS Business School Bash: Jam n Hop
Woodlands Talent 2
Universal Studio
Aster Anniversary kick-off event
Adidas All24 event
Singtel – Angry Bird Event @ F1
M1 iPhone 4S Launch at Paragon
2010 - HP Envy Beats media launch
Shine Youth Festival 2010 Launch Event
POSB Multi-tude youth debit card
Minute Maid Pulpy Creative Sampling
Pioneer Junior College Graduation Night
Adidas F50 Light Speed Challenge
Resorts World, World Cup Event
Carlsberg Fan Park
M1 Paragon Countdown
8 Days Shoot featuring Scape
Yellow Ribbon Prison Run 2010
Suntec Dance Finals
Knight Frank 70th Anniversary
Canon Photo Marathon
Sleague Awards Night
Nokia N8 Music Showcase
Carlsberg Pimp My Party
2009 - Coke Christmas Campaign
NTU Open House
Singapore Idol Roadshows
Bandslam Movie Launch
Asian Youth Games (Milo)
Sony Style Shop & Bid Auction
Coke Open Happiness
LTA Circle Line Launch
Courts Megastore Launch
Nokia Comes With Music Launch
Hewlett Packard Campus Survival
S-League Awards Night November 2009
Dunman High Prom Night December 2009
National Infocomm Competition Awards Ceremony and Launch of NIC
Carlsberg Best Beer Experience
Sudoku Challenge
Ben & Jerry's Chunk Festival
Yellow Ribbon Prison Run
Mighty Night Race
Microsoft XBOX Gaming Festival
Carlsberg Mike's Wishes
2008 - FHM Girl Next Door Finals 2008
River Island Launch at Vivocity
Nokia N Series Launch
Calvin Klein Launch
Singapore Idol Season 2 Roadshow
NTU Dinner & Dance 2008
Danone Dinner & Dance 2008
Business Objects Pte Ltd Dinner & Dance 2008
Tyco Asean Conference 2008 (Malaysia)
Microsoft X06 2008
Press Conference for Hollywood actor "The Rock" 2008
Samsung Skate Festival 2008
Commentator for Channel 5 "The Showdown" 2008
2007 - American Express Dinner & Dance 2007
FHM Girl Next Door Finals 2007
Ngee Ann Polytechnic Dinner & Dance 2007
IBM Asean Conference 2007 (Ho Chih Min City)
Samsung Torch Bearer Challenge 2007
AWARDS/ACHIEVEMENTS
2013 - Singapore Radio Awards "Best Radio Show", "Favorite Radio Personality"
2011 - Singapore Radio Awards "Best Radio Show"
2010 - Singapore Radio Awards "Best Radio Show"
COMMERCIAL/ENDORSEMENT
2015 - Sentosa
2014 - Universal Studios Halloween Horror Nights
2014 - Mercedes Benz
2012 - Acuvue
2010 to 2013 - Best Denki