YOUR COUNTDOWN PARTY RETURNS TO THE PROMONTORY AT MARINA BAY!
Usher in the new year with an exciting slate of Let's Celebrate 2023 activities as your favourite annual countdown party returns to The Promontory at Marina Bay! You will be treated to performances by a star-studded line-up of local and regional talents including Shila Amzah, Richie Koh, Yung Raja, ALYPH, Ebi Shankara, Glenn Yong, Desmond Ng, Rahimah Rahim and many more!
Kick off the evening with dance hits by live DJ, play games and win prizes, and indulge in a range of food and refreshments. Crowd-favourite fireworks will return to illuminate the skyline at the stroke of midnight.
Gates open at 7pm on Saturday 31 December at The Promontory. Admission is FREE!
PERFORMERS
Shila Amzah

Malaysian singer-songwriter Shila Amzah is one of Asia's leading contemporary female artistes. After winning popular Chinese reality singing competition Asian Wave in 2012, Shila became the first Malaysian recording artist to break into the Chinese music market. Recognised as a game changer in the entertainment industry, Shila was put on the Forbes' 30 Under 30 Asia list in 2018 and continues to make waves both regionally and internationally with her powerhouse vocals.

Richie Koh

Actor Richie Koh was discovered in 2013 on Hey Gorgeous, when he emerged as the runner-up of the campus talent show. With his good looks and boyish charms, Richie landed roles in prominent Mandarin drama series, including When Duty Calls, and 118 Reunion. His outstanding performances led to a Best Newcomer nomination at the 2018 Star Awards. In 2022, Richie received critical acclaim for his portrayal of a young adult with special needs in the series Your World In Mine.

Yung Raja

Since his breakout hit Mustafa came into our consciousness in 2018, Yung Raja has been making a name for himself as one of Singapore's biggest hip-hop exports. With his fast flows, quickfire rhymes and cheeky wordplay, it's little wonder that Yung Raja made it on to the coveted NME 100 list in 2021. Seamlessly blending English and Tamil in his verses, Yung Raja has received praise from international rappers and publications, and hopes to continue elevating Southeast Asian hip-hop on the world stage.

ALYPH

ALYPH burst onto the music scene back in 2005 as one-half of the influential Singaporean hip-hop duo, SleeQ. Having since established himself as a solo artist and music producer, ALYPH has worked on music with icons in the Malay music industry such as Joe Flizzow, Kaka Azraff, K-Clique, and Zizan Razak, with many of his songs becoming hits. His most recent release, Swipe, has become a viral sensation, and has cemented its position as a trend on popular video-sharing platform TikTok.

Ebi Shankara

English, Tamil, and Malay-speaking actor, singer, and host Ebi Shankara is highly acclaimed as an artiste in the local theatre and entertainment scene. Following Ebi's win on Vasantham Star in 2007, this multi-hyphenate has been performing regularly at major events such as the National Day Parade, and on various charity and countdown shows over the years as well. His role as Kenneth Bala on the popular long-form drama, Kin, has established Ebi as a household name in Singapore.

Glenn Yong

Rising star Glenn Yong made waves in the entertainment industry when he first appeared, on Channel 8's popular drama series, The Good Fight, in 2019. Since then, he his performances in various dramas such as Victory Lap, Live Your Dreams, and most recently in the Ah Girls Go Army franchise, has bolstered his heartthrob status in the industry. Glenn's talents extend to singing as well. His latest single, UP UP, aims to empower and encourage others to achieve what they have set out to do.

Desmond Ng

Having beat veterans to win The Getai Challenge in 2015, Desmond Ng's singing ability cannot be denied. That ability, combined with his charisma and stage prescence, also led him to win the Most Potential Award at ASEAN+3 Song Contest in 2019. Desmond is also a skilled and well-loved host and actor, and was nominated for Best Host at the 2017 Star Awards. In that year, Desmond also walked away with a Top 10 Most Popular Male Artiste trophy at the same awards show.

Rahimah Rahim

Having been a staple in our music industry since the 70s, veteran singer and Cultural Medallion recipient Rahimah Rahim is truly a national treasure. With more than a dozen hit albums under her belt, Rahimah is a versatile vocalist who has performed alongside prominent singers like Miami Sound Machine, Alan Tam, the late Leslie Cheung and the late Sudirman Haji Arshad. In 2017, for her contributions to the local arts and entertainment scene, Rahimah was inducted into Singapore Women's Hall of Fame.

Fariz Jabba

The well-known rapper, dancer and singer Fariz Jabba caught the attention of the music industry when he took part in a freestyle rap content on Instagram in 2017. His homemade rap videos caught the attention of Malaysian hip-hop veteran, Joe Flizzow, who put him in the spotlight on online rap cypher show, 16 Baris. With his smooth and captivating music and his bilingual rap verses, Fariz Jabba has established himself on both sides of the causeway and is definitely one to watch.

Chef Bob

Celebrity chef Shahrizal Salleh, more commonly known as Chef Bob, is a familiar face in the local foodie scene. A master in Malay, Indian, Indonesian, and Spanish cuisine, the celebrated cookbook author also has over 30 years of experience in the entertainment industry, having helmed numerous food and cooking programmes over the years. Most recently Chef Bob starred as a mentor chef on the esteemed cooking competition – King of Culinary.

Chef Eric Teo

As the first Singaporean to be appointed president of the Singapore Chef's Association, Chef Eric is well renowned in the culinary world. As the Managing Director and chef of restaurant Three Embers, Chef Eric has a bevy of awards under his belt. This 3-time winner of the World Gourmet Summit Executive Chef of the Year also plays a pivotal role in shaping the next generation of chefs, as the Master Mentor with the Asian Culinary Institute Singapore. Most recently, Chef Eric starred as a mentor chef on the highly-anticipated cooking competition King of Culinary.

Chef S.R. Bala

Chef Balasundram Pillai, better known as Chef S.R. Bala, has over 22 years of experience perfecting and crafting Indian fusion food. Besides starring as a mentor chef in King of Culinary, Chef Bala is also the President of the Indian Chefs & Culinary Association (Singapore) as well as the Chef and Managing Director of the popular restaurant, Empire Cuisine. Fervently passionate about local cuisine, Chef Bala also partners with organisations such as Health Promotion Board, National Environment Agency, and Indian Heritage Centre to spread the awareness and appreciation of diverse hawker and Indian food.

Gao Mei Gui

Gao Mei Gui wears many hats. She's a well-loved YES933 DJ, a popular host, and an exceptional vocalist who entered the entertainment scene in 2006 when she emerged as a Top 10 female finalist in the inaugural season of reality singing competition Campus Superstar. The versatile performer has hosted and sung for a plethora of events, and continues to soar to new heights, most recently emerging as the Grand Winner of hit singing competition, SPOP WAVE!

Ridhwan

Ridhwan Azman is a YouTuber, actor and influencer who gained prominence through his appearance in the Ah Boys to Men film series. Through his comedic skits and music parodies, Ridhwan has amassed an enthusiastic following, with nearly 700 000 subscribers on YouTube. As the first runner-up of SPOP WAVE!, Ridhwan is also a brilliant singer. His passion for singing in multiple languages such as Mandarin, Hokkien, Malay, and Korean has earned him a spotlight in the world of entertainment.

Sherly Devonne Ng

The multi-talented Sherly Devonne Ng launched her entertainment career right after graduating from polytechnic in 2013. Apart from impressing audiences in front of the camera, Sherly has also produced music, including the highly popular song Missing You for the hit drama When Duty Calls 2. Not only was she the second runner-up of the highly competitive singing competition, SPOP WAVE!, Sherly has proven herself as an actress with range, appearing in dramas such as Tanglin, 128 Circle, and Lion Mums.

Pavithra

One of the stars of Singapore's music industry, Pavithra Shreedharan Nair rose to fame when she became a finalist in Vasantham Star 2011. Her win for Best Original Singer in Pradhana Vizha 2021 highlights her immense talent and her distinctive voice can also be heard across various film soundtracks, including the 2022 Kollywood crime thriller Sinam, as well as various locally-produced award-winning movies and drama series. The multi-talented Pavithra has also appeared in leading roles across dramas, such as Vasantham's Yaar 3, Oruvan, Mani and Channel 5's Sunny Side Up.

Estelle Fly

Estelle Fly first broke onto the entertainment scene as a member of Japanese idol group, Sea*A. With the release of her first solo single, Blue, in 2018, Estelle has steadily grown as a solo artiste, constantly breaking new ground through her experiments with different sounds and influences. Inspired by her love for K-Pop and American pop divas, Estelle uses her unique voice to create a distinct blend of pop and R&B, with captivating hooks and dance beats.
Shila Amzah

Richie Koh

Yung Raja

ALYPH

Ebi Shankara

Glenn Yong

Desmond Ng

Rahimah Rahim

Fariz Jabba

Chef Bob

Chef Eric Teo

Chef S.R. Bala

Gao Mei Gui

Ridhwan

Sherly Devonne Ng

Pavithra

Estelle Fly
HOSTS
Germaine Leonora Tan

Germaine first shot to fame under the pseudonym, Baby-G on the Muttons In The Morning show. She now co-hosts her own show on 987FM called The Down Low, drawing listeners with her outgoing and vivacious personality. Germaine is also a fashion and lifestyle influencer and is the face of Hush podcast on the popular YouTube channel Clarity. When not on air, Germaine pursues her entrepreneurial endeavours. She founded Hop App SG, which helps parents better manage their children's enrichment activities.

Maya Nicole Davidov

As a fresh face on 987, DJ Maya Nicole Davidov brings heartwarming stories to her listeners, and occasionally breaks into song on the air. Apart from being a radio DJ, Maya is also a fitness trainer, business owner, model, and singer. Maya has performed at various large-scale events such as the 2019 Singapore Grand Prix, as well as the celebration of diplomatic relations between Israel and Singapore. Maya can also be seen fronting well-know brands such as Nike and FedEx.

Kishan J

J. Jai Kishan also known as Kishan J, is an actor and host. Known for his unique blend of eloquence and eccentricity, Kishan is a key member of YouTube sensation Wah!Banana, which has amassed more than one million subscribers. Kishan was not always in front of the camera; he spent five years in film production, before nabbing his first acting gig on long-running drama, Tanglin. Since then, Kishan has gone on to expand his acting range, starring in a variety drama series and films.

Zhin Sadali

Actor, host, and a key part of TheSmartLocal's core team, Zhin Sadali is a talent to watch. Not only is Zhin a popular online star, he is making a name for himself in the offline sphere as well, as a recognizable face across a range of TV programmes. He has co-hosted children's edutainment Projek L.I.T., acted in award-winning drama The Algorithm, and most recently, the action thriller Third Rail. When he's not in front of the camera, Zhin leads a team of project managers over at TheSmartLocal.
Germaine Leonora Tan

Maya Nicole Davidov

Kishan J

Zhin Sadali
MAIN SPONSORS Create Your Unique New Year's Greeting
Personalise your New Year's greeting with our Bullet Time Photo Booth to send to your family and friends this year! Also look forward to more exciting fringe activities at our roadshows leading up to the New Year!
NEW YEAR E-GREETINGS
It's time to celebrate and ring in 2023! Write a personalised e-greeting message and send to your loved ones!
CREATE NOW
CALLING ALL KIDS – READY, SET, ADVENTURE!
There's never a dull moment this school holidays with non-stop fun and exciting kids' content on okto and meWATCH!
Watch your favourite shows and characters in multi-languages.
There are action, comedy, cartoons and more, in English, Mandarin, Malay and Tamil!
STREAM MORE
24 hours of non-stop entertainment
Get set for a marathon of your all-time favourite kids' shows!
STREAM MORE
HOLIDAY SPECIALS
It's Movie Time!
We have an exciting, fantastic line-up of movies for you this holiday season!
Check them out and save them to your calendar so you don't miss them!
Smurfs: The Lost Village (2017)
31 Dec 12.30PM
My Spy (2020)
31 Dec 6.45PM
The Call of the Wild (2020)
1 Jan 6.45PM
MORE MOVIES
SITEMAP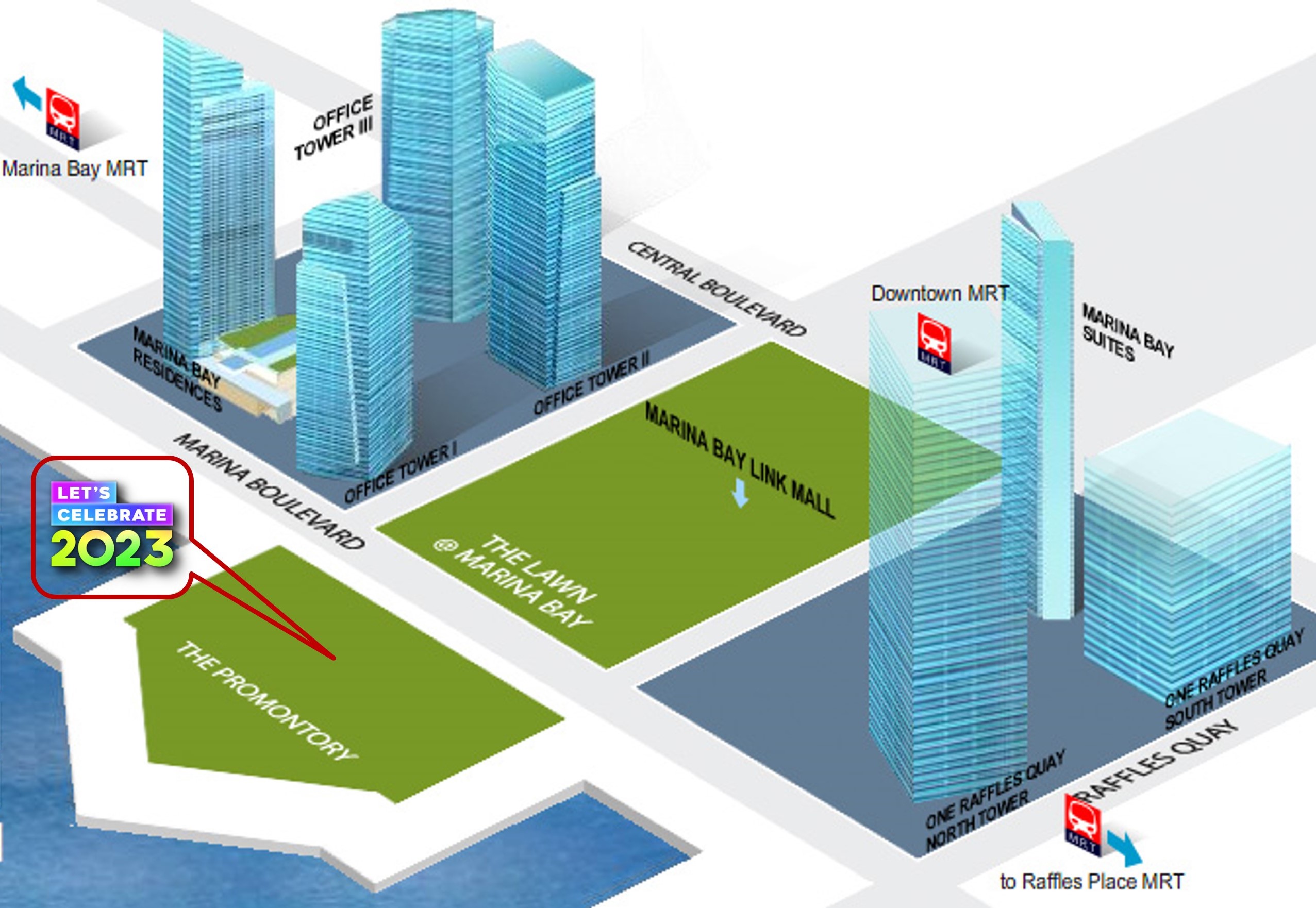 ROAD CLOSURE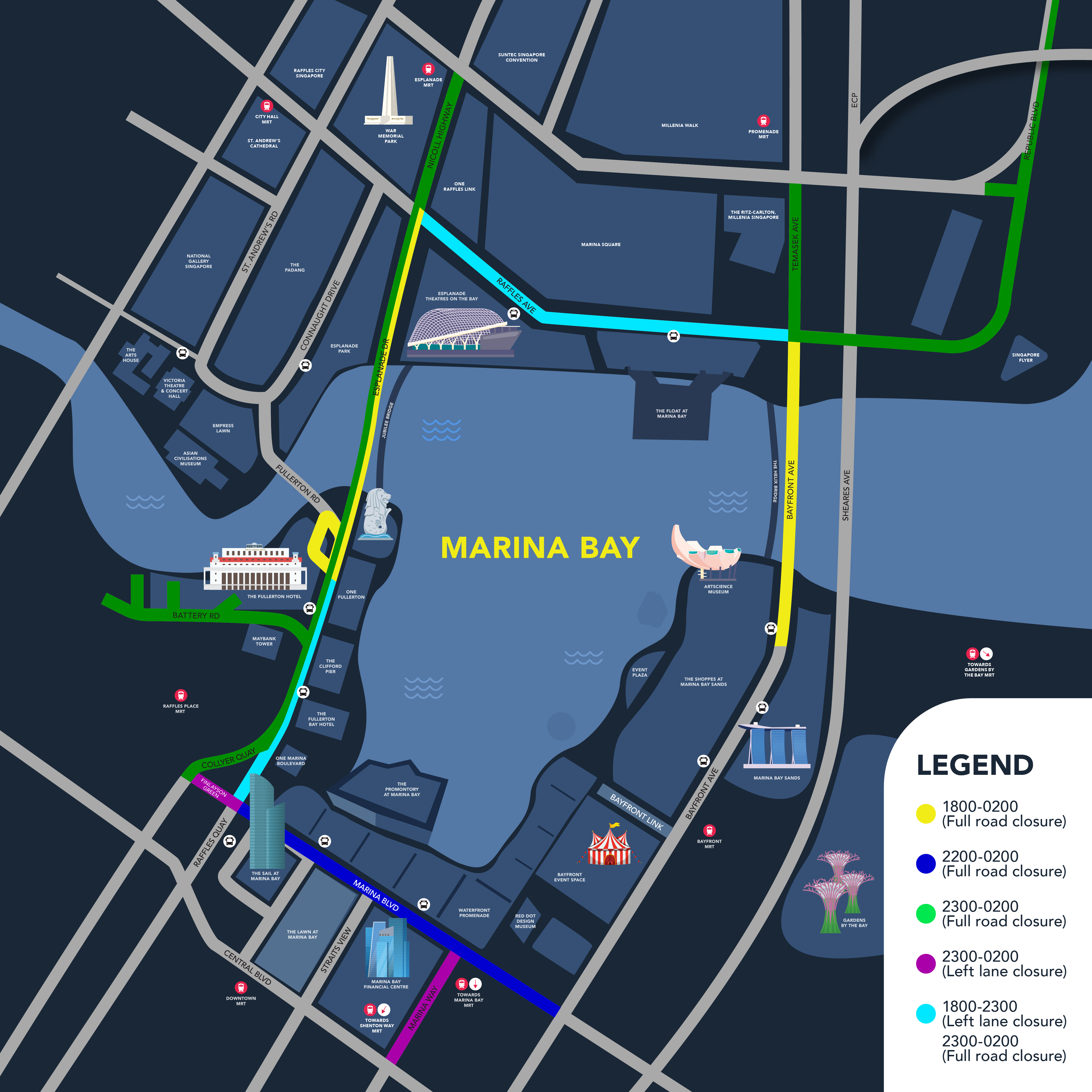 HOW TO GET THERE
Due to closure of certain roads and lanes around Marina Bay on New Year's Eve, the public is encouraged to make their way to Let's Celebrate 2023 via the islandwide Mass Rapid Transit (MRT) system. Train services will be extended on 31 December.
All MRT lines (East-West Line, North-South Line, Downtown Line, Circle Line and Thomson-East Coast Line) have stops in the Marina Bay area. The nearest stations are:
Marina Bay (NS27/TE20/CE2)
Raffles Place (NS26/EW14)
City Hall (NS25/EW13)
Shenton Way (TE19)
Downtown (DT17)
Bayfront (DT16/CE1)
Promenade (DT15/CC4)
Esplanade (CC3)
Gardens by The Bay (TE22)