Catch the FAS Tri-Nations Series 2022 plus more thrilling local football action, right here with Mediacorp!
GOAL! Mediacorp will be presenting the FAS Tri-Nations Series 2022 for free to audiences, as part of a pipeline of heart-thumping sporting content to champion the vibrant football scene in Singapore.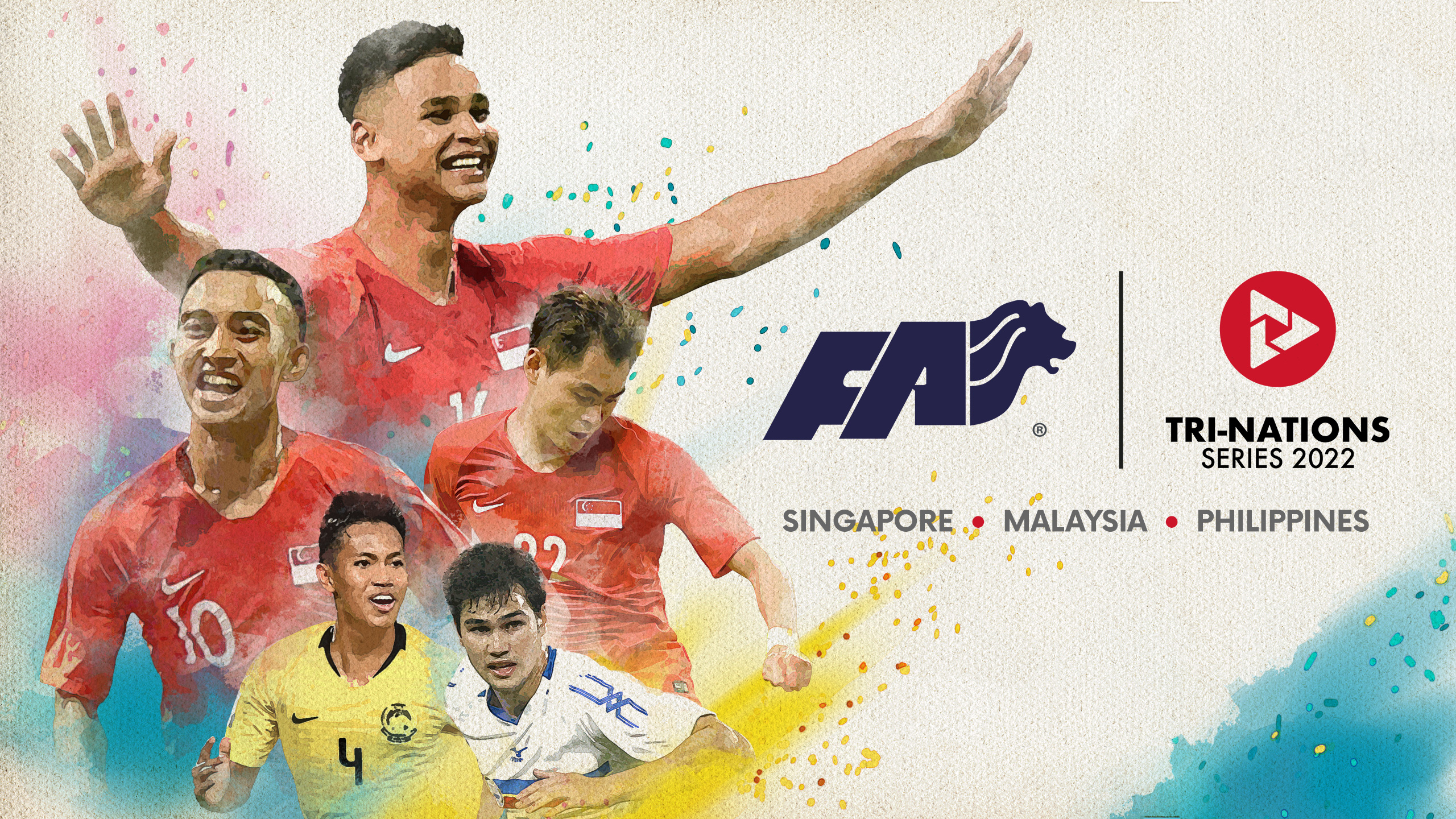 Singapore, 22 March 2022 – Mediacorp is pleased to bring exclusive local football action to audiences for free with the FAS Tri-Nations Series 2022 friendlies this March, as part of a larger line-up of sporting content aimed at supporting football in Singapore.
Audiences can cheer on the Lions as they face down their rivals from the Philippines and Harimau Malaya of Malaysia in the FAS Tri-Nations Series 2022, which will be hosted on Singapore soil at the National Stadium. Catch the trio of international "A" matches which will kick off live at 8pm on the following days, exclusively on meWATCH and the Mediacorp Entertainment Youtube channel:
23 March: Philippines vs Malaysia

26 March: Singapore vs Malaysia

29 March: Singapore vs Philippines
The airing of the FAS Tri-Nations Series 2022 is one highlight of Mediacorp's partnership with the Football Association of Singapore, which will see more local football action being made available for free to a wider national audience. This commitment to championing local football also includes Mediacorp's offering of the 2022 AIA Singapore Premier League and the Singapore Cup.
Football fans can catch the exciting renewal of club rivalries as eight teams battle it out over the course of the next eight months in the 2022 AIA Singapore Premier League. Upcoming highlights include an epic square-off between defending champion Lion City Sailors against 2020 winner Albirex Niigata FC on 24 June, while crowd favourites Hougang United FC and Tampines Rovers FC will go head-to-head on 13 July. All eight clubs will also compete in the Singapore Cup when it returns on 25 October after a two-year hiatus.
Viewers can catch all 112 Singapore Premier League matches,  and 18 Singapore Cup matches, live and on demand for free on meWATCH. Match highlights will also be available for free on meWATCH and the Mediacorp Entertainment on YouTube, with selected matches available live on the latter.
Angeline Poh, Chief Customer & Corporate Development Officer, Mediacorp, said: "We are proud to bring the FAS Tri-Nations Series 2022, Singapore Premier League, and Singapore Cup to our audiences. Through this, we hope to continue rallying our communities to support our local athletes, and showcase the vibrancy of Singapore's sports scene. Fans can look forward to catching even more Team Singapore action with our exciting pipeline of sporting content in the coming months, live and on demand through Mediacorp's extensive network, from the comfort of their homes."
The FAS Tri-Nations Series 2022, Singapore Premier League, and Singapore Cup follow recent multi-platform Mediacorp offerings of major sporting events featuring Team Singapore athletes, such as the AFF Suzuki Cup 2020 in December 2021. Upcoming highlights in Mediacorp's sporting slate include the 31st edition of the Southeast Asian Games in May 2022, with the availability of other key sporting events to be announced in due course.
Sign in with meCONNECT to catch the FAS Tri-Nations Series 2022 at mewatch.sg/channels/LIVE-5-98202, and the 2022 AIA Singapore Premier League for free at mewatch.sg/spl2022. For more information on the FAS Tri-Nations Series 2022, visit fas.org.sg. To learn more about the Singapore Premier League and Singapore Cup, please visit spl.sg and spl.sg/news/singapore-cup.
-Ends-
Media contact
Eugene Quek
Communications Specialist
Eugene.Quek@mediacorp.com.sg
About Mediacorp
Mediacorp is Singapore's national media network and largest content creator. Its purpose is to create engaging and trusted content, as well as to connect communities and inspire people. Mediacorp engages over three million people in Singapore daily across four languages on its digital platforms including meWATCH, meLISTEN and CNA.asia, six TV channels and 11 radio stations. Beyond Singapore, Mediacorp also has a growing international audience through CNA and content distributed across markets.

With a focus on nurturing talent and growing the sector, the company is committed to investing in nation-wide initiatives like Star Search, Anugerah, Yaar Antha Star and SPOP, commissioning a wide variety of work from local content creators, and collaborating with institutes of higher learning. As Singapore's first local Multi-Channel Network in partnership with YouTube, Mediacorp is also committed to developing a network of digital content creators.
For advertisers, Mediacorp has partnered industry-leading brands like ESPN, Mothership, Popcorn, theAsianparent, VICE, YouTube and 99.co to form the Mediacorp Digital Network in offering more effective content-driven solutions.
Mediacorp is the recipient of industry accolades including New York Festivals, World Media Festivals, PromaxBDA (World and Asia) and Asian Academy Creative Awards.
For more information, please visit mediacorp.sg.