Creatives Assembly 2022 – Mediacorp scales up investment in content development, awards production support to joint winners Robot Playground Media and Singapore Polytechnic at live pitch
Creatives Assembly 2022, Mediacorp's annual call for ideas exercise, concluded with a welcome "plot twist" – the awarding of production support to not one, but two winners of the first-ever Content Development Pitch!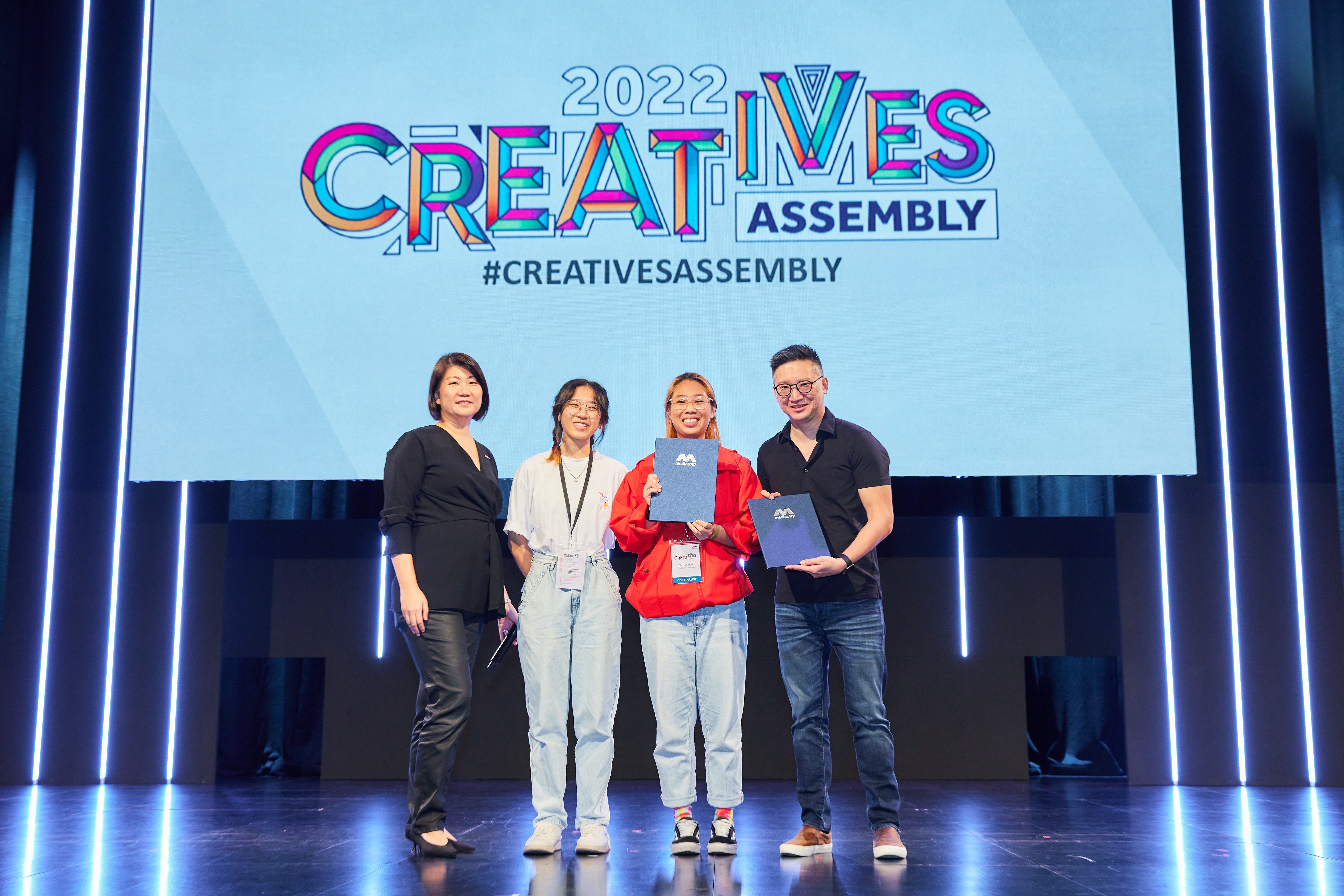 Singapore, 3 November 2022 – In an indication of the outstanding calibre of the five finalists at a live pitching battle at The Theatre at Mediacorp this morning, Robot Playground Media and Singapore Polytechnic have secured joint wins and funding support to produce a scripted pilot each – signaling Mediacorp's commitment to commissioning innovative content for its audiences. 
The inaugural Content Development Pitch initiative was a highlight of Creatives Assembly 2022, Mediacorp's annual call for ideas exercise to seek the best concepts for commissioning across languages and platforms. Back for a second run after its launch in 2021, this year's exciting exercise was the first to be held as an in-person event, and brought together nearly 400 representatives from production houses, content creators and students from institutes of higher learning.
As part of the selection process for the Content Development Pitch, evaluators assessed 85 entries across languages from production houses, digital content creators and institutes of higher learning on their concepts' creativity, story, and proposed execution. Of these, five finalists were chosen for the live pitch: Luff Media for Life Exchange, a dystopian mystery thriller centred on an ex-prisoner selling shares of himself on a Human Stock Exchange; Nightjar Films for Fixing Fate, a twisty time travel tale following a modern-day undertaker's assistant who is transported back to 1930; Our Grandfather Story for I See The Light, an animated dark comedy about a moody teenager dragged into the afterlife​ and made to undergo trials inspired by Southeast Asian folklore; Robot Playground Media for A Banquet For Hungry Ghosts, a horror-themed adult animated reimagination of Chinese customs, culture and cuisine based on the best-selling book of the same title by chef-author Ying Chang Compestine; and Singapore Polytechnic for OJA (Odd Job Agency), a comedy about a directionless young woman who is hired to reveal an old man's secret at his funeral and winds up running an agency executing other "odd jobs". 
Each finalist was given 20 minutes to pitch to our panel of judges – comprising Angeline Poh, Chief Customer & Corporate Development Officer, Mediacorp; Nini Binti Yusof, Deputy Chief Executive Officer, Media Prima; and Kathleen Beedles, writer and executive producer. Robot Playground Media and Singapore Polytechnic were ultimately selected as joint winners for the inventiveness, relevance and impact of their concepts.
Ervin Han, Co-founder, Robot Playground Media said: "We are thrilled to have jointly won the live pitch for this year's Creatives Assembly! Our proposal was a labour of love that we believed in strongly, so it feels fantastic to have earned the vote of confidence from the judges today. We are brimming with ideas on how to flesh out and translate our concept into a great story for Mediacorp audiences, so watch this space!"
Christine Lim and Fok En Yi, Year 3 students, Singapore Polytechnic Media, Arts & Design School said: "It was such an amazing yet unnerving experience to be pitching for the first time on such a big stage. It is surreal to think how far this story has come since we first conceptualised it for our final year project at Singapore Polytechnic's Media, Arts & Design School. We cannot wait to bring OJA to life on screen, not least because of how much we have connected with our characters. We hope Mediacorp audiences will enjoy watching our tale as much as we did creating it!"
Angeline Poh, Chief Customer & Corporate Development Officer, Mediacorp said: "Creatives Assembly underlines Mediacorp's commitment to investing more in content development, alongside the deepening of our engagement with the local creative community. By bringing together the best minds across the community, this initiative illustrates our network-based approach to developing programmes and formats across languages and platforms, as we work together to craft the most impactful and relevant stories for our audiences."
Added Ms Poh: "Our heartiest congratulations to pitchers Ervin from Robot Playground Media and Christine and En Yi from Singapore Polytechnic! You wowed us with your concepts at the Content Development Pitch, both of which were engaging and memorable in their own unique ways. Your presentations had strong promise and a clear vision, with potential to be fleshed out into full series. We cannot wait to work with both teams to bring your stories to life for our audiences."
Industry-wide engagement and call for ideas
This year's Creatives Assembly also incorporated an engagement session for students from institutes of higher learning to interact with Mediacorp radio DJs, news presenters, writers, producers, commissioning editors and industry professionals, who shared their insights and experiences in honing the skills required for successful careers in the media business. 
Creatives Assembly 2022 attendees were also privy to a series of intimate fireside chats with industry insiders who exchanged views on breaking new ground in authentic Singapore storytelling and impactful collaboration across the creative sector. The event concluded with Mediacorp's commissioning team canvassing for a broad range of ideas across genres, platforms and languages for submission. 

Interested parties may submit their proposals from 3 November to 30 December 2022. For submission requirements and more information on Creatives Assembly 2022, please visit www.mediacorp.sg/commissioning.
- ends
Media contact
Eugene Quek
Eugene.Quek@mediacorp.com.sg
About Mediacorp  
Mediacorp is Singapore's national media network and largest content creator. Its purpose is to create engaging and trusted content, as well as to connect communities and inspire people. Mediacorp engages over three million people in Singapore daily across four languages on its digital platforms including meWATCH, meLISTEN and CNA.asia, six TV channels and 11 radio stations. Beyond Singapore, Mediacorp also has a growing international audience through CNA and content distributed across markets.

With a focus on nurturing talent and growing the sector, the company is committed to investing in nation-wide initiatives like Star Search, Anugerah, Yaar Antha Star and SPOP, commissioning a wide variety of work from local content creators, and collaborating with institutes of higher learning. As Singapore's first local Multi-Channel Network in partnership with YouTube, Mediacorp is also committed to developing a network of digital content creators.
For advertisers, Mediacorp has partnered industry-leading brands like ESPN, Mothership, Popcorn, theAsianparent, VICE, YouTube and 99.co to form the Mediacorp Digital Network in offering more effective content-driven solutions.
Mediacorp is the recipient of industry accolades including New York Festivals, World Media Festivals, PromaxBDA (World and Asia) and Asian Academy Creative Awards.
For more information, please visit mediacorp.sg.