MasterChef Singapore – Season Three to serve up local culinary classics reimagined by new batch of contestants!
Audiences can anticipate more of the local food we all know and love, created with passion and care by a new and diverse cast of aspiring chefs from Singapore.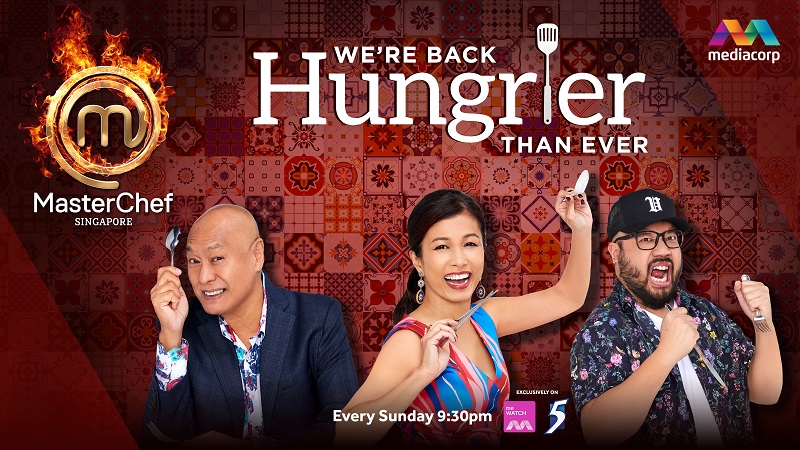 Singapore, 19 April 2022 – We are back and hungrier than ever! Premiering 1 May on meWATCH and Channel 5 and Mediacorp Entertainment YouTube Channel, Mediacorp audiences can expect a riveting third season of MasterChef Singapore, in the highly anticipated local return of one of the world's most successful competitive cooking reality television formats. 
MasterChef Singapore Season Three will celebrate Singapore's mouthwatering mélange of multicultural cuisine, as well as the nation's communal love of food. Produced by Motion Content Group and Beach House Pictures, the 10-episode series will see friendly competition and camaraderie among a diverse new cast of 18 talented amateur cooks, as they concoct elevated iterations of iconic local dishes in a bid to bag the most coveted cookery title in the Singapore culinary scene.
Reprising their roles as MasterChef Singapore judges are familiar faces Chefs Audra Morrice, Bjorn Shen and Damian D'Silva, who will be joined by special international guests and giants in the culinary world to appraise the Top 18 contestants as they navigate the competition's many exciting curveballs and challenges.
Season Three's home cooks were chosen from hundreds of applicants in an intense nationwide search for talented amateur cooks from all walks of life and with a wide repertoire of cooking styles. Among the eclectic ensemble of selected contestants are teachers, university students, high-flying investors, stay-at-home mothers and a food delivery driver – all with charismatic personalities and compelling stories to tell. Please refer to Annex A for the biographies of the Top 18 contestants. 
The Top 18 home cooks will sharpen their knives and fight their way through a series of high-pressure cooking auditions to secure just 12 coveted white MasterChef aprons. The Top 12 will then be rewarded with the opportunity to compete in the MasterChef kitchen, with only one emerging victorious to taste the sweet success of being crowned the next Singapore MasterChef – and savour a buffet spread of prizes amounting to over $100,000 worth of cash and items.
"We are thrilled to welcome fans back into the MasterChef Singapore kitchen for the third time running!" said Sapna Angural, Head, English Audience, Mediacorp. "Season Three is stuffed with more local food you love, ingeniously reimagined by Singapore's best amateur home chefs with even bigger personalities. The competition is packed with unexpected challenges at every turn, and will see our contestants banding together to cook with love and passion. We hope our viewers will join us in cheering on our budding chefs every step of the way, as they show off their incredible talent and fulfill their culinary dreams over the course of 10 exhilarating episodes."
MasterChef Singapore warmly acknowledges the following Main Sponsors and Partners who will be accompanying the contestants on their journey throughout Season Three. Contestants will be using kitchen appliances by Swiss heritage brand and luxury household appliance company V-ZUG. Other Main Sponsors include Babas, DBS Bank and Nespresso. They are joined by Singapore Food Agency and CS Fresh, the Official Pantry Partner. Thermomix and Fonterra are the Product Feature Partners.
MasterChef, created by Franc Roddam, first launched in 1990 in the UK and was later revived in 2005 where it remains a number one hit for the BBC.  In 2017, MasterChef was officially crowned the Most Successful Cookery Television Format by Guinness World Records. MasterChef celebrated its 500th series globally in 2021, with 49 productions in 33 territories airing last year. International ratings hit, drawing in audiences in major markets including the UK, US, Brazil, Australia, Italy and Spain, the MasterChef format and finished programmes are represented internationally by Banijay Rights. Motion Content Group, part of GroupM, a leading media management company, has acquired the rights to produce and broadcast MasterChef Singapore from Banijay Rights. Please refer to Annex B for information on Motion Content Group and Banijay Rights.
Masterchef Singapore Season Three is available on meWATCH and Channel 5 every Sunday at 9.30pm from 1 May, with episodes available on the same night via Mediacorp Entertainment YouTube Channel. For more information, please visit mediacorp.sg/MasterChefSG. 
- ends
Annex A – MasterChef Singapore Season Three Top 18 contestants
Please refer to this link for the Top 18 biographies.
Annex B – About Motion Content Group and Banijay Rights
About Motion Content Group
Motion Content Group invests into entertainment content to support the commercial and editorial needs of over 200 network and platforms. It uses its global scale and relationships with the world's leading talent, producers and distributors to gain access to the world's best content for the benefit of our clients and media partners. Motion provides support and expertise to GroupM's agencies and their clients to help realise and scale client entertainment ambitions. Headquartered in London and Los Angeles, Motion currently operates in 40 countries and has a broad range of award-winning programming distributed globally including LOVE ISLAND, on air in 21 markets, and Netflix's hit social experiment THE CIRCLE. Motion is GroupM's entertainment business, part of WPP.
About Banijay Rights
Leading independent global distributor, Banijay Rights, represents a world-class, multi-genre portfolio of over 110,000 hours of standout programming. Leading distribution for the largest international creator and producer, Banijay, the division handles the exploitation of some of the planet's best scripted and non-scripted brands.
Representing quality, excellence and experience in the business of linear and non-linear television and ancillary activity across all platforms, Banijay Rights' catalogue encompasses a host of top titles from Banijay's 120+ in-house labels, and a number of third-party producers, spanning drama, comedy, entertainment, factual, reality, family, formats and theatrical.
Delivering high-quality IP, which was born locally and travels globally, the distributor offers the best stories told the best way. Its landmark brands include Survivor, Big Brother, MasterChef, Temptation Island, Grantchester, Extreme Makeover: Home Edition, Deal or No Deal, Versailles, Biggest Loser, Home and Away, Money Drop, Mr Bean and Black Mirror.
Built on independence, creative freedom, entrepreneurialism and commercial acumen, Banijay Rights operates under the direction of Chief Executive Officer, Cathy Payne.
Media contact
Eugene Quek
Eugene.Quek@mediacorp.com.sg
About Mediacorp  
Mediacorp is Singapore's national media network and largest content creator. Its purpose is to create engaging and trusted content, as well as to connect communities and inspire people. Mediacorp engages over three million people in Singapore daily across four languages on its digital platforms including meWATCH, meLISTEN and CNA.asia, six TV channels and 11 radio stations. Beyond Singapore, Mediacorp also has a growing international audience through CNA and content distributed across markets.

With a focus on nurturing talent and growing the sector, the company is committed to investing in nation-wide initiatives like Star Search, Anugerah, Yaar Antha Star and SPOP, commissioning a wide variety of work from local content creators, and collaborating with institutes of higher learning. As Singapore's first local Multi-Channel Network in partnership with YouTube, Mediacorp is also committed to developing a network of digital content creators.
For advertisers, Mediacorp has partnered industry-leading brands like ESPN, Mothership, Popcorn, theAsianparent, VICE, YouTube and 99.co to form the Mediacorp Digital Network in offering more effective content-driven solutions.
Mediacorp is the recipient of industry accolades including New York Festivals, World Media Festivals, PromaxBDA (World and Asia) and Asian Academy Creative Awards.
For more information, please visit mediacorp.sg.