Mediacorp and YouTube deepen relationship with new content collaboration for That Free Money Show, a digital game show on Singapore's unique identity
The partnership will dovetail with the two companies' ongoing efforts to develop fresh storytelling formats and nurture talent in the digital creator community.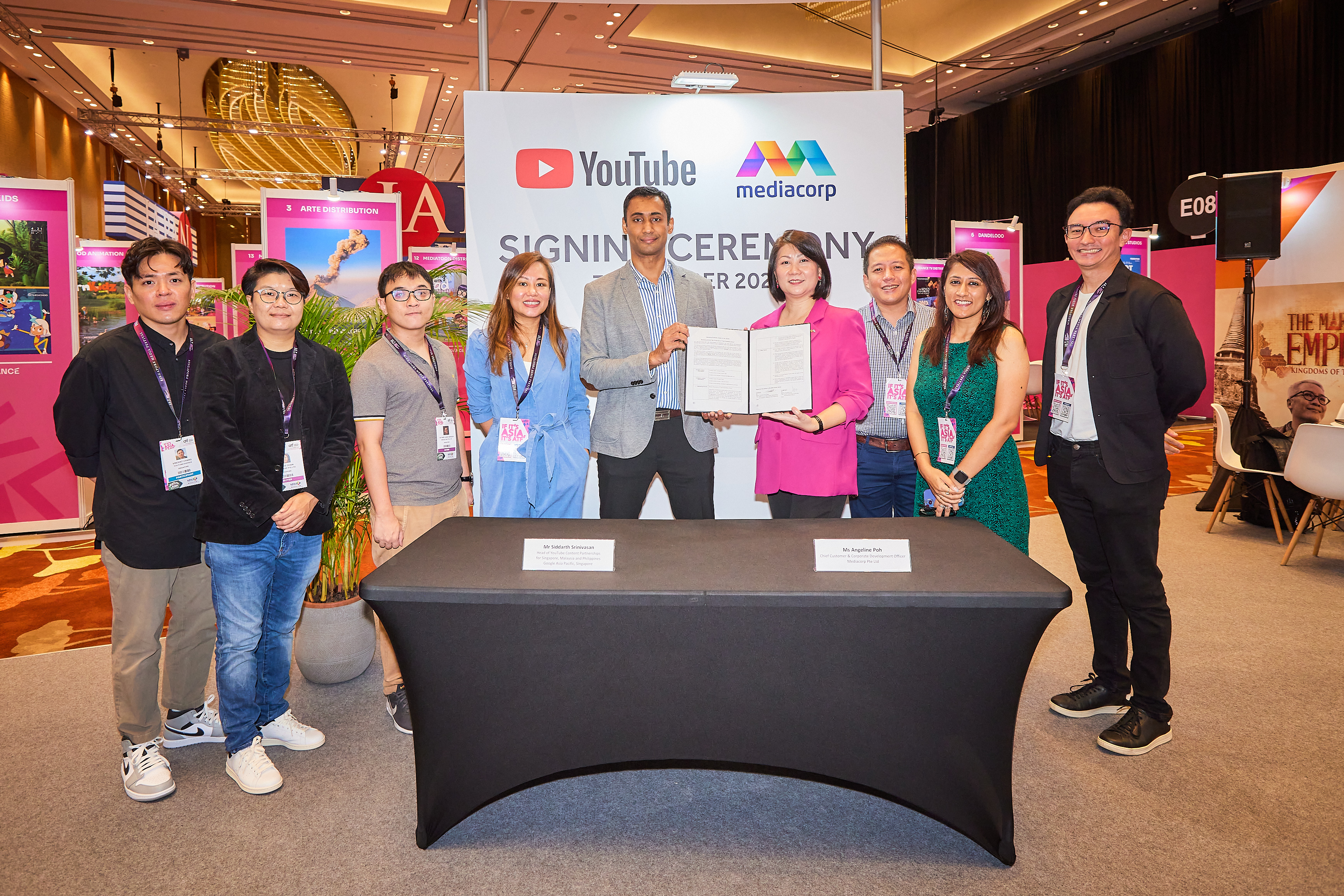 (Centre, holding collaboration agreement) Mr Siddarth Srinivasan, Head of YouTube Content Partnerships for Singapore, Malaysia and Philippines; and Ms Angeline Poh, Chief Customer & Corporate Development Officer, Mediacorp, with representatives from both companies
Singapore, 7 December 2022 – Mediacorp and YouTube today announced a collaboration to produce That Free Money Show (tentative title), an exciting new digital game show that will feature unique Singapore-themed challenges. Slated for release in end January 2023 on Mediacorp Entertainment YouTube channel and meWATCH, the programme will pit YouTube content creators against one another for a chance to win cash prizes of up to $50,000. 
Presented in 10-minute episodes targeted at digital viewers aged 18 to 24, this five-parter will feature YouTube creators participating in segments that spotlight Singapore stories, landmarks, customs and culture. This partnership signals Mediacorp's continued commitment to working with local talents on new and relatable content to engage and excite young digital native audiences, and is an expansion of the relationship established between the two companies, complementing Mediacorp's multiplatform storytelling expertise with the targeted reach of YouTube's platform and its content creators. This collaboration is also another step forward in both companies' efforts to help creators find new audiences and grow the vibrant creator community in Singapore.
Siddharth Srinivasan, Head of YouTube Content Partnerships for Singapore, Malaysia and Philippines said: "YouTube has found a strong partner in Mediacorp who is leading the way with their digital-first innovation, and who are equally committed to celebrate exceptional local talents and grow the creator ecosystem in Singapore. Building on our existing efforts to cultivate and spotlight emerging creators, we take it further by providing rewarding opportunities for creators to develop fresh content and reach new audiences. With such creative voices telling our Singapore stories in this game show, the stage is set for these creators to engage and entertain the over 4 million YouTube users here in Singapore and beyond." 
Angeline Poh, Chief Customer & Corporate Development Officer, Mediacorp said: "We are thrilled to collaborate with YouTube on this game show that we have designed for digital natives. This partnership combines our storytelling strength with the reach of YouTube's platform, and is in line with Mediacorp's approach of working with like-minded partners to create content for our audience."
Added Ms Poh: "By providing Singapore's content creators with opportunities to showcase their creativity on Mediacorp's platforms, this series is also part of our joint efforts to nurture new talent and develop storytelling formats in the digital content ecosystem. These efforts include Mediacorp's Bloomr.SG MCN Accelerator programme, launched in collaboration with YouTube and the Infocomm Media Development Authority to support creative talents in producing the best digital content and growing their audience reach both locally and internationally."
This partnership for That Free Money Show builds upon a series of previous collaborations between the two companies, including Mediacorp's organisation of the inaugural The Pinwheels 2022 digital content creator awards with support from YouTube; the launch of two editions to date of the Bloomr.SG MCN Accelerator programme in 2021 and 2022; and the establishment of Bloomr.SG MCN, Singapore's first official YouTube Multi-Channel Network (MCN) that was announced in August 2020. 
- ends
Media contact
Eugene Quek
Eugene.Quek@mediacorp.com.sg
About YouTube
Launched in May 2005, YouTube allows billions of people to discover, watch, and share originally-created videos.  YouTube provides a forum for people to connect, inform and inspire others across the globe and acts as a distribution platform for original content creators and advertisers large and small. YouTube is a Google company.
About Mediacorp  
Mediacorp is Singapore's national media network and largest content creator. Its purpose is to create engaging and trusted content, as well as to connect communities and inspire people. Mediacorp engages over three million people in Singapore daily across four languages on its digital platforms including mewatch, melisten and CNA.asia, six TV channels and 11 radio stations. Beyond Singapore, Mediacorp also has a growing international audience through CNA and content distributed across markets.

With a focus on nurturing talent and growing the sector, the company is committed to investing in nation-wide initiatives like Star Search, Anugerah, Yaar Antha Star and SPOP, commissioning a wide variety of work from local content creators, and collaborating with institutes of higher learning. As Singapore's first local Multi-Channel Network in partnership with YouTube, Mediacorp is also committed to developing a network of digital content creators.
For advertisers, Mediacorp has partnered industry-leading brands like ESPN, Mothership, Popcorn, theAsianparent, VICE, YouTube and 99.co to form the Mediacorp Digital Network in offering more effective content-driven solutions.
Mediacorp is the recipient of industry accolades including New York Festivals, World Media Festivals, PromaxBDA (World and Asia) and Asian Academy Creative Awards.
For more information, please visit mediacorp.sg