Mediacorp introduces its first multi-language cooking competition as King of Culinary returns in an expanded multi-platform format!
This August, get ready for a feast as Mediacorp's popular cooking competition King of Culinary returns in an expanded multi-language format across multiple platforms in three concurrent series ராஜா கைய வச்சா ("Raja Kaiya Vecha"), Raja Kulinari and 三把刀 ("San Ba Dao")!
Singapore, 3 August 2022 – This August, get ready for a feast as Mediacorp's popular cooking competition King of Culinary returns in an expanded multi-language format across multiple platforms in three concurrent series ராஜா கைய வச்சா ("Raja Kaiya Vecha"), Raja Kulinari and 三把刀 ("San Ba Dao")! Fans will get to witness the extraordinary display of culinary skills as amateur homecooks go up against illustrious top chefs, before the winners of the three competitions head to the exciting finale in the Battle of the Kings in hopes of being crowned the very first "King of Culinary Kings".
Hosted by popular artistes Udaya Soundari, Farhana M Noor and Cavin Soh respectively, each series will see homecooks from all walks of life tackling challenges in various rounds by creatively incorporating the selected ingredient of their choice in their culinary creations. But the journey will not be easy given that they will have to pit themselves against veteran celebrity mentor chefs and their mentees:
ராஜா

கைய

வச்சா

("Raja Kaiya Vecha"):

Mentor

Chefs Anand Kumar, S. R. Bala and Thanabalan together with their respective mentees Chefs Robin, Renushri and Clarence;

Raja Kulinari:

Mentor

Chefs Bob, Iskander and Khaled, and their respective mentees Chefs Syahir, Rashid and Rafi; and

三把刀

("San Ba Dao"):

Mentor

Chefs Eric Neo, Eric Teo and Pung, who will be joined by their respective mentee Chefs Alvin Leong, Siang and Dee.
To kick off their journeys, the homecooks will first have to win against a selected mentee chef before they embark on the real test – cookoffs against the mentor chefs. The second round will see them challenging the respective mentor chef and a victory will secure them a $2,000 reward and the chef's knife. But here's the catch – they can either walk away with these at this point or risk the cash prize to proceed to the next round against the second mentor chef. A loss in this third round will mean forfeiting the previously earned cash.
Victors of the third round will secure another $1,000 and the second chef's knife, with the same option of proceeding to the next round at the risk of losing all cash or exiting the competition with all the prizes won thus far. Winning the fourth round will allow the homecook to get their hands on an additional $1,000 and the third chef's knife – bringing the wins at this juncture for the successful homecook to a total of $4,000 and three coveted knives from the mentor chefs! And that's not all, the successful homecook[1] will also earn the title of "King of Culinary", and qualify for the Battle of the Kings, in which all three "Kings" will fight to be crowned the ultimate "King of Culinary Kings" and walk away with up to $16,000 in cash! Please refer to Annex A for the competition format. More details of the finale will be shared in due course.
Throughout the competition, all dishes will be assessed for the creative use of the main ingredient, taste, presentation, as well as complexity of the recipe. Contestants will have to impress a panel of special celebrity judges and resident judges: decorated Chef Albert Selva Rayan for ராஜா கைய வச்சா ("Raja Kaiya Vecha"); popular food blogger Adam Shah for Raja Kulinari; as well as famous journalist, chef and restaurateur David Yip and the respected public relations veteran Lynn Yeow De Vito for 三把刀 ("San Ba Dao").
Please refer to Annex B for the profiles of the hosts, chefs and resident judges.
Angeline Poh, Chief Customer & Corporate Development Officer, Mediacorp said: "Food is Singaporeans' first love, and we are very excited to serve up our first multi-platform and multi-language cooking competition, King of Culinary, to our audiences. Reality series fans and foodies alike will be thrilled by the unexpected challenges stuffed within this exciting battle of skill; and be wowed by the creative reimagination of familiar dishes by our amateur homecooks and veteran chefs. We hope everyone can join us to witness the display of talents and cheer on the contestants on their journeys to fulfilling their culinary dreams!"
ராஜா கைய வச்சா ("Raja Kaiya Vecha") Raja Kulinari and 三把刀 ("San Ba Dao") will launch on 20, 23 and 24 August respectively across Mediacorp's multiple platforms. Battle of the Kings will also launch across Mediacorp's multiple platforms on 13 November. Please refer to Annex C for viewing details.
For more information, please refer to the previous release or visit https://www.mediacorp.sg/kingofculinary.
[1] Should there be no homecook to win all four rounds, the one who has won the most rounds will be the final winner of each series. On the other hand, if there is more than one successful homecook to win all four rounds, a tiebreaker challenge will be conducted to determine the final winner.
-Ends-
Media contacts
Nurul Atiqah
Communications Associate
Atiqah.MY@mediacorp.com.sg
About Mediacorp
Mediacorp is Singapore's national media network and largest content creator. Its purpose is to create engaging and trusted content, as well as to connect communities and inspire people. Mediacorp engages over three million people in Singapore daily across four languages on its digital platforms including meWATCH, meLISTEN and CNA.asia, six TV channels and 11 radio stations. Beyond Singapore, Mediacorp also has a growing international audience through CNA and content distributed across markets.
With a focus on nurturing talent and growing the sector, the company is committed to investing in nation-wide initiatives like Star Search, Anugerah, Yaar Antha Star and SPOP, commissioning a wide variety of work from local content creators, and collaborating with institutes of higher learning. As Singapore's first local Multi-Channel Network in partnership with YouTube, Mediacorp is also committed to developing a network of digital content creators.
For advertisers, Mediacorp has partnered industry-leading brands like ESPN, Mothership, Popcorn, Singapore Tatler, theAsianparent, VICE, YouTube and 99.co to form the Mediacorp Digital Network in offering more effective content-driven solutions.
Mediacorp is the recipient of industry accolades including New York Festivals, World Media Festivals, PromaxBDA (World and Asia) and Asian Academy Creative Awards.
For more information, please visit mediacorp.sg.
Annex A – Competition Format
King of Culinary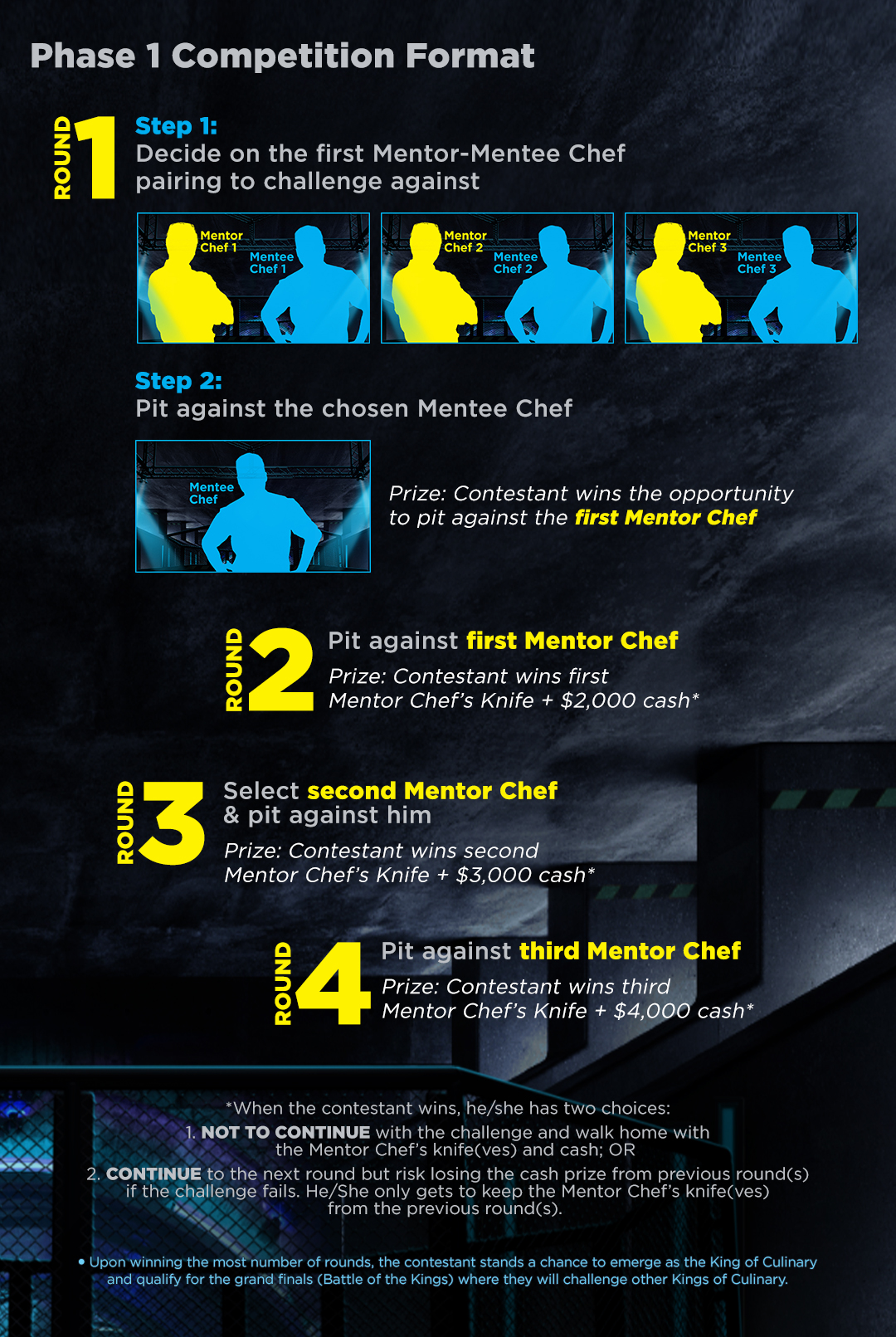 Battle of the Kings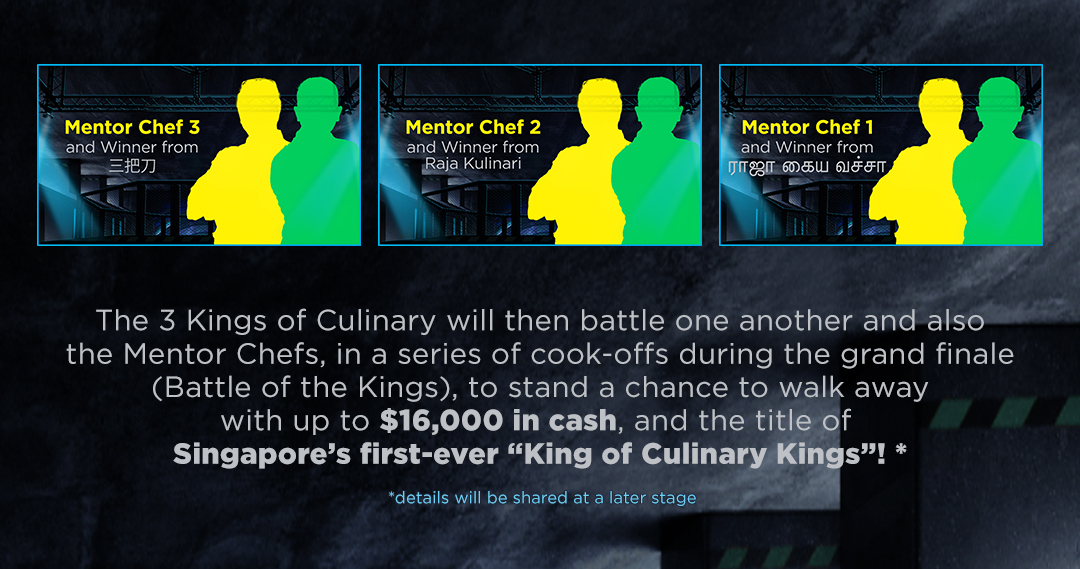 Annex B – Profiles of Hosts, Chefs and Resident Judges
Hosts

Profiles

ராஜா கைய வச்சா ("Raja Kaiya Vecha")

Udaya Soundari

 

Udaya Soundari is a popular singer, actress and host who first appeared on-screen on a reality singing competition, Vasantham Star 2007, where she attained a top 10 finish. Since then, Udaya has acted and hosted in numerous television dramas and variety programmes. At the same time, she is also actively involved in the local arts scene. Udaya has won multiple awards at Pradhana Vizha, including Best Host, Best Actress and Most Popular Personality.

 

Raja Kulinari

Farhana M Noor

 

Farhana M Noor is one of the community's most beloved artistes who has acted and hosted in various dramas, info-magazine and variety programmes. She has won various awards including Best Supporting Actress and Most Promising Actress at Pesta Perdana. Farhana is also an avid foodie who loves cooking up a storm in the kitchen.

 

三把刀 ("San Ba Dao")

Cavin Soh

 

Cavin Soh is a multi-faceted artiste who is known for his extraordinary career in music, acting and hosting, both on-screen and on the airwaves. His wide range of achievements include winning Best Info-Ed Programme Host and Best Supporting Actor at Star Awards, and securing nominations for Best Variety Host. Cavin is returning to reprise his hosting role in三把刀 ("San Ba Dao").

 
Mentor chefs

Profiles

ராஜா கைய வச்சா ("Raja Kaiya Vecha")

Chef Anand Kumar

 

With over 18 years of culinary experience, Chef Anand has had an illustrious career over the years – he has won awards with the World Association of Chefs' Societies (World Chefs), and known for his participation in the California Raisin World Culinary Challenge and the "Workshop-Atelier" by Le Cordon Bleu Academie D'Art Culinaire De Paris, to name a few.

 

He is also a member of Indian Chef and Culinary Association (ICCA) and has appeared on several television cooking shows, such as Samayal Savaal (Mediacorp Vasantham).

 

Having led various chef brigades across numerous hotels such as the Mandarin Oriental & other fine dining restaurants, Chef Anand is currently the Executive Chef at the High Commission of Canada, where he is responsible for creating memorable culinary experiences for the high-profile guests of the High Commissioner, along with promoting Canadian produce here in Singapore. He has also been conducting cooking classes online to stay in touch with the community.

 

Chef S. R. Bala

 

As one of Singapore's most decorated Indian chefs, Chef S R Bala has over 22 years of experience and a talent for crafting Indian fusion food with winning tastes, enticing all kinds of palates.

 

Chef Bala has also contributed to many projects with Mediacorp, Health Promotion Board, National Environment Agency and Indian Heritage Centre to generarate awareness of the diversity of hawker and Indian food. He also advocates healthy eating by showing how food can be made healthier without losing the original taste and flavour.

 

Chef Thanabalan

 

Chef Thanabalan possesses 26 years of experience in the food & beverage industry. Since moving to Singapore in 1995, he has worked at some of the biggest names in hospitality, including the Holiday Inn, St Regis, the Intercontinental Group, Pan Pacific, Tangs Marriot and the JW Marriott.

 

Chef Thanabalan also exhibits a strong focus on local treats and the rich cultural heritage of various cuisines, elevated by colours, aromas, varied condiments and spices in his cooking.

 

Raja Kulinari

Chef Bob (Shahrizal Salleh)

 

Chef Bob started his culinary career as a hotel chef, honing his skills in Malay, Indian, Indonesian, Spanish cuisine, while specialising in Malay cuisine. He is also no stranger to showbiz, with numerous appearances on Mediacorp and the Asian Food Channel over the years in various dramas, sitcoms, cooking programmes and travelogues.

 

After launching his inaugural cookbook, Aroma, in 2015, the effervescent and fun-loving Chef Bob now advocates a healthy lifestyle through a balanced tasty diet and exercise by sharing these stories on social media. 

Chef Iskander Latiff

 

Chef Iskander Latiff's culinary career has traversed geography and cultures for over a decade, but his forte lies in experimenting with herbs and spices from Asia and marrying them with Western cuisine and techniques.

 

His illustrious career has spanned different cuisines and countries, including at popular brunch destination Epicurious, where he was Head Chef, Senso Ristorante & Bar; the Bawa House in Sri Lanka and Aman Resorts. Chef Iskander was also a Consulting Chef in Yangon, Myanmar, for local F&B operators to help conceptualise and set up boulangeries, cafes and restaurants.

 

As the current Chef de Cuisine at Coriander Leaf, Iskander actively conceptualises the restaurant's menu with unique dishes.

Chef Khaled Shrafodden

 

Chef Khaled has always loved cooking since young. He enrolled in Singapore's premier culinary school, SHATEC and his culinary journey began from there.

 

In 2007, Chef Khaled became the first champion for Suria's reality cooking competition, Chef Selebriti, and since then, has perfected his culinary skills at Mandarin Oriental (Canada), a resident chef at the Asian Food Channel and is currently the Executive Chef at The Global Preschool.

三把刀 ("San Ba Dao")

Chef Eric Neo

 

Starting out as a chef at the age of 16, Chef Eric brings with him close to 23 years of culinary and catering experience across various cuisines including Cantonese, Western, Peranakan, and Asian. He was Head Chef of international buffet restaurant Aquamarine in Marina Mandarin, and was eventually promoted to their Executive Sous Chef in 2006.

 

His expertise and culinary skills as both chef and leader have earned him extensive industry recognition, including being the team manager of the culinary team representing Singapore at the Pattaya City Culinary Challenge 2011, and leading the team to gold at the Dubai World Hospitality Championship in 2013. He has also represented Singapore for the Tiger Brands World Cooks Tour for Hunger in South Africa.

 

As the current Executive Chef of InterContinental Singapore, Chef Eric oversees the hotel's culinary and banqueting operations, as well as the menus of its restaurants and bars.

Chef Eric Teo

 

As a renowned figure in the culinary world, Chef Eric's reputation precedes him. His achievements include being a 3-time winner of the World Gourmet Summit Executive Chef of the Year, Mentor and Deputy Head Judge of Food & Hotel Asia Culinary Challenge, Culinary Auditor for F1 Grand Prix 2018, Golden Chef Abalone, Guest Chef on MasterChef Asia 2015, and the first Singaporean to be appointed President of the Singapore Chefs' Association from 2005 - 2013.

 

Along with a wealth of culinary experience and his infectious energy, Chef Eric has become the go-to advisor for large-scale culinary events, here and overseas. He is also the Master Mentor with the Asian Culinary Institute Singapore, helping to push the standards of culinary excellence in Singapore.

Chef Pung Lu Tin

 

Chef Pung became Singapore's youngest Master Chef at only 23 and has gone on to achieve huge success over the past 40 years as a Chinese Cuisine Chef. His accolades include being the leader of the Singapore Famous Chefs Fraternity, the Hon President Award of Les Amis D'Escoffies Society, the China Golden Chef Award, and The International Master Chef of Chinese Cuisine Award of World Association of Chinese Cuisine. He was also Vice President of The International Exchange Association of Renowned Chinese Cuisine Chefs, and founded Tasty Loong in 2018.

 

Having led numerous teams in the prestigious World Championships, he is now a familiar figure as a judge in many culinary events. As advisor for Singapore Society of Chinese Cuisine Chefs and a culinary consultant of Restaurant Association Singapore, Chef Pung is dedicated to the development of Singapore Chinese cuisine by creating new recipes that continuously excites diners.
Mentee chefs

Profiles

ராஜா கைய வச்சா ("Raja Kaiya Vecha")

Chef Clarence

 

Chef Clarence has been very passionate about food from a young age. Having seen his mother, father and aunt cook in the kitchen, he was fascinated by how different ingredients can be combined to create such beautiful, flavourful meals and a true culinary experience for diners.

 

Chef Clarence is the mentee chef to Chef Thanabalan in ராஜா கைய வச்சா ("Raja Kaiya Vecha").

 

Chef Renushri

 

Chef Renushri is one of the community's budding, up-and-coming chefs. She has attained a Diploma in Baking and Culianry Science, and also holds a Bachelor's Degree in Food Business Management and Culinary Arts.

 

Chef Renushri is the mentee chef to Chef S. R. Bala in ராஜா கைய வச்சா ("Raja Kaiya Vecha").

 

Chef Robin

 

Chef Robin has gained a great deal of experience in various restaurant and company settings, and always strives to serve his best. Recognised as a visionary chef with knowledge on food trends and the ability to think outside of the box in menu creation, Chef Robin brings with him an in-depth understanding of flavours and relationship between foods, resulting in mouth-watering dishes and attractive menus.

 

Chef Robin is the mentee chef to Chef Anand Kumar in ராஜா கைய வச்சா ("Raja Kaiya Vecha").

 

 

Raja Kulinari

Chef Rafi

 

Chef Rafi lives by his motto, "Cook with your heart and taste with your soul." He is currently a culinary trainer with SHATEC who holds a Diploma in Culinary Arts from the institution. He has also attained a BA from the Culinary Academy Arts of Switzerland in Culinary Arts

 

Chef Rafi is the mentee chef to Chef Khaled in Raja Kulinari.

 

Chef Rashid

 

 

Chef Rashid is currently a Chef-de-Partie at a local Spanish grill, Asador Pte Ltd. As a graduate of At-Sunrice Globalchef Academy, he holds a Diploma in Culinary Arts.

 

Chef Rashid is the mentee chef to Chef Iskander in Raja Kulinari.

 

Chef Syahir

 

Chef Syahir is the Head Production Chef for the halal kitchens of Iron Foods Pte Ltd. He is a graduate of SHATEC who holds a double Diploma in Culinary Skills and Pastry & Baking.

 

Chef Syahir is the mentee chef to Chef Bob in Raja Kulinari.

 

三把刀 ("San Ba Dao")

Chef Alvin Leong

 

Chef Alvin Leong has over 22 years of culinary experience and specialises in Asian, Straits, Peranakan, Cantonese and European cuisine. His culinary awards and accolades include being part of the top Outstanding Chefs in the Global Gourmet 2021/2020 Chef par Excellence Culinary Competitions, and one of the five finalists for Chef of the Year 2019. Currently, he is an Executive Chef with Crowne Plaza Changi Airport Singapore.

 

Chef Alvin Leong is the mentee chef to Chef Eric Neo in三把刀 ("San Ba Dao").

 

Chef Dee

 

Chef Dee has over 15 years of experience under his belt and specialises in Chinese cuisine. He has won numerous awards including top awards at the Cantonese Competition by World Master Chefs Association for Cantonese Cuisine Malaysia, Lee Kum Kee Cup World Chefs Championship and the 3rd World Master Chefs Competitions for Cantonese Cuisine (Macau). Chef Dee was previously the Head Chef at Mott 32 at Marina Bay Sands Singapore and is currently an Executive Chef at a modern Chinese restaurant, Clan.

 

Chef Dee is the mentee chef to Chef Pung in三把刀 ("San Ba Dao").

 

Chef Siang

 

 

Chef Siang hails 20 years of culinary experience and specialises in Western and local cuisine. He has had the honour of cooking for illustrious heads of states over the years and has a wealth of awards from the gastronomic world. These include the Winterhalter Caterer of the Year and Innovative Chef of the Year at the World Gourmet Awards 2020, and a Gold at the Culinary Olympics in 2016.

 

Chef Siang is the mentee chef to Chef Eric Teo in三把刀 ("San Ba Dao").
Resident judges

Profiles

ராஜா கைய வச்சா ("Raja Kaiya Vecha")

Chef Albert Selva Rayan

 

 

Chef Albert is renowned in the culinary industry with over 34 years of experience. He has gathered numerous accomplishments such as a Guinness World Record in 2015 for cooking with the largest cooking vessel with a volume of 23, 616 litres, a Gold in Western Hot Cooking at the 9th Penang International Salon Gastronomique and the Guest Champion Award for Beaufort Hotel Singapore. He also participated and emerged as winner of Mediacorp Vasantham's cooking competition Battle of the Chefs in 2012. Chef Albert is currently an F&B consultant and a mentor chef.

 

Raja Kulinari

Adam Shah

 

 

Adam Shah is the founder of The Halal Food Blog, Singapore's first halal food blog. He is dubbed as the King of halal food blogging in Singapore and often posts his foodie ventures on various social media platforms. The Halal Food Blog was, and still remains as a valuable resource for Muslims in Singapore with over 40, 000 followers on its Facebook page and over 90,000 followers on its Instagram account.

 

三把刀 ("San Ba Dao")

David Yip

 

 

David Yip is well-known journalist, chef and restaurateur who has been associated with gastronomy in Singapore, Hong Kong and China for over 20 years. He was involved in the publication of several best-selling food magazines and cookbooks in Singapore, including the revamped cookbooks of Mrs Lee Chin Koon, mother of Singapore's founding Prime Minister Lee Kuan Yew, and Mrs Leong Yee Soo who represented the last bastion of Peranakan cooks. David is passionate about the preservation of traditional Chinese recipes and cooking techniques, and also leads food tours in China apart from consulting in the F&B industry.

 

Lynn Yeow De Vito

 

 

Lynn Yeow De Vito is a well-respected public relations and communications veteran with over 20 years in the field. Well-known for her passion for F&B, this ardent foodie is a Co-Founder for a dynamic boutique communications agency that provides tailored, results-driven PR and marketing solutions to some of the top F&B and lifestyle brands. In 2013, Lynn also Co-Founded Sassy Mama Singapore, a local women's parenting website. Lynn is reprising her role as resident judge after appearing in the earlier two seasons of King of Culinary.

 
-End-