Mediacorp to spotlight "COVID-19 generation" in Season Three of localised version of Nippon TV's hit unscripted series Old Enough!
Mediacorp will release a third localised season of Nippon TV's unscripted series Old Enough!, the immensely popular Japanese reality franchise which follows young children being tasked to run solo errands.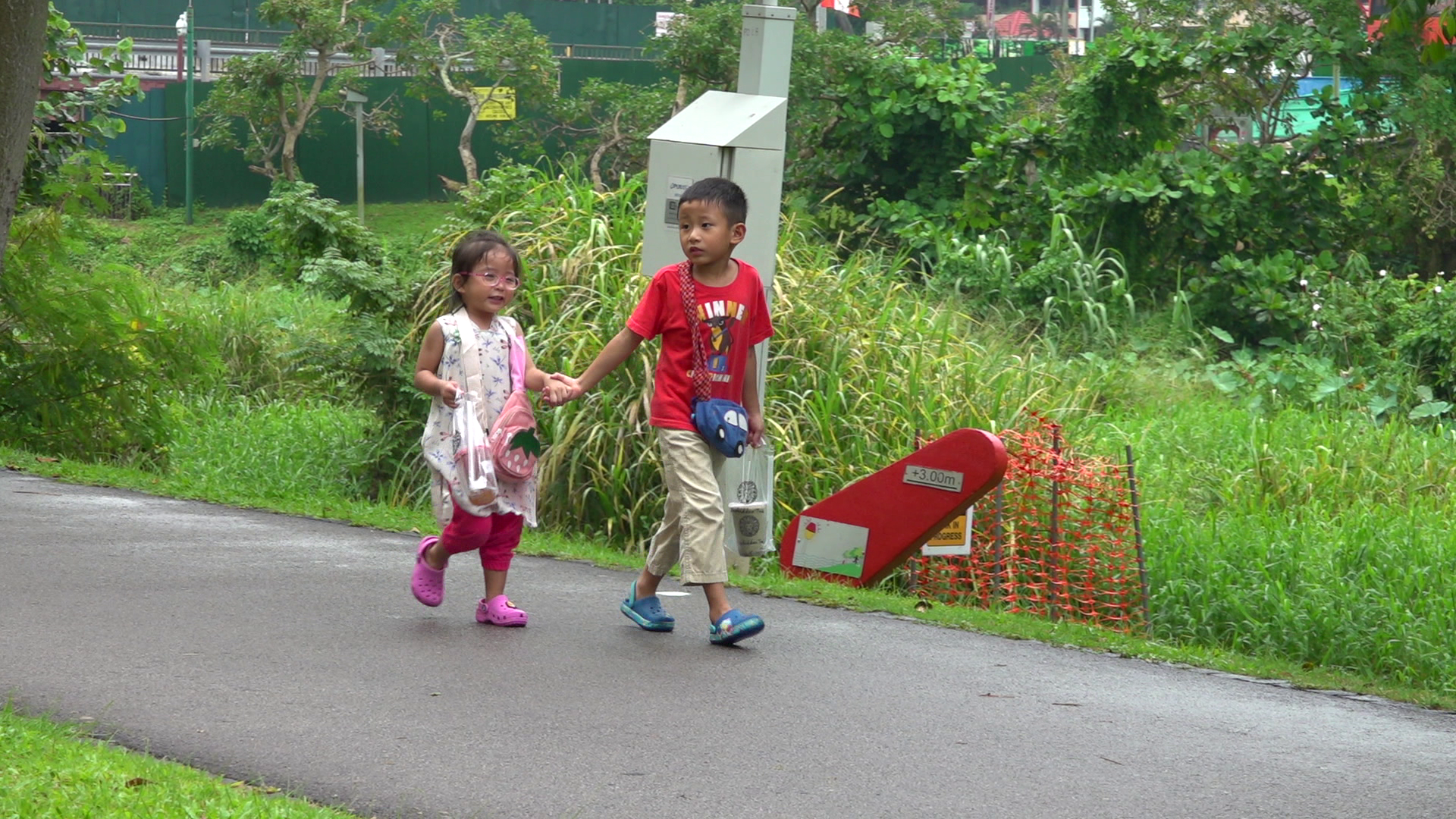 Singapore, 25 October 2022 – Mediacorp is delighted to announce the upcoming Season Three premiere of its adaptation of Old Enough!, Nippon TV's hugely popular reality series format that focuses on children being tasked to run solo errands while being trailed by an incognito camera crew. The series is returning after a two-year hiatus due to the pandemic.
In Singapore, the family-friendly franchise has been adapted by Mediacorp for On The Red Dot, a current affairs show investigating issues close to home. Filmed in 2022 after the easing of safe management measures, Season Three features Singaporean youngsters aged two to five who have spent most – if not all – of their pivotal developmental years under pandemic restrictions and documents their intrepid exploration of the outside world as part of their first steps towards independence. Audiences can anticipate cheering on courageous children from all walks of life, as our pint-sized protagonists take on herculean heartland challenges like trekking Bishan-Ang Mo Kio Park to deliver bubble tea, or shopping for ingredients at Tiong Bahru Market to whip up Dad's birthday dinner.  
The new season of Old Enough! is part of an ongoing format deal forged in December 2018 for the beloved Japanese unscripted series between Mediacorp, Singapore's national media network and largest content creator, and Nippon TV, the leading multiplatform entertainment network in Japan. The series also underscores Mediacorp's continued efforts to enrich its repertoire of content for audiences by collaborating with creative partners beyond Singapore. 
Moe Kanzaki, International Business Development, Nippon TV said: "I am very pleased to launch the highly anticipated new season of Old Enough! in Singapore. Having recently also announced the option sale to the Netherlands, we are so proud to see that Old Enough! is becoming a format that is loved around the world, changing its form little by little as it is localised for audiences to enjoy in different territories. We are grateful to the team of Mediacorp for the great success of the past two seasons and we are confident that this latest season will be another hit."
Sharon Hun Ee Lin, Deputy Chief Editor, Current Affairs, Mediacorp said: "Old Enough! has been one of the most well-received series for On The Red Dot, so we are glad that we are finally able to deliver brand new episodes for our viewers. We hope the third season will continue to capture the imagination and hearts of Singaporeans, while bringing home the simple joys of growing up and going out in a post-pandemic world. Apart from amusing our audiences, we aim to highlight the importance of inculcating independence and a spirit of adventure in kids, whose limited interactions beyond their households can now be broadened as we learn to live with the coronavirus."  
Catch Old Enough! Season Three in Singapore every Friday at 9.30pm from 11 November to 2 December 2022 via meWATCH, Channel 5 and CNA. The half-hour episodes will also be available on CNA Insider YouTube and CNA Digital.
For more information on Old Enough! by Nippon TV, please visit www.ntv.co.jp/english/pc/2011/02/old-enough.html.
- ends
Media contacts
Nippon TV
Sheila Morris – Morris Marketing
(818) 487-9300
sheila@morrispr.com
Mediacorp
Eugene Quek
Eugene.Quek@mediacorp.com.sg
About Nippon TV
Nippon TV is Japan's leading multiplatform entertainment powerhouse and ratings champion broadcaster, as well as owner of streaming giant Hulu in Japan. Over 90% of its content IP is fully owned by Nippon TV and the company has been active in bringing its content to the international market in the form of anime, ready-made programs, formats, and through co-production partnerships. One of the biggest successes for the nation's finest producer of all genres of programming is the Emmy Award-winning Dragons' Den/Shark Tank, a globally successful business show format that has 45 versions in more than 186 countries across all continents of the world. Additionally, their hit drama series Mother has also achieved global success as the most exported scripted format out of Asia, with its format sales to South Korea, Turkey, Ukraine, France, Thailand, China, Indonesia, and Spain. The company is also known for its viewer-engaging show Old Enough!, now streaming on Netflix in over 190 countries, and BLOCK OUT, an action-packed game show format that has been adapted in Thailand, Indonesia, Vietnam, Spain, and Holland, the award-winning unscripted format Mute it!, and Sokkuri Sweets, both produced in the Netherlands, and Sokkuri Sweets/Eye Candy on The Roku Channel in the US, UK, and Canada. As evident by the company's success, Nippon TV is leveraging its coveted platform to revolutionize digital media in an ever-changing industry to solidify its presence and brand as a global media leader.
About Mediacorp  
Mediacorp is Singapore's national media network and largest content creator. Its purpose is to create engaging and trusted content, as well as to connect communities and inspire people. Mediacorp engages over three million people in Singapore daily across four languages on its digital platforms including meWATCH, meLISTEN and CNA.asia, six TV channels and 11 radio stations. Beyond Singapore, Mediacorp also has a growing international audience through CNA and content distributed across markets.

With a focus on nurturing talent and growing the sector, the company is committed to investing in nation-wide initiatives like Star Search, Anugerah, Yaar Antha Star and SPOP, commissioning a wide variety of work from local content creators, and collaborating with institutes of higher learning. As Singapore's first local Multi-Channel Network in partnership with YouTube, Mediacorp is also committed to developing a network of digital content creators.
For advertisers, Mediacorp has partnered industry-leading brands like ESPN, Mothership, Popcorn, theAsianparent, VICE, YouTube and 99.co to form the Mediacorp Digital Network in offering more effective content-driven solutions.

Mediacorp is the recipient of industry accolades including New York Festivals, World Media Festivals, PromaxBDA (World and Asia) and Asian Academy Creative Awards.
For more information, please visit mediacorp.sg.