Mediacorp strengthens brand presence with launch of refreshed logos as part of vibrant new visual identity
The unified look of the new logos aims to drive all audience interactions and communications back to the Mediacorp brand to showcase the extensive reach of our entire media network.
Singapore, 16 January 2023 – As part of its continual efforts to deepen engagement with audiences, Mediacorp will roll out refreshed logos for its suite of digital, free-to-air and audio platforms and products on 1 February 2023.
The striking new visual identity will consist of Mediacorp's "M" prefix featured prominently in the individual logos, each rendered in a sleek, single or dual-colour scheme. This eye-catching design aims to drive all audience interactions and communications back to the main Mediacorp brand, strengthening its collective presence and showcasing the extensive reach of the entire media network through a harmonised and unified look. Please refer to the Annex for the list of logos.
In keeping with the rich heritage and strong brand equity Mediacorp has built over the years, the core design of each individual product has been retained but updated using a bold approach for maximum impact in today's digital-first environment. This has been achieved by streamlining the logos using a modern and mono- or dichromatic 2D effect, while maintaining the composition and colour palette of the products – signalling Mediacorp's continual evolution in staying ahead of new trends and technologies, while staying true to the brand that audiences are familiar with. 
Together with the refreshed logos, Mediacorp will also be introducing the Mplifier, a new set of graphics to further amplify the association between the Mediacorp brand and its products. The Mplifier – a stylised upward-pointing arrow forming half of Mediacorp's "M" prefix that is meant to convey the brand's constant strive for progress – will be applied consistently across all platforms, communication channels and marketing materials as a unifying visual cue for Mediacorp's products.
Oliver Chong, Head, Marketing & Communications, Mediacorp said: "The bright new design of Mediacorp's refreshed logos is a visual representation of our purpose as the national media network in delivering new experiences and compelling content built around our audiences' consumption preferences."
Added Mr Chong: "The design is fresh and familiar at the same time, achieving the best of both worlds – driving a consistent overall brand narrative, yet retaining the robust brand equity we have nurtured over the years. We hope the collective impact of the logos will reinforce Mediacorp's role in engaging audiences across all touchpoints in their lives, and convey our constant efforts to connect deeply with our communities." 
To familiarise audiences with the fresh look, the logos will be soft launched on 16 January via on-air channel bugs, as well as via GIFs and videos across the respective social media platforms. These animations will depict the transition to the new logos, before the visuals are officially launched on 1 February.  
Annex – Refreshed logos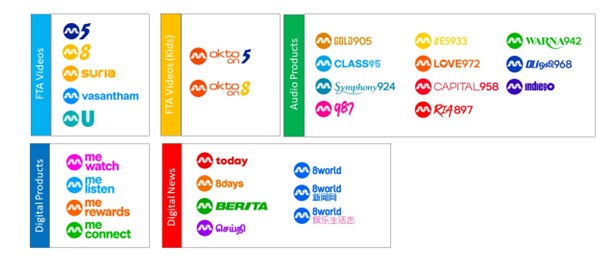 -ends 
Media contact
Eugene Quek
Eugene.Quek@mediacorp.com.sg
About Mediacorp  
Mediacorp is Singapore's national media network and largest content creator. Its purpose is to create engaging and trusted content, as well as to connect communities and inspire people. Mediacorp engages over three million people in Singapore daily across four languages on its digital platforms including mewatch, melisten and CNA.asia, six TV channels and 11 radio stations. Beyond Singapore, Mediacorp also has a growing international audience through CNA and content distributed across markets.

With a focus on nurturing talent and growing the sector, the company is committed to investing in nation-wide initiatives like Star Search, Anugerah, Yaar Antha Star and SPOP, commissioning a wide variety of work from local content creators, and collaborating with institutes of higher learning. As Singapore's first local Multi-Channel Network in partnership with YouTube, Mediacorp is also committed to developing a network of digital content creators.
For advertisers, Mediacorp has partnered industry-leading brands like ESPN, Mothership, Popcorn, theAsianparent, VICE, YouTube and 99.co to form the Mediacorp Digital Network in offering more effective content-driven solutions.
Mediacorp is the recipient of industry accolades including New York Festivals, World Media Festivals, PromaxBDA (World and Asia) and Asian Academy Creative Awards.
For more information, please visit 
mediacorp.sg
.