The rebranded Goh Chok Tong Enable Fund announces its strategic intent to amplify efforts to support persons with disabilities
Nominations are also now open for the fifth Goh Chok Tong Enable Awards, a key initiative of the Fund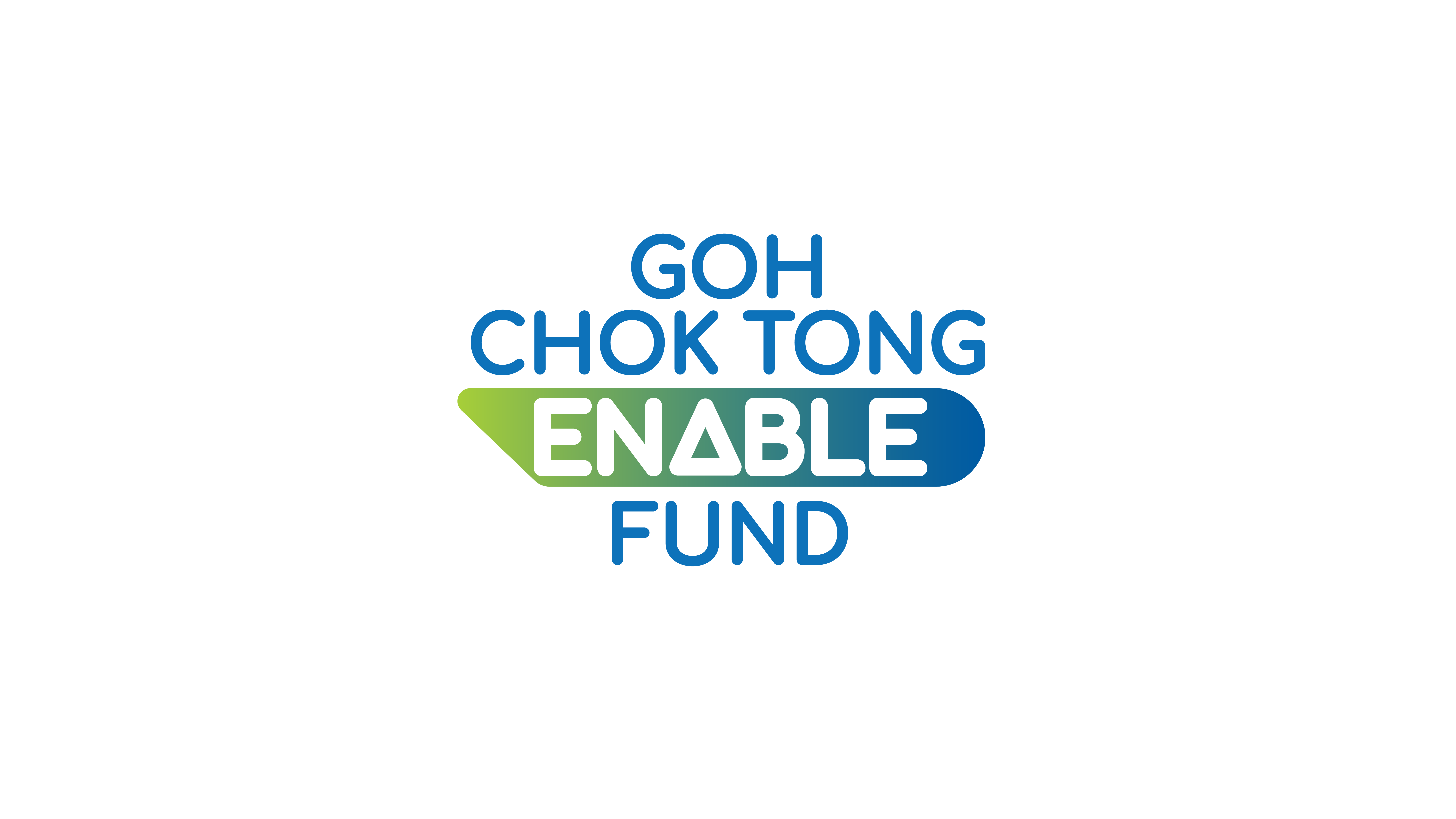 Singapore, 22 May 2023 – The Goh Chok Tong Enable Fund (GCTEF), formerly the Mediacorp Enable Fund (MEF), announces its rebranding with a strategic intent to grow and amplify its work in providing opportunities for and supporting aspirations of persons with disabilities. In this, the GCTEF looks to provide financial assistance and helm other initiatives to complement efforts by the government and social service agencies in aiding persons with disabilities to actively contribute to society and lead socially integrated lives.

This will kick off with a fundraising campaign starting 22 May, followed by the Goh Chok Tong Enable Awards (GCTEA) to be held on 30 November. Nominations for the GCTEA are open from now till 23 July.

GCTEF
A community fund administered by SG Enable, with Mediacorp as its media partner, the GCTEF was first initiated by Emeritus Senior Minister (ESM) Goh Chok Tong as the Today Enable Fund in December 2016, before being renamed as MEF in November 2018. Since its inception, the Fund has supported the aspirations and needs of over 1,000 persons with disabilities, improved employability of another 1,000 and reached over 40,000 Singaporeans to promote social inclusivity.

To better reflect its roots and intent, the Fund will now be renamed as GCTEF, after the Fund's Patron ESM Goh. A new Fundraising Committee has been appointed to chart the strategic direction and ambition for the Fund's growth and work.

On this, ESM Goh said: "A kinder, gentler Singapore is one that helps persons with disabilities excel in life, at work, and in the community. As the Fund evolves, we should increase our support to meet the aspirations and needs of persons with disabilities, as well as be more effective in recognising their abilities and contributions to others."

Ku Geok Boon, CEO of SG Enable, said: "As the focal agency for disability in Singapore, we have been working to raise awareness of disability issues and enable persons with disabilities to lead socially integrated lives. We deeply appreciate the support and donations from corporations and the public to the Fund over the years, and we hope that everyone will continue to give generously as we continue to ramp up our work."

Tham Loke Kheng, CEO of Mediacorp, said: "Mediacorp remains passionate in doing our part in building an inclusive society. As the Fund's media partner, we will continue to leverage the reach of our platforms and talents to amplify its initiatives and work to support persons with disabilities and foster an inclusive society."

GCTEF Fundraising Campaign
Come 22 May, the GCTEF will launch a fundraising campaign aimed at raising awareness of the everyday challenges faced by persons with disabilities and to rally support from the masses for the Fund. Centred around the concept of "A day in my life", Mediacorp artistes will join the GCTEF beneficiaries and Goh Chok Tong Enable Awards (GCTEA) Awardees for an inside look at their everyday lives, accomplishments and how they prevail over obstacles to achieve them. These videos will be shared across Mediacorp's media network to allow viewers to gain greater awareness as well as encourage the public to give to support the work of the GCTEF.

From 26 May to 25 June, to further its community outreach, the GCTEF will also be collaborating with Frasers Property Singapore on their Paint It Forward art jam sessions, hosted across its malls as part of The Children's Festival. Participants will be offered opportunities to co-create art on outline canvases inspired by artists with disabilities behind the National Day Parade 2020, 2021 and 2022 collaterals, which were produced as part of the i'mable public education initiative by SG Enable. The collective artworks will later be pieced together to form a Community Canvas Collage that will be displayed at Northpoint City from 21 to 25 June. For every participant, Frasers Property Singapore will contribute $10 to the GCTEF.

Soon Su Lin, CEO of Frasers Property Singapore, said: "Our malls serve as important hubs for the community and we are proud to do our part to support the aspirations of persons of disabilities in Singapore. Through Paint It Forward, we hope to highlight that everyone is able to support one another, regardless of abilities – and to contribute to an inclusive community and a better future together."

The Paint It Forward art jam sessions will be held across 10 Frasers Property Singapore's malls. The event is wheelchair accessible and open to participants of all abilities. Registration is free and can be made via www.frasersexperience.com/book/PIF2023.

GCTEA
Another key effort of the GCTEF is the annual GCTEA, which has begun an open call for nominations for its fifth edition from today till 23 July. The Awards, which strives to champion greater inclusivity across Singapore, not only celebrates the successes of outstanding individuals but also supports their dreams and aspirations, and motivates those with potential to go the distance with their endeavours. Since its inception in 2019, the GCTEA has recognised the achievements and potential of 57 persons with disabilities (please refer to 2019, 2020, 2021 and 2022 releases for more information).

The GCTEA comprises two categories:

The GCTEA (Achievement) celebrates persons with disabilities who have made significant achievements in their own fields and serve as an inspiration to others. Up to three individuals will be awarded with $10,000 each. In recognition of their contributing role in the success journeys of persons with disabilities, nominating organisations which are Institutions of Public Character and government educational institutions will each receive $5,000 should their nominee be selected as a winner of this Award category.

The GCTEA (Promise) encourages persons with disabilities who have shown promise to pursue greater heights in their areas of talent and willingness to serve the community. Up to 10 individuals will each receive $5,000.

Nominees for both Award categories must be persons with disabilities i.e. with physical disabilities, sensory disabilities (e.g. visual impairment and deafness/ hearing loss), intellectual disabilities or autism. They must also be Singapore Citizens or Permanent Residents, and aged 18 years and older for the first Award category, or aged 12 years and older for the latter.

Michael Ngu, Chairman of the GCTEA Evaluation Panel, Board Member of SG Enable and GCTEA Achievement Awardee said: "Since 2019, the yearly CGTEA has recognised the achievements and promise of individuals who have prevailed over their challenging circumstances. We are honoured to provide a platform to showcase and celebrate their accomplishments and potential, and hope that others will be motivated by these leaders of change to pursue their dreams. We call on everyone to nominate deserving individuals for this year's Awards.".

Winners will be announced on 30 November. For more information about the Awards, eligibility, nomination and evaluation process, please visit GCTenablefund.sg/goh-chok-tong-enable-awards.

To support persons with disabilities through the GCTEF, please visit GCTenablefund.sg.

-Ends-

Media contact

Nurul Atiqah
Communications Associate
Atiqah.MY@mediacorp.com.sg

About SG Enable

SG Enable, the focal agency for disability and inclusion in Singapore, enables persons with disabilities to live, learn, work and play in an inclusive society. It creates equitable opportunities for persons with disabilities through thought leadership, sustainable social innovation and impactful partnership. Guided by its core values of professionalism, innovation and empathy, SG Enable envisions a more inclusive Singapore and enabled lives. Set up by the Ministry of Social and Family Development in 2013, it is a registered charity and an Institution of a Public Character. For more information, visit www.sgenable.sg

About Mediacorp

Mediacorp is Singapore's national media network and largest content creator. Its purpose is to create engaging and trusted content, as well as to connect communities and inspire people. Mediacorp engages over three million people in Singapore daily across four languages on its digital platforms including mewatch, melisten and CNA.asia, six TV channels and 11 radio stations. Beyond Singapore, Mediacorp also has a growing international audience through CNA and content distributed across markets.

With a focus on nurturing talent and growing the sector, the company is committed to investing in nation-wide initiatives like Star Search, Anugerah, Yaar Antha Star and SPOP, commissioning a wide variety of work from local content creators, and collaborating with institutes of higher learning. As Singapore's first local Multi-Channel Network in partnership with YouTube, Mediacorp is also committed to developing a network of digital content creators.

For advertisers, Mediacorp has partnered industry-leading brands like ESPN, Mothership, Popcorn, theAsianparent, VICE, YouTube and 99.co to form the Mediacorp Digital Network in offering more effective content-driven solutions.

Mediacorp is the recipient of industry accolades including New York Festivals, World Media Festivals, PromaxBDA (World and Asia) and Asian Academy Creative Awards.

For more information, please visit mediacorp.sg.