StarHub, Singtel and Mediacorp Take to the Field Together to Telecast the FIFA World Cup Qatar 2022™ in Singapore
As part of a collaboration with StarHub and Singtel, Mediacorp will be providing coverage of all 64 matches of the FIFA World Cup Qatar 2022™ via subscription packages on meWATCH. Football fans can also enjoy live free-to-air coverage of nine key matches on Channel 5.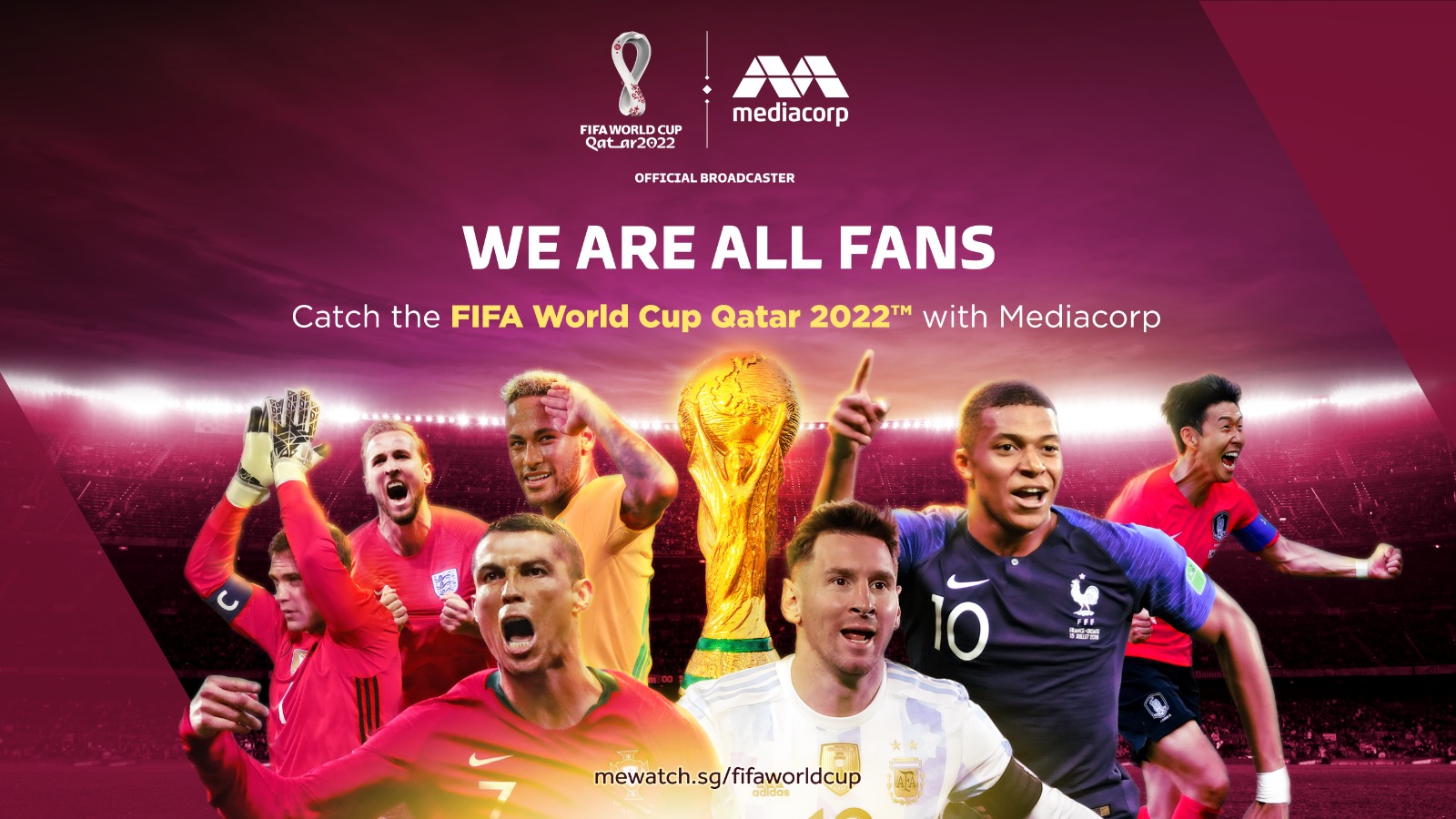 Singapore, 30 October 2022 – With the highly anticipated FIFA World Cup Qatar 2022™ kicking off on 20 November 2022, StarHub, Singtel and Mediacorp will be offering football fans in Singapore complete coverage of all 64 matches, who can stream the games 'live' or on-demand on any device. This marks the second collaboration between the three companies, following a three-way tie-up for the FIFA World Cup Russia™ in 2018. Viewers who subscribe to a FIFA World Cup Qatar 2022™ package before 6 November 2022 will enjoy special early bird pricing of $98 (Usual Price: $118).
From 20 November to 18 December 2022, audiences can look forward to cheering on the 32 competing teams, including a record six teams representing Asia at this year's sporting spectacle – host Qatar, Australia, Iran, Japan, Saudi Arabia and South Korea. The Asian contingent will be joined by returning powerhouses such as Argentina, Brazil, Germany and defending champion France from the 2018 tournament. Matches will be played in eight spectacular stadiums across five cities in Qatar, including the Al Bayt Stadium in Al Khor, which will host the opening match of the tournament between Qatar and Ecuador on 21 November 2022, 12mn. Viewers will also be able to catch exciting on-site programming and studio shows with guests, presenters and popular pundits such as Marcel Desailly, Arsene Wenger, Lothar Matthaus, Gabriel Batistuta, Paul Scholes and more. 
"Football is a universal language, and nothing shows this better than the World Cup which turns spectators into the most passionate fans. We are excited to take to the field once again with Singtel and Mediacorp, bringing the action-packed game directly to our customers, to keep them fully immersed at the heart of live football," said Johan Buse, Chief, Consumer Business Group, StarHub. "As sports unites people, our vision is for StarHub – the Home of Sports – to bring fans of different sports together on our TV+ platform. For the first time, StarHub will be offering unique, innovative features to our TV+ subscribers, such as match highlights, live statistics, and an interactive timeline allowing viewers to jump back to key moments. We are firmly committed to providing the best-ever viewing experience to our customers – not just for the World Cup, but a wide range of sporting events, from Premier League to UEFA Champions League and the Grand Slams."
"Since we first brought the 2010 FIFA World Cup™ to Singapore, Singtel has continually sought to enhance the viewing experience of our customers, offering more ways to catch the football action, anytime and anywhere, across our Singtel TV, Singtel TV GO and CAST app. We are pleased to work with our broadcast partners once again to bring the action to our football fans. Our customers can expect a seamless and high-quality viewing experience powered by our reliable and ultra-fast broadband and 5G network. With this year's World Cup held in Qatar, we believe the favourable time difference will bring even more football fans together to share in the excitement," said Anna Yip, Chief Executive Officer, Consumer Singapore, Singtel. 
"Much more than just a game, football brings people and organisations together. We are delighted to link arms with Singtel and StarHub again to present this thrilling tournament, which reaffirms Mediacorp's commitment as the national media network in unifying communities through our pipeline of popular sporting content. We hope our upcoming coverage of the biggest event in international football will spark conversations and create a common space for fans to bond with family, friends and neighbours. Subscribers can revel in all the FIFA World Cup™ action on meWATCH via their preferred devices, while our live free-to-air coverage of nine must-watch matches – including the opening match, both semi-finals and the final – will enable the most beautiful of games to be enjoyed by an even wider audience in Singapore," said Angeline Poh, Chief Customer & Corporate Development Officer, Mediacorp. 
Packages for all 64 matches will be made available on StarHub's TV+ and IPTV platforms (Channels 251 and 252), Singtel TV, Singtel TV GO (Channels 141 and 142) and CAST, and Mediacorp's digital entertainment streaming service meWATCH. Singaporeans will also be able to catch nine key matches on free-to-air television via Mediacorp Channel 5, the same number of matches offered for the 2018 FIFA World Cup™.
For more information on the FIFA World Cup Qatar 2022™ residential and corporate subscription packages, please visit www.starhub.com/fifaworldcup, www.singtel.com/worldcup, and www.mewatch.sg/fifaworldcup. 
-ends-
About StarHub
StarHub is a leading homegrown Singapore company that delivers world-class communications, entertainment and digital solutions. With our extensive fibre and wireless infrastructure and global partnerships, we bring to people, homes and enterprises quality mobile and fixed services, a broad suite of premium content, and a diverse range of communication solutions. We develop and deliver to corporate and government clients solutions incorporating artificial intelligence, cyber security, data analytics, Internet of Things and robotics. We are committed to conducting our business in a sustainable and environmentally responsible manner. Listed on the Singapore Exchange mainboard, StarHub is a component stock of the SGX iEdge SG ESG Leaders and Transparency Indices and included in ESG-focused FTSE4Good Index Series. StarHub is ranked as the world's most sustainable Wireless Telecommunications Service Provider and Singapore's most sustainable Telco, in Corporate Knights Global 100. Find us at www.starhub.com, or connect with us on Facebook [facebook.com], Instagram [instagram.com], LinkedIn[linkedin.com], Twitter [twitter.com] and YouTube [youtube.com].
About Singtel
Singtel is Asia's leading communications technology group, providing a portfolio of services from next-generation communication, 5G and technology services to infotainment to both consumers and businesses. The Group has presence in Asia, Australia and Africa and reaches over 770 million mobile customers in 21 countries. Its infrastructure and technology services for businesses span 21 countries, with more than 428 direct points of presence in 362 cities.
For consumers, Singtel delivers a complete and integrated suite of services, including mobile, broadband and TV. For businesses, Singtel offers a complementary array of workforce mobility solutions, data hosting, cloud, network infrastructure, analytics and cyber security capabilities. 
Singtel is dedicated to continuous innovation, harnessing technology to create new and exciting customer experiences and shape a more sustainable, digital future.
For more information, visit www.singtel.com.  
Follow us on Twitter at www.twitter.com/SingtelNews.  
About Mediacorp
Mediacorp is Singapore's national media network and largest content creator. Its purpose is to create engaging and trusted content, as well as to connect communities and inspire people. Mediacorp engages over three million people in Singapore daily across four languages on its digital platforms including meWATCH, meLISTEN and CNA.asia, six TV channels and 11 radio stations. Beyond Singapore, Mediacorp also has a growing international audience through CNA and content distributed across markets.

With a focus on nurturing talent and growing the sector, the company is committed to investing in nation-wide initiatives like Star Search, Anugerah, Yaar Antha Star and SPOP, commissioning a wide variety of work from local content creators, and collaborating with institutes of higher learning. As Singapore's first local Multi-Channel Network in partnership with YouTube, Mediacorp is also committed to developing a network of digital content creators.

For advertisers, Mediacorp has partnered industry-leading brands like ESPN, Mothership, Popcorn, Singapore Tatler, theAsianparent, VICE, YouTube and 99.co to form the Mediacorp Digital Network in offering more effective content-driven solutions.

Mediacorp is the recipient of industry accolades including New York Festivals, World Media Festivals, PromaxBDA (World and Asia) and Asian Academy Creative Awards.

For more information, please visit mediacorp.sg.