HIGHLIGHTS
Undercover Asia
CNA's award-winning investigative series Undercover Asia returns to uncover the hard truths in the underbelly of Asia
Kids' Lives Matter《星空下的仁医》
Twenty years ago, 3 pediatric trainees had a falling out due to a surgical operation. Twenty years later, they reunite as pediatric surgeons at a top hospital. Can they mend their friendship and save kids' live...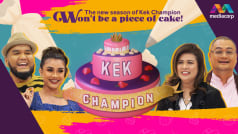 Kek Champion 3
Aprons on, Whisks OUT! The 3rd season of Kek Champion returns and it won't be a piece of cake!
Udayam S4
Upgrading spaces and uplifting lives is what Udayam has always been about. After an interesting take on food vendors around the island, the team is back to revamping living spaces for deserving profiles yet aga...