HIGHLIGHTS
3D NATION
From foods for hospital patients to life-saving medical innovations, the inconceivable is being built right before our very eyes in Singapore.
Kids' Lives Matter《星空下的仁医》
Twenty years ago, 3 pediatric trainees had a falling out due to a surgical operation. Twenty years later, they reunite as pediatric surgeons at a top hospital. Can they mend their friendship and save kids' live...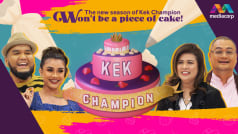 Kek Champion 3
Aprons on, Whisks OUT! The 3rd season of Kek Champion returns and it won't be a piece of cake!
Vasantham Junior Chef
Vasantham Junior Chef is Vasantham's first culinary competition series for talented kids between the ages of 10 to 14 who are passionate about cooking and hold a burning desire to excel in culinary skills.